Tourism in Kerala
Kerala is aptly called "God's Own Country"! Geographically situated on the beautiful Malabar Coast of India, Kerala has a rich and diverse culture to offer. Coming to Kerala, you will be greeted with breathtaking natural wonders; ancient Ayurveda healthcare system; vibrant wildlife; picturesque hill stations; delicious veg, non-veg delicacies; and spectacular dance forms, music and handicraft.
National Geographic Traveler has listed Kerala among the 10 paradises of the world. The southern state of India has everything to offer for a travelholic. The world famous backwaters of Alappuzha and palm fringed beaches of Kovalam and Varkala are destinations of a lifetime that you can't afford to miss. Besides, the state has some of India's best wildlife sanctuaries and mountain ranges too. Most importantly, Kerala has this amalgamation of different cultures such as Arabic, Chinese, Portuguese, and British that you won't find anywhere in India. Visiting Kerala will rejuvenate not just your body but soul too with its unique cultural and geographical characteristics.
Popular Destinations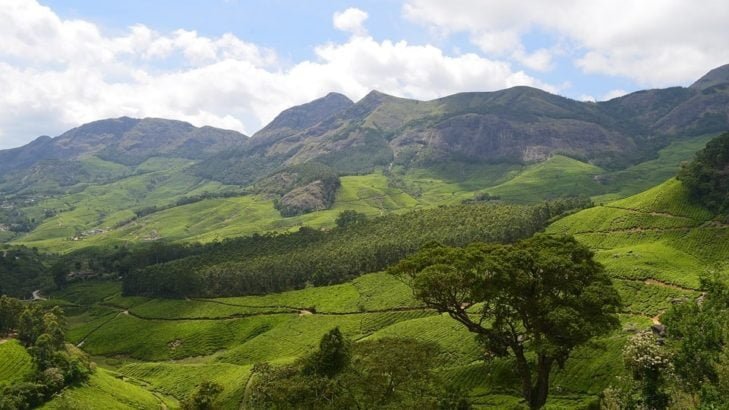 Munnar:

Munnar is one of Kerala's most beautiful hill stations. Situated at an altitude of over 1,600 mts it offers mesmerizing views of winding lanes, sprawling tea plantations, and picturesque town. Munnar is home to many rare and endangered species of flora and fauna. The hill station has an extremely pleasant weather throughout the year.

Thekkady:

Thekkady is home to the Periyar National Park, which is an important tourist attraction in Kerala. It is considered as one of the country's largest tiger reserves. Thekkady is also called as a tourist's paradise with so many sites to explore.

Kochi:

Set on a magnificent estuary, serene Kochi has been drawing traders, explorers, and travelers to its shores for over 600 years. Kochi is the second most populous city in the state of Kerala. The famous Chinese fishing nets are found only in Kochi, outside China. It is a beautiful town with eclectic influence. No wonder why people also call it as the "Gateway to Kerala".

Kovalam:

Situated

in the southern part of Kerala, Kovalam is a majestic beach town situated by the Arabian Sea in Thiruvananthapuram. It is a home to three of the most famous pristine beaches of the region (

Lighthouse Beach, Hawah Beach, Samudra Beach)

with shallow waters and low tidal waves.

Alappuzha:

Alappuzha also known as Alleppey, is a city by the shores of Laccadive Sea in the southern part of Kerala. It is best known for its famous boat races, backwater holidays, serene beaches, marine products, and coir industry.

Alappuzha is considered to be the oldest planned city in this region and the lighthouse built on the coast of the city is the first of its kind along the Laccadive Sea coast.

Vagamon:

Vagamon is a mesmerizing hill station primarily located in Peerumade taluk of Idukki district, and also Meenachil taluk and Kanjirappally taluk of Kottayam district of Kerala. The town is surrounded by valleys, green meadows, pine forests, mists, fogs, tea estates, waterfalls. Its overall greenery makes it an extremely attractive tourist destination. Vagamon hosts an International Paragliding festival every year which is sponsored by The Kerala Tourism Department and the Adventure Sports and Sustainable Tourism Academy (AASTA).

Varkala:

Varkala town is popularly known for its sanctified heritage. An ancient Janardhana Swamy Temple is considered as a popular Hindu pilgrimage site dedicated to Lord Vishnu. The famous Papanasam Beach in Varkala is considered to be blessed with holy waters. Basically, Varkala lies on the outskirts of Thiruvananthapuram district. Apart from the temple, the Sivagiri Mutt is equally famous too.

Wayanad:

Wayanad is beautifully situated on the border with Tamil Nadu. It is full of tea plantations, forests, and wildlife. The city offers some breathtaking views with wild forests, white water springs, green meadows of valleys, and blue water lakes. Due to its lush green outlook, Wayanad is also called as "Green Paradise".

Ponmudi:

A weekend getaway from Thiruvananthapuram. Ponmudi is blessed with some rare flora and fauna in the state that include mountain flowers, exotic butterflies and beautiful wild orchids. Tourists can opt for trekking and camping options while exploring this natural wonder on foot.

Kannur:

Basically a beach town, it is situated on the northern side of Kerala. Kannur has a rich colonial heritage, and thus it offers some great colonial era architecture to see. It has a tropical weather with extremely humid climate. The city is also famous for the dazzling ritual performance popularly known as "Theyyam".

Thrissur:

Thrissur holds the distinction being called the "Cultural Capital of Kerala". It is world renowned for the festival of Pooram that is held during April and May every year. It is home to some of the South India's great temples such as Irinjalakuda Koodalmanikyam Temple, Vadakkumnathan Temple and more. Thrissur also has Guruvayur, is a popular Hindu pilgrim center.

Kottayam:

Kottayam is also known as "Akshara Nagari" (Land of Letters) or "Chuvar Chitra Nagari" (City of Murals) for being the literature centre. Chuvar Chitra Nagari or City of Mural was an initiative taken by the authorities of Kottayam and the Kerala Lalithakala Akademi to preserve and promote the mural art culture of Kerala. The city is also known for several movie locations as well.

Ernakulam:

Ernakulam was once the capital of the Kingdom of Cochin. It has been nurturing many entrepreneurs and is one of the major financial and commercial hubs of South India. The city has a 400-year-old synagogue, Portuguese houses, crumbling sites of British era and ancient mosques. Tourism has contributed heavily to the economy of Ernakulam.

Palakkad:

Palakkad is beautifully located along the serpentine ranges of the Western Ghats. The city is famous for its paddy fields and natural enchanting rural nature. The city has two historically significant monuments, the Jain Temple and the Palakkad Fort. Both of these monuments attract a huge number tourists every year.
Points of Interests
While you may be wondering about the most visited points of interests in the charming land of Kerala, the best way is to scroll down the list that awaits your attention:
Waterfalls

: Cheeyappara Waterfalls, Attukal Waterfalls, Aruvikkuzhi Waterfall, Thusharagiri Waterfalls, Vagamon Falls, Lakkam Waterfalls/Lakkom Falls, Maramala Waterfalls, Vazhachal Waterfalls and Thommankuthu Falls.

Beaches

: Alappuzha Beach, Kumarakom Beach, Lighthouse Beach, Samudra Beach, Bekal Beach, Marari Beach, Kozhikode Beach, Varkala Beach, Mappila Bay. Kollam Beach, Kannur Beach, Kappad Beach, Payyoli Beach, Somatheeram Beach Cherai Beach and Arjuna Backwaters.

Worship, Pilgrimage, or Religious

: Sri Krishna Temple, Mahadeva Temple, Thirunelli Temple, Puliyarmala Jain Temple, Mallikarjuna Temple, Ananthapura Temple, Tali Temple, Janardan Swami Temple, Rajarajeswara Temple, Sree Padmanabhaswamy Temple, Guruvayur Sree Vishnu Temple, Kaduvayil Thangal Dargah, Beemapally Mosque, Erumeli Vavar Mosque, Paradesi Synagogue, St. Thomas Church, St Mary's Forane Church, Basilica of Our Lady of Dolours and Matri Dei Cathedral.

Wildlife

: Kumarakom Bird Sanctuary, Eravikulam National Park, Periyar Tiger Trail, Malom Wildlife Sanctuary, Salim Ali Bird Sanctuary and Silent Valley National Park.

Historical

: Krishnapuram Palace, Revi Karunakaran Museum, Rock Cut Caves, Halcyon Castle, Bekal Fort, Chandragiri Fort, Anjengo/Anchuthengu Fort, Mattancherry Palace, Dutch Palace and Fort St. Angelos.
Best time to visit
Being a coastal state, Kerala has tropical type of climate. Normally, the summers fall between March and May. The state gets hot and humid during these months and the tourist inflow drops during this period.
Unlike most of the other states, Kerala receives a high percentage of rainfall — something that makes it an ideal destination for those who crave for the lush green environment. The monsoon season lasts from June till late September. This is the period when most of the holidaymakers come to Kerala and enjoy its natural beauty.
Things to do in Kerala
Experience the Culture

: You can go on a traditional village tour with a tour operator or on your own. There, you can enjoy ethnic, traditional meal with the local people and experience the rich and diverse culture of the Gods own country.

Watching a Kathakali performance, which is an ancient form of dance in Kerala is a must to do for every tourist. You won't see performers dressed up like this in your routine life, so make the most of it when you are in Kerala. Through this dance, the performers tell meaningful Hindu mythological stories.Watch Kalaripayattu, which is an ancient form of martial art practised in Kerala. This magnificent ancient martial art form is slowly vanishing. It is highly recommended for your to go and see these martial artists performing it.
Enjoy Ayurvedic Treatment

: Ayurveda is an ancient Indian healing tradition that's more than 5,000 years old. A number of authentic Ayurvedic spas are spread throughout Kerala, a region which has ample supply of rare medicinal plants. A trip to these Ayurvedic healing centers can get you detox and feel rejuvenated. It can even cure many diseases such as insomnia, neurological disorders and more.

Take Culinary Lessons in Keralan Cuisine

: Enroll in a cooking class as Kerala is renowned for its delicious and exquisite delicacies. Be it seafood or food cooked in coconut oil, it's mouthwatering and worth experiencing once in a lifetime. You can easily join a cooking class during a trip, a skill which you proudly can bring back home as a souvenir for the rest of your life to cherish.

Witness Heart Pounding Boat Races

: Any visit to Kerala is incomplete without seeing boat race. It is something you can never miss as without it, the trip would be half fulfilled. Every year during the monsoon season, Kerala comes alive with colourful snake boat races. All the villages have their own Snake Boat which competes against others to grab the winner's trophy.