Tourism Bharat: Read about TOURISM IN Uttarakhand, know Its Popular Destinations, points of interest, best time to visit and Many Other Details.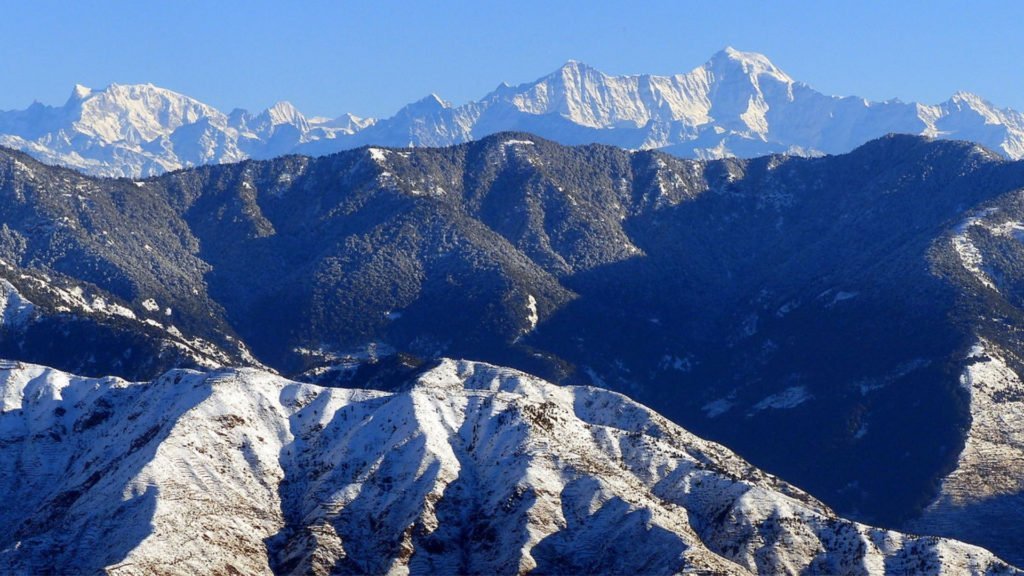 Tourism in Uttarakhand
Uttarakhand — Devbhumi or The Land of the Gods is a beautiful state of India bordering China and Nepal. The picturesque state is situated in the lap of the Himalayas and attracts millions of visitors each year from India and abroad. Uttarakhand holds a special place for the followers of Hinduism because it has some of the most important and revered religious places of the community. It is a home to the Char Dhams, which are four of the most spiritual sites of pilgrimage revered by the Hindus across the world — Gangotri, Yamunotri, Kedarnath, and Badrinath. Millions of tourists throng Uttarakhand every year to worship at these Char Dhams.
This Himalayan state is extremely rich in flora and fauna because 65% of its area is covered under forests. Uttarakhand displays a unique harmonic coexistence of humans with nature. Situated in the backdrop of the majestic Zanskar Ranges, the world famous 'Valley of Flowers' is a UNESCO World Heritage site in the Chamoli district. The Valley of Flowers is known for having some rare and endangered animals, birds, and plants such as Asiatic Black Bear, Musk Deer, Bharal, Serow, Himalayan Black Bear, Himalayan Brown Bear, Blue Sheep, Himalayan Monal, Calendula, Petunia, Himalayan Indigo, Thymus Linearis, Ban Ajwain, Linear Leaved Thyme, Balma-jhar, and Indigofera Heterantha to name some of them.
Popular Destinations
1. Dehradun
The city is the capital of Uttarakhand. Dehradun is also known for its Basmati rice and bakery products throughout the country. It is popular among travellers for its picturesque landscape and slightly milder climate and provides a gateway to the surrounding region. It has many government offices, good hotels, restaurants and eateries, and a good number of colleges and universities. It is well connected to all the major cities of India through air, rail and road transfer.
2. Nainital
Nainital is a charming hill station situated at the foothills of Himalayas. It is also known as the 'Lake Paradise' as it has Naini Lake and Bhim Tal. Naini Lake is the most famous attraction of Nainital. There is a famous Naina Devi temple near the lake where the goddess Shakti is worshipped. There is also a beautiful temple in Hanuman Garhi that is dedicated to lord Hanuman. Apart from this, there is Naina Peak which is the highest peak of Nanital. This peak is also called as China Peak.
3. Mussoorie
Mussoorie is ideally an enthralling and delightful hill station situated on the foothills of mesmerising Himalayas. Mostly considered as a honeymooner's paradise, Mussoorie is blessed with a unique romantic aura. It also provides majestic views of a wide range of mesmerising valleys and mountains. Gun Hills, Kempty Falls, Mussoorie Lake, Mosey Falls are some famous attractions of the hill station which make it a memorable destination for travellers.
4. Haridwar
Haridwar or Hardwar is regarded as one of the seven holiest places (i.e. Sapta Puri) in Hindu Culture. During the Haridwar Kumbh Mela, millions of pilgrims, devotees, and tourists assemble here to perform ritualistic bathing on the banks of the river Ganges (the holiest river in Hinduism) to wash away their sins. Haridwar has been an abode of the weary in body, mind, and spirit. Historically, it has been a centre of attraction for learning various arts, science, and culture. The city has a long-standing position as a great source of Ayurvedic medicines and herbal remedies and is a home to the unique school of traditional education (Gurukul). The city is now emerged beyond its religious importance and is known for its developing industrial estate and affiliated ancillaries.
5. Rishikesh
Situated along the convergence of the holy Ganga and Chandrabhaga, Rishikesh, on the foothills of Himalayas, is the hub of many ancient temples, popular cafes, yoga ashrams, and adventure sports. It is known as "Yoga Capital of the World". The city has also been developed as the hub of Adventure Sports in India as there is a multitude of options available for travellers and adventure lovers including White Water Rafting, Bungee Jumping, Flying Fox, Mountain Biking etc. It serves as the gateway to many Himalayan treks and is used as a popular camping site. Rishikesh is a must visit for everyone visiting Uttarakhand to truly experience the spirit of this beautiful, spiritual state.
6. Char Dham Yatra (The Enlightening Journey)
Char Dham Yatra has a great importance in the Hindu religion as it attracts millions of devotees from across the world. Located in the great Himalayas, Char Dham consists of four most sacred pilgrimages of India — Gangotri, Yamunotri, Kedarnath, and Badrinath. These pilgrimages are open for visitors only during the months of May to October as for the rest of the months they remain covered with ice and are not accessible.
The Char Dhams (the four abodes):
1. Gangotri: Gangotri is the place where Goddess Ganga descended to earth from heaven. It is the source of river Ganga whose water is considered as holy and is the most sacred river in India. The river is also known as 'Bhagirathi'. The origin of this religious river is at Gaumukh, which is located in the Gangotri Glacier, near Gangotri. There is a shrine at Gangotri which is dedicated to the Goddess Ganga, 'the daughter of heaven'.
2. Yamunotri: Yamunotri is the source of the Yamuna river and the abode of the Goddess Yamuna. It is considered a sacred town as it was once the dwelling of the ancient sage — Asit Muni. There is a temple here where Goddess Yamuna is worshipped. Here you can see the deity in black marble. The shrine houses a beautiful silver idol of the goddess. Yamunotri is also famous for its hot water spring where rice is cooked and then prepared into Prasad (a Hindu religious offering).
3. Kedarnath: Kedarnath is one of the important pilgrimages of Hindus, and particularly so because of the beautiful Kedarnath Temple. Located near the river Mandakini, the temple is dedicated to Lord Shiva (one of the major gods in Hinduism). The temple is one of the twelve 'Jyotirlingas' in India. One of the prominent features of the temple is the head of a man carved in the triangular stone fascia of the temple. The inner walls of the assembly hall are addressed with the idols of different deities and scenes from mythology. A big statue of 'Nandi Bull' stands as guard outside the temple door.
4. Badrinath: Being one of the most celebrated pilgrim places in the country, Badrinath significantly acts as the host to the renowned Badrinath Temple. According to Hindu mythology, Lord Vishnu visited the area, known as 'Badri Van' (berry garden) to meditate when 'Narad' censured him for being involved in worldly pleasures. The main god here is meditating Lord Vishnu. Protected on either side by two mountains named as Nar and Narayan, the Neelkanth Peak offers an impressive backdrop to Badrinath.
Points of Interest
1. National Parks, Wildlife Sanctuaries, National Reserves
Corbett National Park, Rajaji National Park, Nanda Devi National Park, Valley of Flowers National Park (also a World Heritage Site for its wild untamed blooms), Gangotri National Park, Binsar Wildlife Sanctuary, Askot Wildlife Sanctuary, Kanchula Korak Musk Deer Sanctuary, Govind Pashu Vihar Wildlife Sanctuary, Benog Wildlife Sanctuary, and Jabarkhet Wildlife Reserve.
2. Religious Places
Hemkund Sahib, Mayawati Ashram, Tungnath Temple, Gaumukh Trek, Koteshwar Mahadev Temple, Baleshwar Temple, Devprayag (confluence point of rivers Alaknanda and Bhagirathi), Raghunathji Temple, Chandrabadani Temple, Banasur ka Kila, Baleshwar Temple, Nakuleshwar Temple, Arjuneshwar Shiva Temple, Surkhanda Devi Temple, Neelkantha Mahadeva Temple, Mahamrityunjaya Temple, Jageshwar Mahadev Temple, Nanda Devi Temple, Narayan Ashram, Madhyamaheshwar Temple, Budha Madhyamaheshwar, Mukteshwar Temple, Gangotri Temple, Janki Chatti, Yamunotri Temple, Hanuman Chatti, Badrinath Temple, Naina Devi Temple, Patal Bhubaneswar Temple, Haat Kalika Temple, Kedarnath Temple, Shankaracharya Samadhi, Chandi Devi Temple, Vishwanath Temple (Guptakashi), Ardhanarishwar Temple, Bhagnath Temple, and Piran Kaliyar Sharif, Rishikesh.
3. Fairs and Festivals
Nauchandi Mela, Harela Mela, Haridwar Kumbh Mela, Uttarayani Mela, Purna Kumbh Mela, Makar Sankranti, Vaishakh Purnima Snan, Vasant Panchami, Kumauni Holi, Ganga Dashahara, Ghee Sankrant, Khatarua, Vat Savitri, Phul Dei, Kanwar Yatra, Kandali Festival, Ramman, Kauthig, Giddi Mela, and Nanda Devi Raj Jat Mela.
4. Trekking Places
Trekking in Auli, Auli; Gomukh Tapovan Trek, Gangotri; Valley of Flowers Trek; Tungnath to Chopta Chandrashila Trek; Har ki Dun Trek, Dehradun; Nanda Devi Trek, Munsiyari; Skiing and Trekking in Mundali, Chakrata; Khaliya Top, Munsiyari; Trekking in Tehri Garhwal, Tehri Garhwal; Jungle Walks, Ramgarh; Camping and Trekking at Thangdhar, Dhanaulti; Kanatal Adventure Camp, Dhanaulti; and Nature Walks in Lansdowne, Lansdowne.
Best Time to Visit
Uttarakhand is among the few all-weather states of India which welcome travellers all-round the year. Being a hilly state, Uttarakhand has huge number of hill stations and hence the best time to visit this state is summer during the months of (April to July).
The northern state gets heavy rainfall during the months of July to September. During the rainy season, cloud bursts and mud slides are common in Uttarakhand and most of the trekking places and many highways remain close due to this. Therefore, it is not recommended to visit Uttarakhand during the rainy season as you might get stuck and your holiday plans will be ruined.
The winter season is full of cold Himalayan winds and ice in many parts of the state. The temperatures dip below 0 degrees and ice covered mountains and landscape are a treat to watch. The winter season falls during the months of October to February in Uttrakhand.
Things to do in Uttarakhand
1. Adventure Sports
Being a mountainous state, Uttarakhand offers plenty of adventure sports to travellers such as River Rafting, Mountain Biking, Camping, Hiking, Mountain Trekking, Glacier Trekking, Bungee Jumping, and Skiing. The best places to experience these adventures sports are: Mandakini Valley, Rishikesh, Chakrata, The Valley of Flowers, Bhimtal, Bhowali, Kedarnath, and Auli.
2. Honeymoon Destinations
Uttarakhand has always been a very popular destination for newlywed couples for honeymoon. The abundant greenery, picturesque mountainous terrains, mesmerising surroundings, and pleasant weather make it an ideal place to make lifelong memories. The most famous honeymoon destinations of Uttarakhand are: Auli, Lansdowne, Mussoorie, Nainital, Binsar, Ranikhet, and Chopta.
3. Experience the Best of Wildlife
The north Indian state has some of the country's most popular wildlife sanctuaries and national reserves. You can enjoy and experience a number activities at these places such as jeep safaris, elephant safaris, and jungle trekking. Amidst the stunning, panoramic valley views you can experience sighting tigers and other wild animals. Corbett National Park, Valley of Flowers National Park, Rajaji National Park, and Nanda Devi National Park is one place that you just can't afford to skip while travelling to Uttarakhand.