Know which are the best jungle safari destinations AND NATIONAL PARKS in India. Read In DETAIL ABOUT THESE INDIA'S BEST wildlife safari destinations.
India is a land of diversified flora and fauna. Its natural beauty and habitat has always attracted tourists from all across the globe. Experiencing the thrill and adventure of Jungle safaris has always been on top of the list of nature and animal lovers. If you are the intrepid one who has been planning to travel to a place in India that has got abundant wildlife, adventure and thrill, here's our list of India's best jungle safari destinations you must visit once in your life.
Jim Corbett National Park, Uttarakhand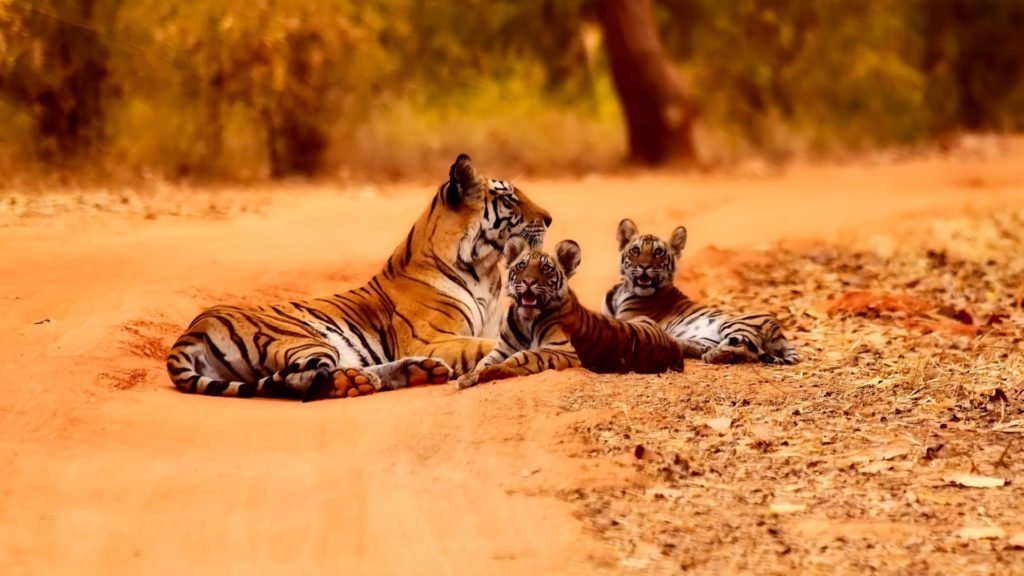 Jim Corbett National Park or Corbett Tiger Reserve is India's oldest national park and was established in the year 1936 to protect the Bengal tigers. Tourists from across the world visit this popular national park to see the royal Bengal tigers. It is located in the Uttarakhand state of India and an ideal time to visit this tiger reserve is between November to June. This national park spans over 520 kilometres and is also a home to leopards, barking deers, hog deer, Himalayan black bear, chital, Himalayan goral, Indian pangolin, gharials and many other species. For bird lovers too, this national park has plenty of attractions such as little green bee-eaters, Pallas's fish eagle, Tawny fish owl etc.
Ranthambore National Park, Rajasthan
Spread over 500 kilometres, the Ranthambore National Park is an abode to one of the powerful members of the big cat family — the Tigers. Wildlife lovers can enjoy the sighting of these animals here in their natural jungle habitat. The list of other animal species present here in Ranthambore includes Indian Leopard, Wild Boar, Sambar, Nilgai, Striped Hyena, Crocodile, Chital, Rhesus Macaque, Southern Plains Grey Langur etc. Here, you may also have sightings of many popular Indian birds such as Indian Gray Hornbills, Graylag Goose, Woodpeckers, Common Kingfishers, Cuckoos, Bee Eaters, Parakeets, Nightjars, Pigeon, Asian Palm Swift, Flamingos, Mynas, Bulbul, Falcons etc.
The best time to visit Ranthambore National Park is between October to June, as during the monsoon season, Ranthambore National Park is closed for the visitors.
Gir National Park, Gujarat
Gir National Park aka Sasan-Gir Wildlife Sanctuary is India's most popular jungle reserve where you can spot the beasts —the Lions. It is located in India's Gujarat state and is spread over 1412 square kilometers. Wildlife lovers can enjoy the sighting of lions and other species best between October to May. Other species found in Gir National Park are Indian leopard, striped hyena, jungle cat, Golden jackal, Ruddy mongoose, desert cats, honey badger, crocodile, Indian cobra, tortoise, monitor lizard, pythons, chital, nilgai, sambar, four-horned antelope, chinkara, wild boar etc.
Gir forest is also home to many rarely seen birds like Bonelli's eagle, serpent eagle, crested hawk-eagle, Indian eagle-owl, brown fish owl, Indian peafowl, black-headed oriole, Indian pitta, crested treeswift etc.
Sunderbans National Park, West Bengal
Sunderban National Park is a vast mangrove forest located in the West Bengal state of India; adjacent to Bangladesh's Sundarban Reserve Forest. This national park is the home of the royal Bengal tigers and many other endangered species. Rarely seen anywhere else in the world, the tigers of Sundarbans are able to swim in the saline waters and have reportedly attacked humans numerous times. It is between October to April when these tigers can be seen resting on the river banks. Apart from the tigers what resides in the Sunderbans are Macaques, Fishing cats, Leopard cats, Wild boar, Fox, Indian grey mongoose, Chital, Pangolin, Jungle cat, Flying fox etc.
Other notable reptile and bird species in Sunderban National Park include saltwater crocodile, olive ridley turtle, river terrapin, hawksbill turtle, Ganges River dolphin, mangrove horseshoe crab, black-capped kingfishers, water hens, pariah kites, red junglefowl, spotted doves, herring gulls, wood sandpipers, green pigeons, grey-headed fish eagles, white-eyed pochards, whistling teals etc.
READ ABOUT BEST RIDING TRIPS IN INDIA
Kanha National Park, Madhya Pradesh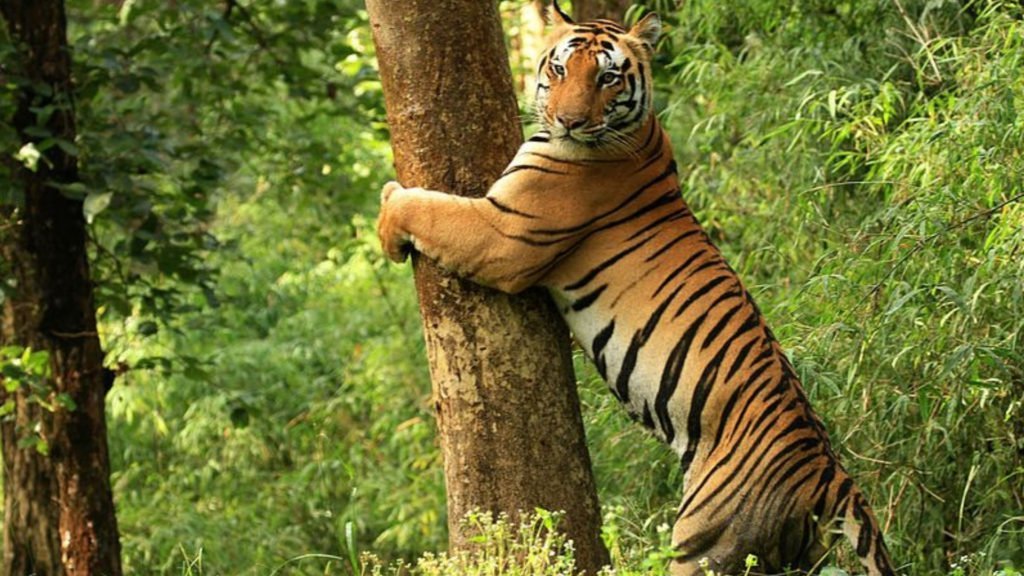 The jungles of Kanha have been an inspiration to Rudyard Kipling's famous book, the 'Jungle Book'. Officially, the Kanha National Park, located in the Indian state of Madhya Pradesh, came into the existence in the year 1955. For those who want to experience the sighting of Tiger roaming freely in its very own natural habitat, Kanha National Park, also known as Kanha Tiger Reserve, is the right most place to visit. The best time to visit Kanha National Park is between October to May. Besides tigers, Kanha forests are also home to the endangered Swamp Deers also known as Barasingha. The forests stretch over 940 square kilometers and also accommodate Indian leopard, sloth bear, Indian wild dog, blackbuck, Indian wolf, hyena, fox, porcupine etc.
Added to this, here, you may also come across birds like bee eaters, blossom-headed parakeets, drongos, pond heron, common teal, grey hornbill, crested serpent eagle, Indian roller, lesser whistling teal, pied hornbill, paradise flycatchers, woodpecker, Indian peafowl, mynas, steppe eagle, red junglefowl, white-breasted kingfisher, wood shrikes and many others.
Kaziranga National Park, Assam
Kaziranga National Park is located in the Indian state of Assam and is spread in an area of over 430 kilometers. It is popularly known for being a home to over 2,400 one-horned rhinoceroses. This eastern Himalayan forest reserve is also an abode to other wild species such as tigers, elephants, wild water buffalo, swamp deer, wild boar, Bengal fox, sloth bear, golden jackal, Chinese pangolin, hog badger, Indian pangolins, Chinese ferret badgers etc.
Kaziranga National Park also catches the attention of the bird lovers due to its abundant birdlife habitat that includes ferruginous duck, white-fronted goose, black-necked stork, Blyth's kingfisher, Dalmatian pelican, white-bellied heron, spot-billed pelican, black-bellied tern, grey-headed fish eagle, Nordmann's greenshank, Pallas's fish eagle, lesser kestrel etc. This national park is a UNESCO World Heritage Site and you can enjoy viewing the beauty of this Jungle and its habitat best between November to April.
Bandhavgarh National Park, Madhya Pradesh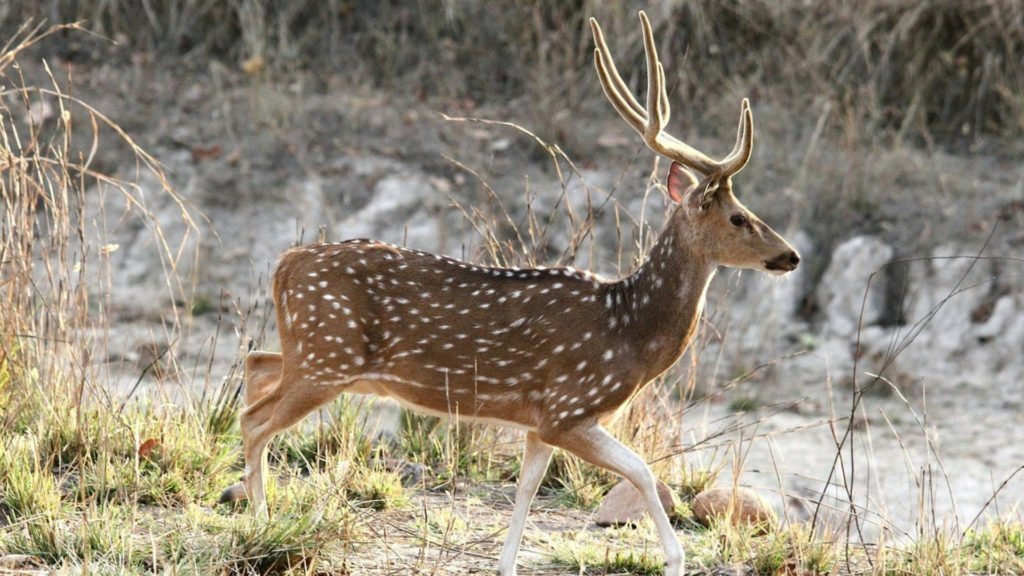 Bandhavgarh National Park, also known as Bandhavgarh Tiger Reserve, is another fabulous place to go on a jungle safari in India. This national park is located in the Madhya Pradesh state of India and is spread across 105 square kilometers, and also includes buffer area of around 400 kilometers. The flora and fauna of this national park is worth a view and wildlife lovers usually come here to see the Royal Bengal Tigers in their natural habitat. The best time to visit Bandhavgarh Tiger Reserve is between the months of October to June.
The Bandhavgarh National Park houses many endangered species like Indian leopard, sambar, barking deer, Indian wolf, caracal, striped hyena, chital, gaur etc. For bird lovers too, Bandhavgarh forest is a must visit place as it shelters Plum-headed parakeet, Orange-headed thrush, Green-headed barbet, Indian grey hornbill, Rock pigeon, Black drongo, Pond heron, Red-wattled lapwing, Indian robin, Sirkeer malkoha, Large-billed crow, Spotted dove, Black stork, Red-vented bulbul, Oriental turtle dove, White-rumped vulture, Large cuckooshrike, Laughing dove, Bonelli's eagle etc.
Periyar National park, KerAla
Periyar National Park and Wildlife Sanctuary, located in the Kerala state, is one of the most popular wildlife reserves in India's southern region. Also known as Thekkady, this wildlife reserve is spread across 777 square kilometers and shelters endangered wild species like langurs, wild boars, elephants, tigers, sambars, gaurs, wild pigs, sloth bear, bisons and many others. The beauty of this forest reserve is worth a view during the months of September to April. The majestic outlook of Periyar Wildlife Sanctuary is further upraised by its beautiful artificial lake.
Periyar National Park is also a home to many birds and reptiles that include Malabar grey hornbill, blue-winged parakeet, Nilgiri wood pigeon, Nilgiri flycatcher, black baza, crimson-backed sunbird, spot-bellied eagle-owl, white-bellied blue flycatcher, Nilgiri thrush, rufous-bellied hawk-eagle, king cobra, striped coral snake, Malabar pit viper etc.
Manas National Park, Assam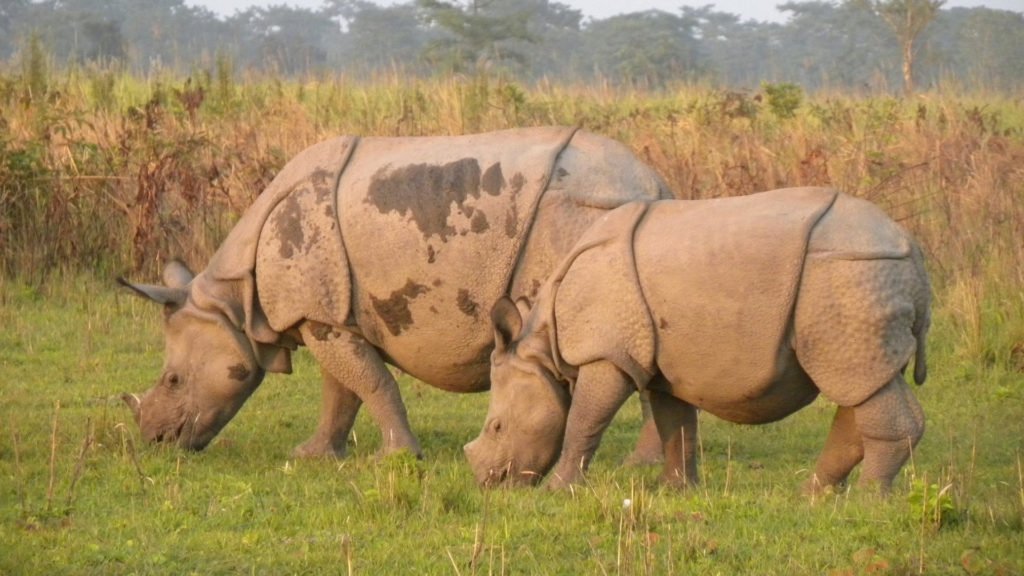 Manas National Park or Manas Wildlife Sanctuary is UNESCO Natural World Heritage Site located in the state of Assam. This wildlife reserve is located in the Himalayan foothills and is contiguous with Bhutan's Royal Manas National Park. This national park is spread across 500 square kilometers (core area).
October to May are the best months to visit Manas National Park and during this time you can have sightings of some of its popular wild species like Indian rhinoceros, Indian elephants, gaurs, barasingha, Asian water buffaloes, Indian tigers, clouded leopards, Indian leopards, Assamese macaques, sloth bears, hog deers, barking deers, black panthers, chitals, sambar deers etc. You may also see many rare bird species here in Manas Wildlife Sanctuary. Some of them include brahminy ducks, egrets, bulbuls, jungle fowls, kalij pheasants, fishing eagles, pelicans, falcons, crested serpent-eagles, bee-eaters, grey hornbills, pied hornbills, harriers, mergansers etc.
Tadoba National Park, Maharashtra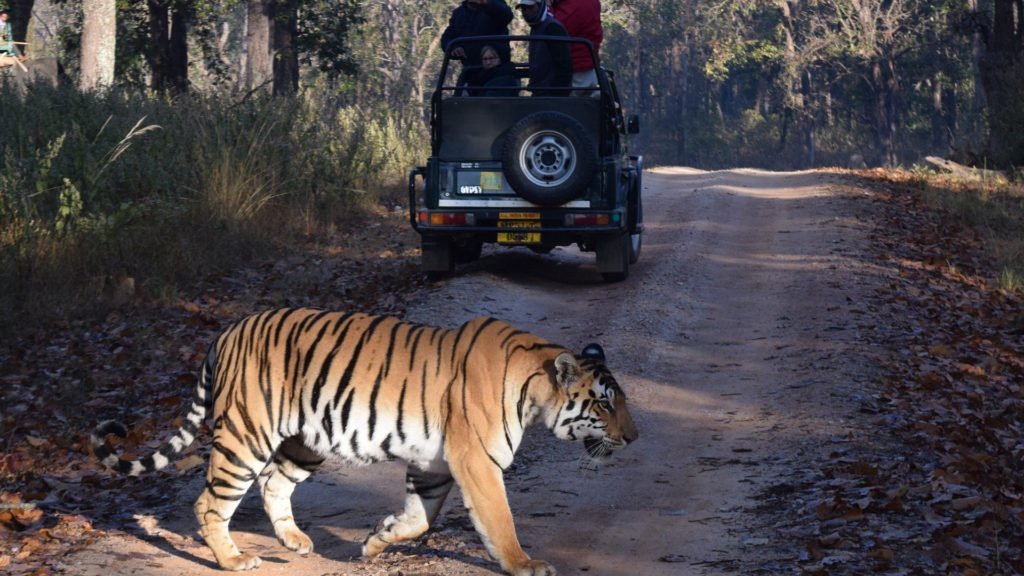 Tadoba National Park, also called, Tadoba Andhari Tiger Reserve is located in the Chandrapur district of Maharashtra. This national park is spread across 1727 square kilometers and is among the 47 project tiger reserves of India. Wildlife lovers come here at Tadoba National Park to see the Royal Bengal Tigers residing in their natural habitat. The ideal time to visit Tadoba Tiger Reserve is between October to June. Like many other popular national parks in India, wildlife lovers can experience the Jungle Safari here in an open top gypsy. Both the flora and fauna are worth watching here at Tadoba National Park. Terrains, meadows, deep valleys, hillocks and plains make this place diversified and apt enough to house wild species.
Apart from tigers, this forest reserve is also a home to many other worth viewing species like Indian leopard, sloth bear, striped hyena, gaur, dhole, small Indian civet, nilgai, jungle cats, barking deer, sambar, chital, marsh crocodile, Indian python, Indian cobra, Indian star tortoise etc. Birds that can be seen here include crested serpent eagle, grey-headed fish eagle, changeable hawk-eagle, orange-headed thrush, crested treeswift, Indian pitta, stone curlew, paradise flycatcher, crested honey buzzard, bronze-winged jacana, goldenbacked woodpecker and others.
Pench National Park, Madhya Pradesh
Pench National Park is located in Seoni and Chinndwara districts of Madhya Pradesh. This place also finds its name in 'The Jungle Book', written by English Author Rudyard Kipling. The beautiful jungles of Pench sprawl over 758 square kilometers and are worth viewing for their incredible flora and fauna.
November to June are the best months to visit Pench National Park and to ensure that you have one of the finest wildlife experiences, open Jeep Safaris are provided here. This forest reserve is a home to numerous wild creatures like Royal Bengal Tiger, Indian wolf, wild boar, sloth bear, jackal, wild dog, fox, striped hyena, Indian leopard, barking deer, gaur, four-horned antelope and many others. Added to this, the Pench Tiger Reserve also shelters over 285 resident and migratory bird species. Some of the popular birds seen in the Pench jungles include peafowl, crow pheasant, junglefowl, waterfowl, red-vented bulbul, crimson-breasted barbet, racket-tailed drongo, magpie robin, Indian roller, lesser whistling teal, shoveller, pintail, minivet, egret and herons, oriole, munia, wagtail, myna, common kingfisher etc.
Satpura National Park, Madhya Pradesh
Satpura National Park, also known as Satpura Tiger Reserve is located in the Madhya Pradesh state of India. This national park is spread across 2133 square kilometers and is quite famous for its jungle safaris. The best time to visit this national park is between October to April.
The ambience and the natural beauty of Satpura National Park are sure to delight you. It has got every characteristic of an ideal jungle — hills, terrains, meadows, grasslands and lush green forests. Likewise, the fauna comprises of many rare species that every wildlife lover would love to see. Some of the popular animals seen here in this jungle include spotted deer, sloth bear, tigers, leopards, Indian bison, wild boar, porcupine, black buck, four-horned antelopes, sambhar, marsh crocodile, langurs etc. Popular bird species seen in Satpura Tiger Reserve include Paradise fly-catcher, Honey buzzard, Malabar whistling thrush, Malabar pied hornbill, Indian vulture etc.
Hemis National Park, Ladakh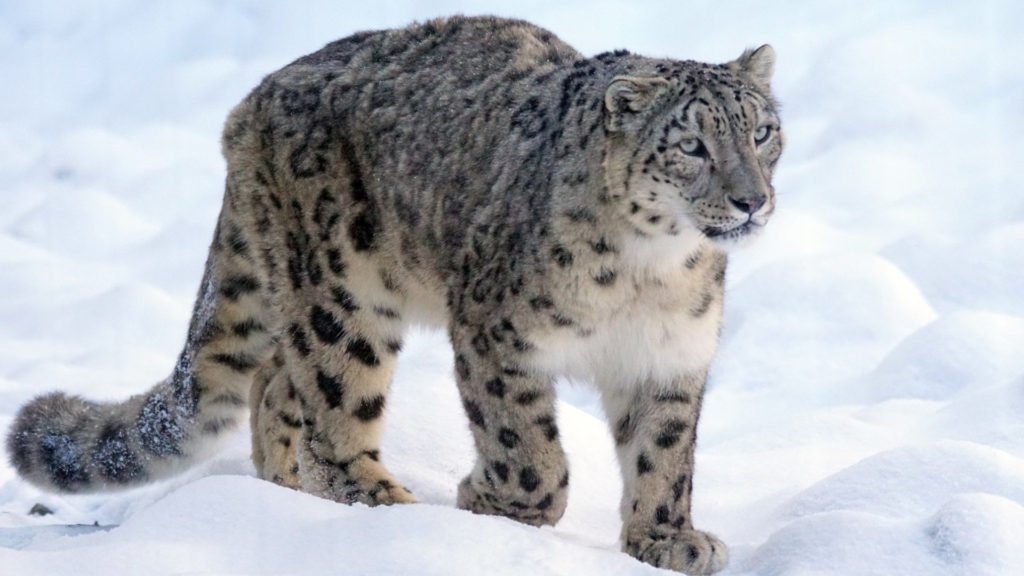 Hemis National Park is a high altitude national park with an area of around 4400 square kilometers. This national park is located in the eastern Ladakh region of Jammu & Kashmir state and was established to safeguard the snow leopards in India. Its widespread area makes it South Asia's largest national park. It is situated amidst Himalayan mountain ranges and the weather is usually cold here throughout the year. The natural beauty of Hemis National Park is awe-inspiring due to its scenic landscapes. Best time to visit this national park is between May to September.
It shelters around 200 snow leopards (maximum in any national park in the world) and it is also a home to other notable species like red fox, Tibetan wolf, Eurasian brown bear, Himalayan marmot, Himalayan mouse hare, mountain weasel etc. Since this national park sits on the north of river Indus, its geographic conditions also attracts many resident and migratory birds. Some of the popular birds seen here in Hemis National Park include lammergeier vulture, the golden eagle, Himalayan griffon vulture, robin accentor, brown accentor, Tickell's leaf warbler, streaked rosefinch, chukar, black-winged snowfinch, red-billed chough, Blyth's swift, fire-fronted serin and Himalayan snowcock.