Tourism Bharat: Read about TOURISM IN himachal pradesh, know Its Popular Destinations, points of interest, best time to visit & More!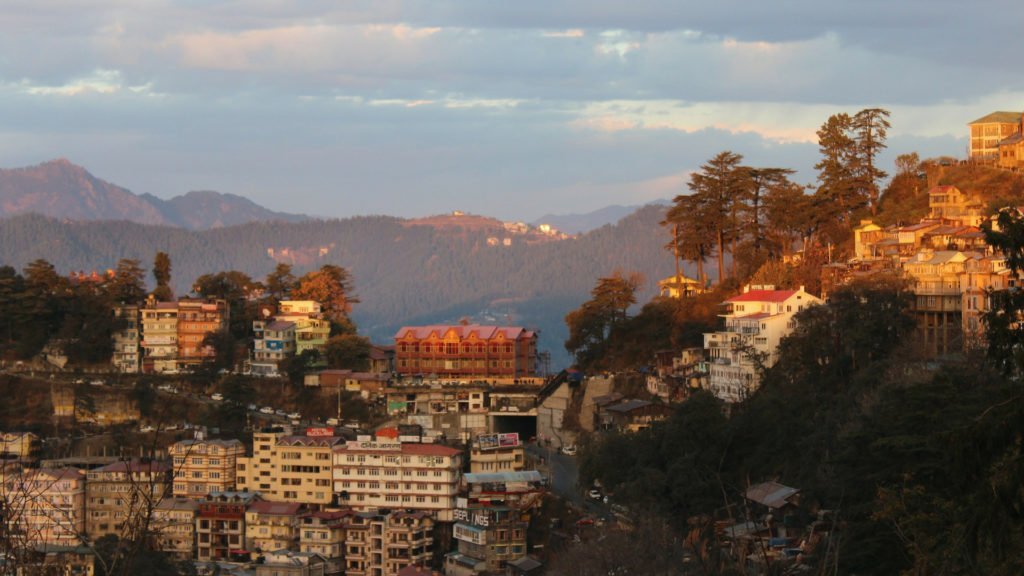 Tourism in Himachal Pradesh
Himachal Pradesh — the land of unequalled beauty, because of its fine weather is a paradise for tourists who love mountains and clear air of high altitudes. The literal meaning of Himachal Pradesh is "the abode of snow". Because of high altitude, Himachal gets lots of snowfall and is an extremely popular destination for winter sports lovers. The state offers lush green landscape with deep valleys and lofty mountains. Himachal Pradesh truly is a land of vast geo-topographical diversities that will surely win your heart.
The region has historical linkages with Buddhism since last millennium. The state is home to the Central Tibetan Administration also referred as the Tibetan Government in Exile. There are numerous Buddhist monasteries present in the state. Himachal Pradesh is also called as "Dev Bhumi" or (Land of Gods) by Hindus and hence, has many important temples and pilgrimage centres revered by the state's large Hindu community.
A place full of sheer geographic and ethnic diversity — Himachal Pradesh — is one the most richly endowed states of the Republic of India. It will leave a lasting impression on not just your mind but on your heart too with its thick green forests, snow-capped mountains piercing the skyline, beautiful shimmering mountain lakes, deep gorges, historical heritages, and enthusiastic people.
Popular Destinations In Himachal Pradesh
1. Shimla
Popularly known as the "Queen of Hill Stations", Shimla mesmerises its visitors with its snow-capped peaks, cascading waterfalls, romantic lakes, beautiful valleys, and pleasant climate. It is the capital city of the state of Himachal Pradesh, often called as the Land of Gods. The best time to explore Shimla is during summers and winters. Shimla is a famous destination for newly wed couples. The Ridge Road, Jakhu Hills, State Museum, Chadwick Falls, Vice regal Lodge are a few points of attraction in Shimla that should be on every traveller's bucket list. The land of Shimla is scattered with numerous regal bungalows, which are an acknowledgement to the magnificent history of this majestic city.
2. Kullu
Kullu is located on the banks of Beas river, which is very pleasing and beautiful. In the ancient times, Kullu used to be known as 'Kulantapitha' as mentioned in the great Hindu epics, the Ramayana and Mahabharata. Spotted with several beautiful temples such as Bijli Mahadev Temple, Bajeshwar Mahadev Temple, and Jagannath Temple, the Kullu valley is popularly known as the "Valley of Gods". Kullu is well-known across India for its Dussehra celebrations, which continue for many days. The Kullu valley looks extremely colourful and lively during the festival. The people wear colourful clothes, feast on amazing delicacies and enjoy life to its fullest in this city.
3. Manali
Manali is a mesmerising hill station located in the majestic Himalayan mountains in Himachal Pradesh. The hill station is a formal part of Kullu district. It is held in high regard by the local Hindu community as it was once the abode of the Saptarishi or seven sages. Manali was named after a sage called Manu Rishi, who once lived here and inscribed the first constitution of India called "Manu Smriti". It is also one of the most common choices of Bollywood filmmakers for shooting. Be it adventure, scenic beauty, salubrious climate, or rich cultural heritage, Manali offers it all. A place that's worth visiting at least once in your lifetime.
4. Dharamshala
Dharamshala is the most beautiful place in the Kangra Valley of Himachal Pradesh. The land of Dharamshala is gifted with pine-clad hills, beautiful streams and rivers, lofty peaks, ancient temples, and pagoda-shaped monasteries. It is popularly known as the residence of Dalai Lama and is a center of Tibetan Buddhism. Dharamshala is ideally located on the high slopes in the upper regions of the Kangra Valley. The town is divided into two sections — the Upper and Lower Dharamshala; Upper Dharamshala is called McLeod Ganj, retaining a British colonial atmosphere still to this date, whereas the Lower Dharamshala is the commercial center.
The city is a cultural center and organizes an annual film festival called as "Dharamshala International Film Festival" or (DIFF). A number of world renowned documentaries, fiction, and feature films are showcased from the world cinema during the festival.
5. Kasauli
Delimited in a magnificent influence, Kasauli is a wonderful small town urbanised by the Britishers before independence. Like other hill stations of Himachal Pradesh, Kasauli is also gifted with immense natural beauty. Wandering through the narrow paths of Kasauli, visitors will enjoy the scenic beauty. It is popularly known as 'The land of superb vistas'. The churches and bungalows built here during the British rule in India are some of the incredible attractions of Kasauli. Besides this, Kasauli is the junction of Upper and Lower Malls, lined up with several shops hoarded with amazing Himachali, Tibetan handicrafts. Kasauli has a great religious importance in Hindu culture as it is believed that Lord Hanuman once have rested his feet on this land.
6. Palampur
Situated in the Kangra valley, near the Dhauladhar ranges in Himachal Pradesh, Palampur is popularly known as the tea capital of North India. The regal architecture and numerous beautiful temples of Palampur have played a major contribution to its popularity. There are plenty of tea gardens and paddy fields in Palampur, making it a pleasing and bracing destination for the lovers of natural beauty. Sujanpur Tira is another place near Palampur, which is worth your visit. The forts and old temples located at this place are of extraordinary magnificence. It was once a part of the regional Sikh Kingdom and later came under the British rule. The best time to visit Palampur is in summers.
7. Dalhousie
Dalhousie is one of the favorite hill stations among most tourists travelling to Himachal Pradesh. It is known for its mesmerising natural beauty and its old world charm. The miniature glittered town of Himachal Pradesh is a piece of paradise for all the vacationers. It brags of old world charm, mesmerising natural landscape, pine-clad valleys, flower bedecked meadows, fast flowing rivers, magnificent misty mountains, and some of the most extravagant views in the world.
It is said that Dalhousie was one of the most beloved summer destinations of the Britishers as it is truly reflected in the splendid Victorian style mansions of this town. Situated far from the bustling cities in the country, this picturesque town brings its visitors to a pollution-free environment. Dalhousie's beauty comprises a number of mountains and river streams that tourists must visit. Among them the most famous are Panch Pulla, Satdhara Falls, and the Daikund Peak. Dalhousie's ideal climatic conditions make it one of the very few places which can be visited all year round. However, the best time to visit Dalhousie is from the month of March–June. During this time, you will be completely smitten by the sheer beauty of this famous hill station.
Points of Interest
1. Places of Religious Importance
Temples: Chaurasi Temple, Renuka Temple, Trilokpur Temple, Baijnath Temple, Brajeshwari Temple, Bijli Mahadev Temple, Trilokinath Temple, Chamunda Devi Temple, Chattari Temple, Chintpurni Temple, Dhoongri Temple, Hanogi Maa Koyla Maa Temple, Hatkoti Durga Temple, Jahku and Sankat Mochan, Jwala Devi Temples, Laxmi Narayan Temple, Mandi Temple, Naina Devi Temple, Prashar Temple, Raghunathji Temple, Baba Balak Nath Temple, Shikari Devi Temple, Rock Cut Temple Masroor and Rewalsar Temple.
Monasteries: Guru Ghantal Monastery, Key Gompa (Key Monastery), Shashur Monastery, Bir Monastery, Dhankar Monastery, Tabo Monastery (or Tabo Chos-Khor Monastery), Lhalung Monastery, Nako Monastery, Tangyud Monastery, Namgyal Monastery, Kalachakra Temple, Bon Monastery, Jonang Takten Phuntsok Choeling monastery, Thungyur Lhakhang Temple, Hu-Bu-Lan-Kar Monastery and Kungri Monastery.
Churches: St. Mark's Church, Seventh Day Church, Baptist Church, St. Crispin's Church, Evangelical Church of India, St. John Church, Dagshai Church, Christ Church and Fgnt Church.
2. Wildlife Sanctuaries, Reserves and National Parks
Some of the appealing wildlife destinations to visit in Himachal Pradesh are: Simbalbara Sanctuary, Great Himalayan National Park (A UNESCO World Heritage Site), Chail Sanctuary, Pin Valley National Park, Churdhar Sanctuary, Dharangati Wildlife Sanctuary, Kalatop Khajjiar Sanctuary, Kanwar Sanctuary, Maharana Pratap Sagar Sanctuary, Suketi Fossil Park, Majathal Sanctuary, Manali Sanctuary, Nature Park Gopalpur, Renuka Sanctuary and Nature Park Kufri.
3. Mountain Passes
Being a Himalayan state, Himachal Pradesh offers as many as 17 mountain passes for adventurers and travel lovers to enjoy. The mountain passes present in Himachal Pradesh are Rohtang Pass, Jalori Pass, Kunzum Pass, Baralacha La, Parang La, Takling La or Parana Pass, Hampta Pass, Borasu Pass, Rupin Pass, Chanderkhani Pass, Chanshal Pass, Pin Parbati Pass, Debsa Pass, Shipki La, Shingo La, Saach Pass, Indrahar Pass and Chanshal Pass.
4. Lakes
Popular lakes in Himachal Pradesh include Nako Lake, Rewalsar Lake, Bhrigu Lake, Chamera Lake, Chandratal Lake, Dal Lake, Dashir Lake, Gobind Sagar Lake, Khajjiar Lake, Maharana Pratap Lake, Mani Mahesh Lake, Prashar Lake, Renuka Lake, Suraj Tal Lake and Serolsar Lake.
5. Forts
Popular forts in Himachal Pradesh include Kuthar Fort, Malaun Fort, Nauni Fort, Bahadurpur Fort, Satgarh Fort, Ratanpur Fort, Fort Mundkhar, Tiun and Sriun Forts, Gurkha Fort, Jaitak Fort, Kamlah Fort, Pangna Fort, Gondhla Fort, Naggar Castle, Sapni Fort, Morang Fort, Labrang Fort, Kamru Fort, Nurpur Fort, Kotla Fort, Haripur Fort, Kangra Fort, Sujanpur Tihra Fort, Chamba Fort, and Taragarh and Lodhargarh Forts.
Best Time to Visit
Planning a trip to Himachal Pradesh? You got to know the best time to visit this mesmerising land of unequalled beauty. The climate in this state varies from semi arctic to semi tropical. Himachal offers travellers chilly, icy winters; cool, soothing summers; and misty monsoons. The state is generally thronged by tourists and adventurers throughout the year.
The region witnesses summer during the months of March to June. Compared to the other North Indian regions, during these months the temperature in Himachal ranges from 22 degrees to 37 degrees Celsius, which is fairly pleasant. This is often considered the perfect time to visit the state and enjoy its spectacular hill stations.
The monsoon season falls during the months of July to September. The temperatures generally ranges from 15 degrees to 25 degrees Celsius during this season. Many adventurers visit Himachal Pradesh during this season to seek the thrills and chills of its highways, valleys and mountain passes. However, if you are travelling with your family then this is a risky season to visit the state. The heavy rainfall and foggy conditions make it difficult to drive vehicles on treacherous terrains and many times result in long traffic jams on highways.
In Himachal, the winter season is very cold with temperatures ranging from 0 degrees to 25 degrees Celsius. This makes it an ideal destination for people seeking the pleasure of experiencing snowfall and enjoying winter sports.
Things to do in Himachal Pradesh
1. Adventure and Sports
If you are an adventure seeker then Himachal Pradesh is the right place for you. The Himalayan state has it all, right from the majestic, icy Rohtang Pass to the testing trekking in Chanderkhani Pass. In fact, it won't be wrong to say that there's no dearth of adventure in this beautiful region. You can opt from a multitude of options when it comes to adventure and sports in Himachal. Some famous adventure sports of Himachal Pradesh are Trekking, Skiing, Camping, Hang Gliding, Mountaineering and Rock Climbing, Paragliding, Golf, Ice Skating, Water Rafting, Angling, and Vehicle Safari. Shimla is home to the biggest natural ice skating rink in Asia.
2. Festivals, Carnivals and Fairs
The ethnic diversity of Himachal Pradesh mirrors in the festivals and celebrations of its people. Some of the major festivals, carnivals, and fairs of Himachal are Halda festival, Himachal Winter Carnival, Kullu Dussehra, Naina Devi Fair, Minjar Fair (Chamba), Baisakhi, Lavi Fair, Chrewal, Renuka Fair, Shivratri Fair, Doongri Festival, Phulaich Festival, Chintpurni Fair, Sissu Fair, Markanda Fair, Ice Skating Carnival, Ladarcha Festival / La Darcha Fair, Bharmaur Jatra Fair, Chhitrari Jatra Fair, Sarshi Jatra Fair, Dal Fair, Jwalamukhi Fair, Tara Devi Fair and Sui Fair.
3. Flora and Fauna
Himachal Pradesh is blessed with rich flora and fauna that makes it an ideal destination for nature lovers, wildlife enthusiasts, and birders. Some famous and rare animals and birds found here include Ghoral Deer, Ibex, Wild Yak, Snow Leopard, Himalayan Tahr, Musk Deer, Brown Beer, Himalayan Black Bear, Blue Sheep, Western Tragopan (Jujurana), Monal, Tibet Snow Finch, Snow Partridge, Himalayan Snow Cock, Chukor, Yellow Billed, Kestrels, and Red Billed Choughs. In terms of vegetation, Himachal Pradesh has ample wild flowers, ferns, and rich medicinal herbs. Most common trees found in the region include fir, spruce, juniper, bamboo, chil, oaks, rhododendron, deodar, kail, and birch. One flower that you must see is the official state flower locally called as Gulabi Buransh (Pink Rhododendron).