READ Rann Utsav kutch TRAVEL EXPERIENCE SHARED BY TRAVELLER Sandhyaa Venkatachalam.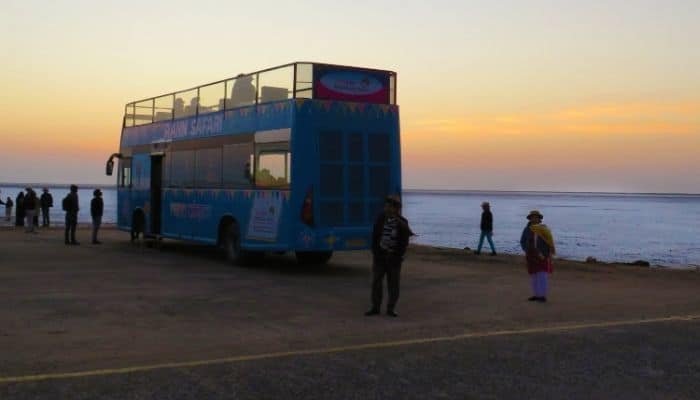 For many years, I had intently watched Mr. Amitabh Bacchan's Gujarat tourism ads on TV…. "Aao, kuch din to guzaro Gujarat me", "Yahaan khushboo hai Gujarat ki" were two of his dialogues that kept resounding in my mind, whenever I used to muse about visiting the beautiful state some day. And so my wish did come true when I got the much awaited chance to spend a few days in 'Kutch' last December (2019), just in time for the 'Rann Utsav'.
Kutch or 'Kachch', is a district in the western state of Gujarat, named so due to the resemblance of the land to the shape of a tortoise. It is a dry landmass, more famed for its vast stretches of salty basin that touches Pakistan to its north and is gulfed by the Arabian waters to its south. This flap of land that looks forked out from the rest of the state is uniquely gifted with an expansive white salt desert in the Rann of Kutch area. It is about 400 km far from the capital city, Ahmedabad.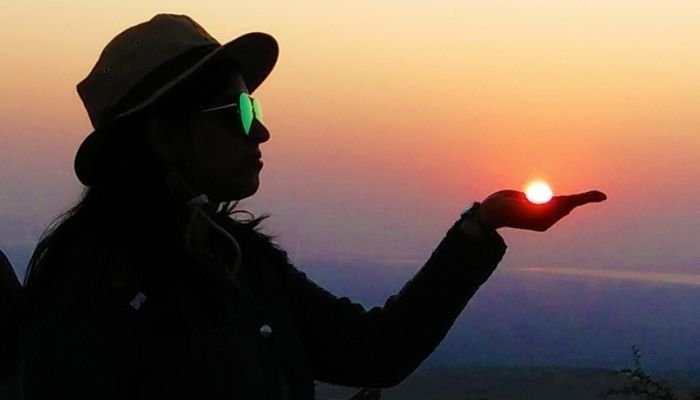 Rann Utsav or the Kutch Festival is an annual event of vibrant 'culture and color', or more popularly known as the White Desert Festival of India, between the months of November and February. A 7-8 hours road journey with dry patches of grasslands on either side, on the Ahmedabad to Kutch highway leads us to a welcome arch sign inviting us into an exotic festive zone.
A tiresome feel owing to the long trip is quickly transformed into elation when the cool winter breeze carrying tingles and jingles of the cheery moods inside sweeps over our faces; the extravaganza that is a fine presentation of local art, tribal lifestyle, native cuisine and jolly folklore, offers a full platter of amusement to its visitors.
Accommodation & Food
Dhordo, an arid, deserted place is the main village in Kutch dedicated to hosting the fest and accommodating tourists. Humongous circular tent cities are erected on the vegetation-less, dark and dense soils, in an immaculate manner, where each tent is cozily set up for stay according to its price range as in deluxe, premium, or luxury, with both AC and non-AC options.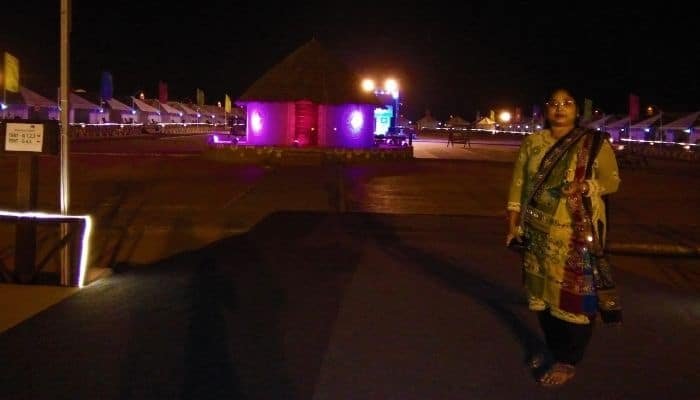 Such a camping arrangement under the sky is especially wonderful on full moonlit nights when one gets to experience the true surreal sense of nature in this peaceful region far from the noises of urban tempo.
There is also the White Rann Resort where in besides tents, they have created mud coloured 'Bhungas' which are an imitation of the conventional circular huts of the Kutchi people adorned with Kutchi paintings both inside and outside. This is certainly a fantastic way to understand and merge into the Kutchi way of life. The Rajwadi (royal) Bhungas as they are called are well equipped with all the amenities for comfort.
The in-house restaurant in these mini townships serves complimentary mouth-watering delicacies to their inhabitants, which is at all times a lavish spread of tasty food often prepared by the localites themselves. The endless list of items include tepla, khakhra, dhokla, dabeli, rotla, chhas, lahsuni pakora, chana dal pakwan and many, many more.
Sunrise & White Desert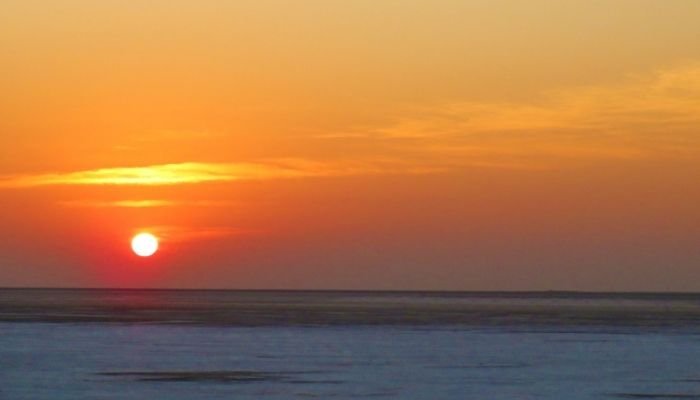 The most exquisite and stupendous feature of being in the Rann is to witness the sunrise; and so awaken before daybreak and hop into the free open deck bus organized by the Resort authorities. Eagerly stepping out into the silence, after a 20-minute drive, brings about an illusion of being in total vacantness, lost in the midst of nowhere except for a white sea of salt that goes on and on as far as the eyes can see.
The White Desert is seasonally marshy formed by the receding sea waters that leave behind crystals of salt due to evaporation. It can almost trick one's senses into believing that it is a snow land rather than a salt land…. absolutely dreamy yet utterly realistic is this location known to be one of the largest white deserts in the world!
While some people may be busy with creative click photography in the chalky white background, posing to emulate different mirage effects; some others leave deep foot impressions on the salt layers and explore further into the desert, and still others wait with bated breath…. for an enchanting ball of yellow fire to slowly emerge from below the earth. The twilight hour here is among the best when the heavenly hues of gold, silver, crimson, and magenta spread across the sky, brightly marking the outlines of the clouds and bringing upon a feeling of tranquility. As the sun rises up higher, a breathtaking kaleidoscope of reflections plays out on the salt-laden pearly white earth, which glows under the varied shades of dawn– nature's perfect creation of euphoric scenery.
ALSO READ: "Mysooru Dasara, Yeshtondu Sundara!" – Mysuru Dussehra, How Beautiful It Is!
Shopping & Camels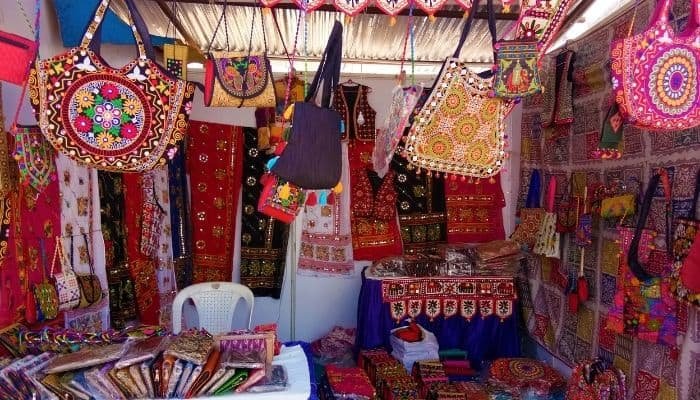 A huge shopping arena at a walk-able distance from the Resort, with plenty of stalls selling time-honored Kutchi-style and other Gujarati-style handicrafts, is any shopper's delight. Eye-catching exhibits of clothes, shoes, handbags, dolls, bangles and wall-decors embellished with classic mirror work, embroideries, tie-dye and block-print designs can be found almost in every other shop. Additionally multi-colored and intricately hand-woven quilts, linen etc representing the ethnicity of the Kutch area can also be bought.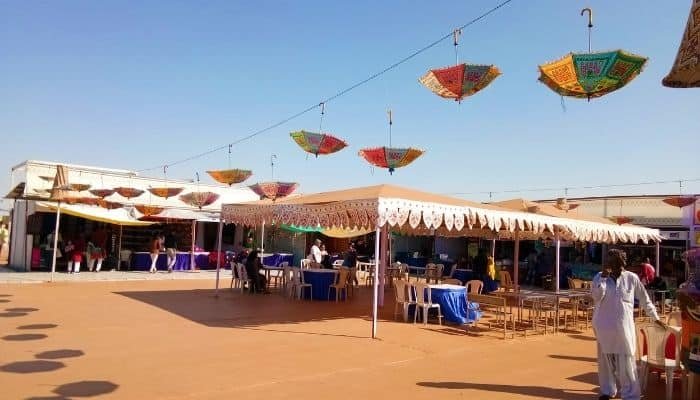 Likewise, a rainbow display of a series of hand-made umbrellas that hang upside-down in front of the stalls is a characteristic feature of the Utsav, whose shadows produce playfully pretty patterns on the ground.
The art-n-craft exhibition is interspersed with food-courts selling both fast-food and regional snacks to cater to hungry shoppers who would enjoy shopping-n-dining together.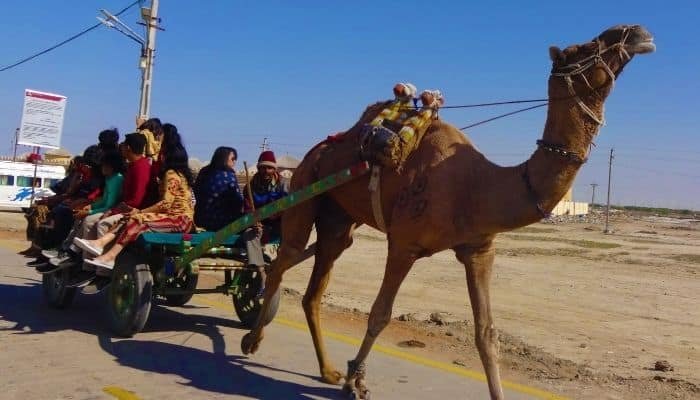 Although the wintry clime keeps blowing chill gushes of air, it is still quite sunny during the day. There are a slew of camel carts at disposal everywhere. The camel undoubtedly is the primary vehicular mode to move around in the desert and ensures an amazingly joyful experience of a ride.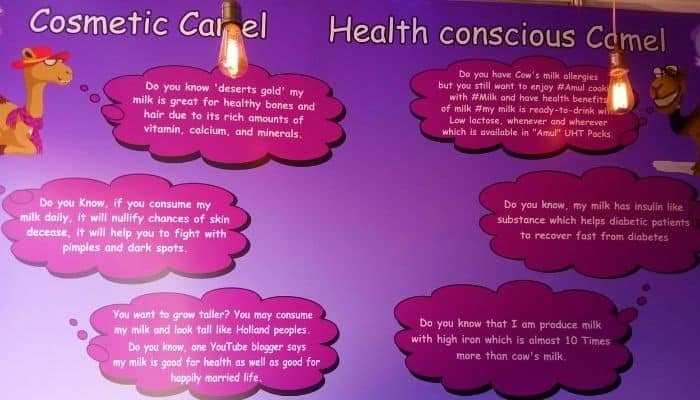 Besides, serious efforts have been undertaken in recent times to promote the remarkable health benefits of consuming camel milk by the government which is evident from specific booths that have been placed inside the food-courts. Not only does the aroma of this rich flavor attract people, but also leaves them quite astonished with a range of camel milk products such as sweets, chocolates, milk-shakes and ice-creams!
ALSO READ: A Visit to Ramoji Film City, Hyderabad
Sunset & Kalo Dungar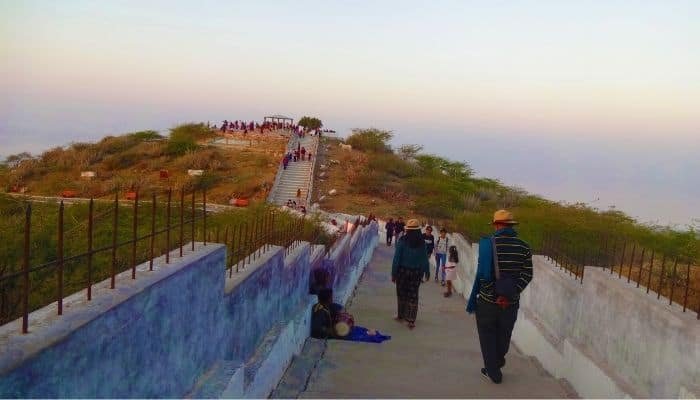 Reveling at Rann Utsav goes unsatisfactory without a trek up to the highest peak of Kutch – Kalo Dungar or the Black Hill. The Resort authorities generously book for another bus drive for its inmates to the spot which is a little farther away from Dhordo that takes about an hour or so to arrive at. A gradual incline with easily scalable steps leads to the hill top which serves as a wonderful viewpoint for both sunset and a quaint panoramic shot of the Great Rann of Kutch. Alternatively reaching up on a camel back is also available for those who cannot pressurize their feet, or for those who want to feel the pleasure of riding up on a sprinting camel.
Here, a few villagers rent traditional looking pagdis or turbans to the guests, help them tie on their heads and allow them to take stylish pictures wearing it; similarly they also rent out traditional outfits to be worn for a photo capture…lovely memories to take back home…!
Enroute, there is a magnetic stretch of road where a peculiar anti-gravity phenomenon can be observed; any vehicle seems to be curiously pulled back up the slope when stationed… not sure if this is delusional or incredible!
Activities & Programmes
Apart from the regular sightseeing, a host of thrilling sport activities are included like paragliding, quad-biking, bungee, cycling and games for children.
Later in the evening, the guests are visually treated to a brilliant fusion concert of dance, song, music and drama which strongly highlights the all-time customs, habits, values and civilization of the community. It is an open-air show after dusk that runs late into the cold, starry night. Performers wear gorgeous costumes and jewelry, and show-case soul stirring renditions; in return for which they only ask for some booming claps of applause.
In all, the Rann Safari is an extraordinary escapade for all types of vacationers. This off the beaten track destination promises to disappoint no one and only loads our hearts with the most distinctly cherishable moments.
To quote Mr. Bacchan's words yet again, "Kutch nahin dekha, toh kuch nahin dekha!!" a truly raw but endearing affair.
ALSO READ: Christmas in Winter Wonderland – Munsiyari, Nepal and Nainital!