Traveller Kavya B R shares glimpses of her travel to Munsiyari, Nepal and Nainital. Let's hear from her about her memorable trip.
Since it's almost Christmas, I thought of sharing a breathtaking winter experience I had last Christmas. I was longing for a perfect X-Mas moment (snow + Christmas tree + snowman) since childhood. Finally, my South Indian soul found out a way to fulfill its dream. Yep!! I found out the perfect winter destination: MUNSIYARI.
Munsiyari, which literally means the place of snow is a small village in Uttarakhand and is a perfect winter destination. I joined a travel group (Appoopanthadi, Kerala) of 18 unknown ladies and kick started our winter trip on December 21.
How to reach? Start your journey from Kathgodam or Ranikhet railway station (both being the nearest and easily accessible railway station from Delhi). Kathgodam is about 300 kms away from Delhi. You can either catch a bus or train from Delhi and travel overnight to reach here. Redbus is a boon.
Climate – Well it's ???❄. So come prepared with winter jackets, gloves, shoes (boots isn't necessary), thermals, fleeces and woolen socks (snowbite is a real thing!).
Day One
Our meeting point was Kathgodam. It's a day long journey to reach MUNSIYARI. We had our breakfast and lunch on the way in roadside dhabas. To be honest, I least expected the possibility of snow as I already encountered a heartbreak at Manali last Christmas. But, by evening itself glimpses of snow were seen on either side of roads and the doubt filled mind of mine jumped with joy whenever it spotted lumps of ice scattered on the road. I was tickled pink on the sight of snow! The feeling of elation when you see something for the first time cannot be matched. The view became magnificent on every uphill turn we took and the mountains were no more brown.
Stay options:
Keep in mind the fact that it's a small village. So don't expect luxury. Basic amenities and good food is assured. You can find a number of lodges/hotels in the net. Just checkout the rating and book. We stayed at Pandey's lodge and it was a pretty good one. Lack of adequate number of heaters was the only issue we faced.
Day 2 To TAMRIKUND
Tamrikund is a frozen lake in the middle of a forest in Munsiyari.
Since we were a bunch of lazy ladies, we began our trip around 10 in the morning. It only took 20 mins to reach Tamrikund. Guess what? We were the first trekkers of the season which also meant that the whole place was ours for the day. Yeepiee. Trekking level is easy to moderate. It was like walking into a never ending forest covered in snow in search of a frozen lake. The forest looked so beautiful in the backdrop of picturesque mountains, and verdant landscapes. It took around 4 to 5 hours for us to reach the frozen lake as we were enjoying all the way clicking pictures, making snowman, sliding through the snow and what not ;). The joy of finding the treasure (frozen lake) was speechless. Imagine walking over a frozen lake. Aaagh, kinda adventurous it was. We spotted bear foot prints too.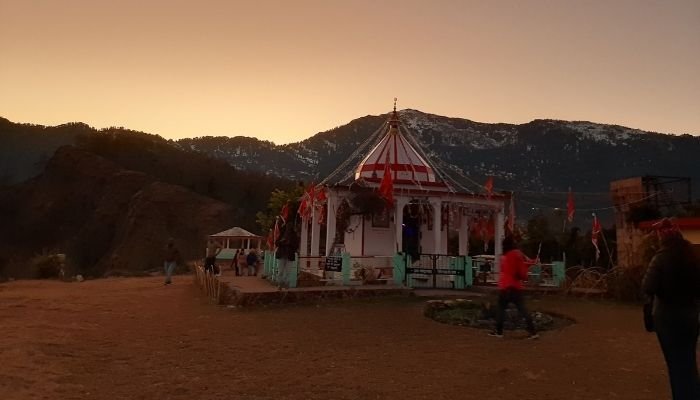 On our way back to hotel, we stopped by the Nandadevi temple to witness the most beautiful sunset one can ever imagine. The temple was built at a height of 7500 feet above msl and is one of the oldest temples in Uttarakhand. A clear view of the PANCHACHULI peaks is what this place offers. The image of those white Himalayas painted in golden yellow as if it was engulfed by fire is something which still gives me goosebumps.
Day 3 to Indo-Nepal border
The excitement of visiting another country was seen throughout the journey. This border lies in Dharchula, a small village which is surrounded by Himalayan peaks. The major attraction was the off-road trekking alongside the beautiful Kali river. We travelled past many beautiful villages which was untouched by snow. The greenery itself was a treat to the eyes. It felt like a drive away in autumn season as most of trees were still in autumn colours. The icing on the cake was the various forms of the mighty Kali river, sometimes calm and sometimes as it's namesake.
ALSO READ: Christmas Days at Charming Colmar, Located in France
We travelled past many beautiful waterfalls and villages. It felt like reading Ruskin bond's 'Rain in the Mountains: Notes from the Himalayas'. After a 3 hour long exciting journey, we reached the bridge above the mighty Kali which separated India and Nepal. You don't need passport to cross the country. We passed to Nepal without any hustle. We strolled through the Nepali market and bought Souvenirs. The highlight of the day was Nepali food. I still don't remember the name of the food I had but it was yum. Both the sides of the bridge are surrounded by shopping streets, and momos and noodles corners (obviously). Free soups are another highlight of the countryside hotels. So we returned back with tummy full of momos and a truck full of fresh oranges from Nepal.
ALSO READ: Kedarnath – An Unfathomable Euphoria
The following days were spent in the astounding Nainital, which needs no introduction. The picturesque lakes, beautifully maintained streets, shopping malls, churches, temples…it felt like walking into a postcard itself. Thank god I bought the Nainital special scented candles, the aroma of which takes me back to Nainital whenever I miss that beauty!