Read the Finland Travelogue written by Rainu James.
The Magic Begins at Finland!
Finland is home to many accolades. Abundantly gifted by mother nature, Finland holds titles such as 'the Land of Midnight Sun' and 'the Land of a Thousand Lakes'. Life in Finland is supposed to be the best as per world happiness index and it is rated among the safest countries in the world. To top it, the Santa clause village in Rovaniemi adds a fairy tale touch to this winter wonderland. Rovaniemi is known as the home town of Santaclaus and attracts tourists all round the year.
All points taken, a Finland trip was always on cards for me and family. We chose the month of March as we wanted to see some snow and experience the winter activities in Lapland. Also, March offers the best opportunity in Finland to spot Northern lights. We boarded Lufthansa on 22nd March 2019 and started our dream vacation.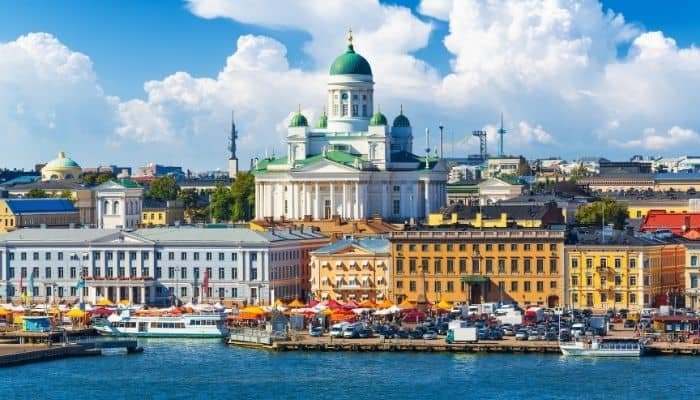 The first stop was Helsinki which is the Finnish capital. We stayed in a private room, rented in Airbnb. My kiddo was thrilled to see snow all around. We took a local bus and set off to explore Helsinki. A beautiful and calm city. The grand cathedral is a wonderful spectacle. It was so cold. Perhaps a a sign of what to expect in Finland for rest of the tour. Later in the evening, our host told us that the Finnish are shy personalities by nature and that probably reflects in this silent ambience of Helsinki.
From Helsinki, we flew in to Rovaniemi on Norwegian flight. We arrived on a cold and snowy morning. Rovaniemi has a small airport even though the city by area is the largest in Northern Europe. The thick snowfall added to its charm. We got our car from Sixt car hire, which then became our trusted companion for the next 7 days as we drove through ice, sleet and endless roads. It was snowing heavily as we made our way into the parking lot. Santa village is just 5kms from airport. Honestly, the amount of snow on the road scared me. I have never driven a car in snowing conditions. With doubts in mind, we started the car and drove out of the parking lot. And there it was.. A big billboard welcoming us to Rovaniemi. It said "The Magic Begins" and there was Santa featuring on the billboard. All doubts vanished and we became excited young kids yearning to embrace the experience.
10 minutes on road and we were already at the parking lot of Santa Village. Tall red buildings, light snow fall and almost zero crowd made it very very special. Kiddo was running around throwing snow and rolling on snow. We were surprised to find Santas office in the very first building. The path had several interesting information about how X-mas is celebrated in Finland. Santa is called Jolupukki in Finland and there is also an alternate scary character who comes out in snow. Slowly we made our way forward. It was low season and so not much crowd. Finally, we were there. The big man with his long white beard welcomed us. Casual conversations on our background. We snapped pictures with him. Santa looked younger than we pictured but he was jovial. Wife and kids took their individual pics with Santa. I stayed away. Santa said "Daddy pls come". I walked near him and in a quick twist he got me lying on his lap. That made a sweet memorable picture. We left the room with big smiles on face. No matter how old you are, meeting Santa is special.
We went on to visit the Santa post office which is open all year round and you can post customized greeting cards to be sent to your home town. Artic circle passes through the village and you can symbolically jump across the artic circle. We crossed the artic circle. Such small things adds to the excitement of a Rovaniemi trip. There are toboggan slides in the park. We took a short reindeer sledge which was just about fine. Spent time by the fire and moved around the park playing in snow and immersing ourselves in the charm of the place. But we had a surprise in store. We saw this mansion in the middle of the park. We went in. It was deserted. And to our surprise we stumbled across Santa yet again. But the Santa here looked older and bigger than the first Santa we met. He was even wearing a slightly different outfit. There were more Elves around and the place is much better decorated compared to the first meeting place. We talked to Santa again. Kiddo was left wondering why Santa did not recognize him from the morning visit. We told him that Santa is mystic and defies logic (This mansion is apparently his official residence). So here is an alert to all visitors. There are two Santas in the park. Be ready with explanations for your kids if you go both places or else, just do not go to the first one. We ended the day with some good food and wine.
Instagram – https://instagram.com/pastelsofrain
We stayed the night at a good Airbnb apartment in the centre of town. The morning of day 2 was spent strolling around the ice roads. The highlight of the day was a dinner at Artic Snow Hotel. It was bloody cold I tell you. Thank God that we decided not to book a night stay there. Had dinner from ice plates on an ice table in an ice hotel. It was fun to walk around and visit the different rooms in the igloo. But it was just bloody cold. We left at midnight driving back in heavy snowfall and in pitch dark.
Day 3, and we were off to Saariselkä, the deep north of Finland. It is a good place for snow sports and is known to offer a fair chance to spot northern lights. We treaded roads for hours and finally reached our resort – The Wilderness Hotel Muotka. What a majestic place. The road to the resort was fully covered in snow. We proceeded to our Aurora Cabin which looked like a cute hut in a fairy tale snow land. We were greeted with complementary champagne bottles. The roof glasses opened to the night sky filled with stars. If aurora appeared, what a view it would have been!! Got our aurora alarms to make sure that we do not miss it even if it presents itself in midnight. Had a good dinner and played a board game offered at the reception which was nice and we went of to sleep under the blanket of stars. It was a clear night and we had all chances of seeing the aurora. But no luck. We had to be content looking at the million stars smiling at us through the glass roof…!
ALSO READ: A Visit to Ramoji Film City, Hyderabad
We woke up to good sunshine and the resort with its log cabins and snow trails looked like pure magic. All 3 of us tobogganed in the slopes of the resort. With low crowd, we almost had the whole resort for ourselves. In the evening, we went for snow mobile safari organised by Lapland Safaris. As the snow mobile glided through the snow trails, we could see endless white fields all around us. We climbed up a small hill on the snow jet, opening ourselves to a good view of the valley below. After the safari, we strolled through the small town of Saariselkä and had a nice dinner from a local restaurant. It is a charming little town. It snowed quite a bit on the day which meant we had no chances of seeing the aurora on Day 2 either. We had our champagne and cuddled beneath the stars.
Early morning, we set out on a snow hike. It was great to walk through the forest with trees soaked in snow. We had good fun creating a small ice man in the middle of the forest. On returning to the resort, I borrowed a pair of ski and tried my luck in skiing. At 2:00 PM, we set off for a date with the huskies. What a fantastic adventure!! The 6 smart hounds took us for a ride along the forest trail. It was fun to watch them wait in anticipation to take off each time we stopped. During the ride they appear to be ferocious animals. On return, we got a chance to meet them upclose and pet the hounds. They are as gentle as kittens. Thanks boys for the experience. You guys were great. A good thing about March is that you receive sunlight for good amount of time. This helps you cover a lot of winter activities.
We checked out from the resort and moved in to Tankavaara hotel in Saariselka for 1 more night with the hope of catching the northern lights. In the night we took our car to the middle of nowhere at 1:00 AM and waited patiently looking at the skies. You can't get everything you want !! Some things have to wait for another time!! We returned to the hotel at around 2:00 AM as aurora did not happen yet again. Had a good night sleep. We strolled around Tankavaara in the morning. It was interesting to see the unmanned curio shops. Also witnessed a demo run of the Gold rush husky race. It is a sight to see the hounds pulling the sleigh at full throttle. After a relaxing day, we set on a 4hr drive to Kemi and onwards to Sweden.
ALSO READ: Christmas Days at Charming Colmar, Located in France
While planning Finland, it was after a lot of deliberation that we included the Polar IceBreaker cruise in our itinerary. It was quite expensive. But the photos and reviews from other travellers lured us into booking the tickets to the middle of the frozen Artic Ocean. It was a decision worth it. An experience like nothing else.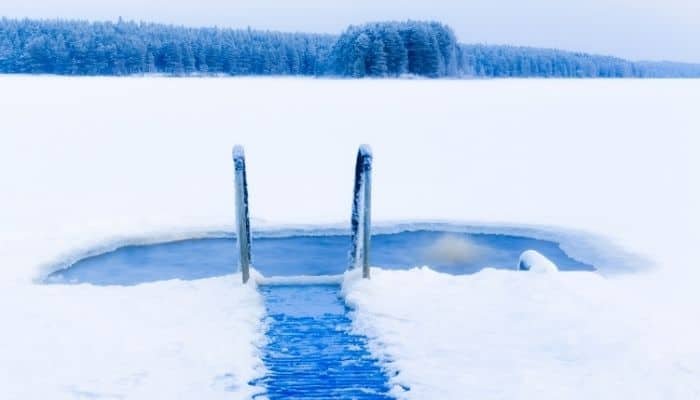 We reached Kemi and drove on to our motel, crossing Swedish border on the way. Ikea, the very popular Swedish brand welcomed us as we crossed the border. The motel was right on the highway. Many things about it resembled the motels you see in English horror movies. We had a quite night. Early morning we set off to the dock. The road was full of snow. We parked the car in the small parking lot and walked towards the dock. The wind was heavy and almost swept us off our feet. There it was.. The red ferry queen docked in a bed of ice. It was an amazing sight. As if it is stuck in frozen sea. We boarded the vessel and helped ourselves with some snacks and coffee from the onboard restaurant. The vessel grunted and started moving. We proceeded to the deck to see the ship breaking its way through heavy ice plates covering the sea. The land was getting away from us in behind. Slowly but steadily, we were making progress to the middle of the ocean. After about an hour later the ship stopped. We came out to the deck to see ourselves in the middle of nowhere. There was only frozen sea all around. We got down from the ship and walked on the frozen ocean. The red ferry looming high in front of us and it is white all around. A sight that cannot be explained in words. After snapping photos outside, we proceeded for an experience for life. Swimming in the ocean between broken ice plates.. We were given a special suit and they helped us slide into the ice cold water. We floated for about 10-15 minutes. It is a unique adventure feeling more than anything else with the ice cold water spattering on your face. The feeling is great and unforgettable. Later we watched a very good informational movie on why the ice breakers ships were made. We collected souvenirs, got our certificates stating that we waded waters of the Bothnian Sea. Got back by 2:00 PM and drove back to Kemi for catching our flight back to Helsinki.
ALSO READ: HYMNS OF HARIDWAR – TRAVEL EXPERIENCE SHARED!
We arrived late at Kemi, went through a mad rush of dropping our car and barging into the train last minute. I literally saw the train guard dropping his whistle seeing a 3 member family running into the train in last second. In the heat of things, I forgot my phone in the rented car which was later returned by post.
Back in Helsinki, we had a morning where we visited Keratiyos kaskas, which means the Recycle shop. It was amazing. The collection was good and prices were flattering. The concept of recycle outlet chains caught me. Why waste stuff when it can be reused by someone else. We walked back along the shy streets of finland soaking in every moment in this fantastic land. A land which has given us a set of unforgettable days.
We returned to Paris the next day. The trip is over but the Magic remains for ever.
Write Your Travelogue and Share Your Travel Experience With the Travellers' Community.