Traveller Mini M.S. shares her Colmar Travel Experience. Let's hear from her about this beautiful city located in France.
Colmar is a beautiful medieval town lying in the Alsace region of France. Alsace is tucked in Eastern France and is very close to the German border. Located on the Alsace wine route, on the foothills of southern Vosges mountains, Colmar had rulers from both regions through the centuries and hence has a mix of those cultures.
Did you ever make a bucket list of places you wanted to go? Visiting Christmas markets was one such in mine. This December I ticked it off in my bucket list.
Christmas days are the best times in winter for me. European Christmas markets are so charming. We were brainstorming different holiday options for 2019 Christmas and it unanimously ended up in Colmar. That was indeed the best choice.
ALSO READ: "Mysooru Dasara, Yeshtondu Sundara!" – Mysuru Dussehra, How Beautiful It Is!
We set out our journey to Colmar on a Christmas day with family and friends from Darmstadt, Germany. As soon as we entered the main town, it felt like we landed upon a fairy tale book. Colmar was all set to welcome visitors to its Christmas markets which were supposed to be the best in the whole of Europe. The markets usually start from the last week of November until December. We were captivated by the beauty this cute town had to offer. The half-timbered houses painted with vibrant colours occupied both sides of the streets. During Christmas days, these were adorned with teddy bears, gift boxes and they were hanging from the facades. So literally, each of these decorated houses looked like a gift box by itself.
Christmas markets were spread across the streets of the old town and we could explore them through the pedestrian-friendly cobbled streets. The notable feature of these temporary markets was that the design and structure of these stalls camouflaged with the 16th-18th century buildings in their backdrop. Another standout feature of Chrismas markets was the presence of versatile shops selling traditional as well as exotic items, unlike other Christmas markets. Markets selling wooden toys, colouring wax made from pear wax, jewellery from jumpie beads a.k.a 'Manjadikkuru' (in Malayalam language).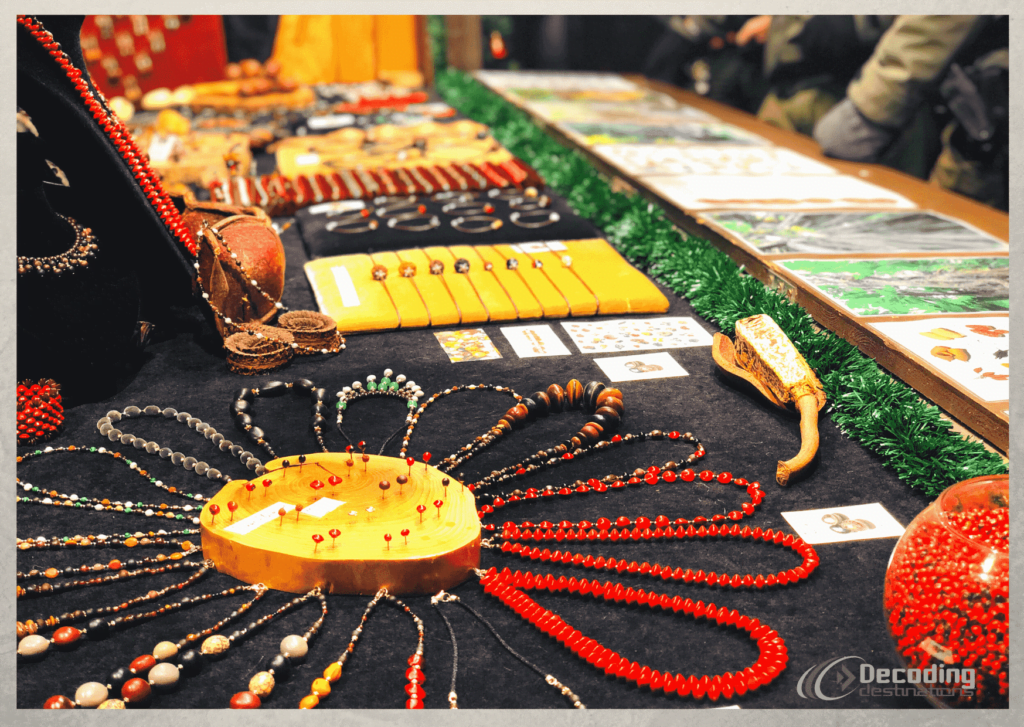 The vibes from these markets were so addictive. We could sense the smell of all Christmas delicacies, mulled wine (wine boiled with spices), etc. The crowd was flowing through the streets enjoying all these. There were small fun rides set up between the markets to entertain kids. Like our temple festivals in India, these were so colorful. We also ended up enjoying these little rides with the kids. Those are the added perks of having little children!
Wandering through the streets of Colmar during the Christmas night was truly blissful. We enjoyed the sweet delicacies like Churros and Crepe. Crepe is a kind of thin pancake commonly seen in France. It was already getting dark at around 4.30 pm since it was winter. We left from the Old town without much delay, as we had to check in our hotel in Munster. Munster is a 30 min drive away from Colmar.
We woke up the next morning to a beautiful view outside the window. Two giant white storks were sitting in their big nest in a leafless tree. I enquired to the locals and came to know that these were inhabitants of the Alsace region. I had seen these birds only in the zoo and now seeing them in their natural habitat was overwhelming. That day we planned to visit a toy museum. It was in Colmar city itself. There were numerous toys from different places as well as from different centuries, ranging from the miniature form of trains, planes, cooking utensils, sewing machines, etc. Also, there was a play area over there. After spending a few hours with kids, we then decided to have a quick lunch from the subway.
ALSO READ: Kedarnath – An Unfathomable Euphoria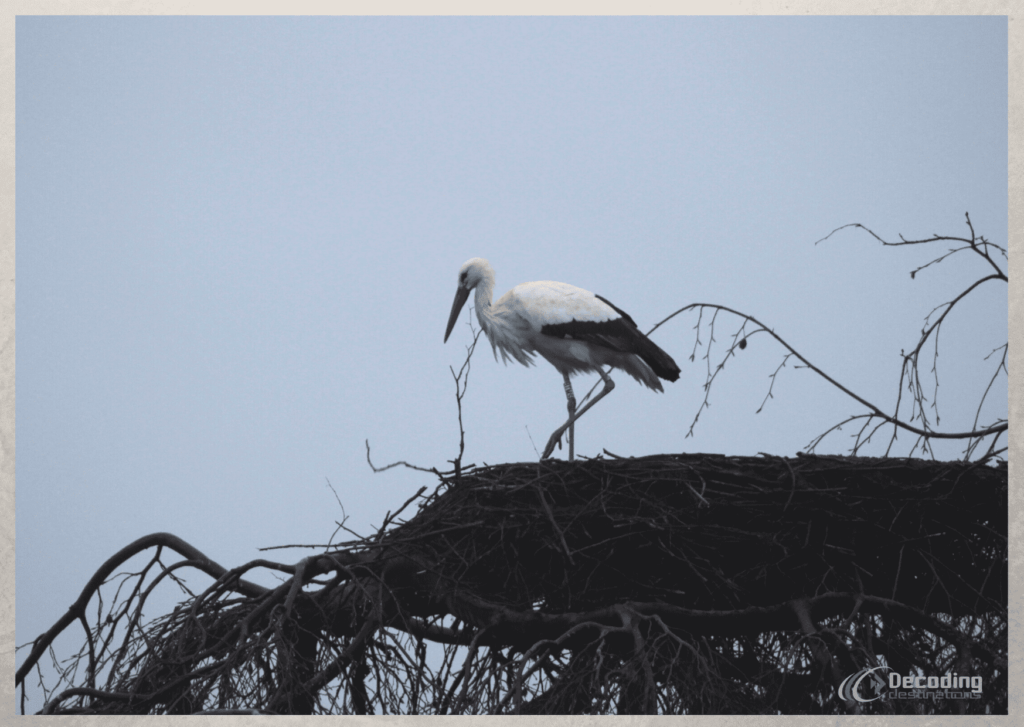 After lunch, we headed over to see the main tourist spots in Colmar's old town. We passed through the Christmas markets once again to the heart of the old town area. There were shops selling souvenirs, gifts, sweets, etc on the streets. We got into a souvenir shop. The soft toys of white storks were hanging from everywhere and they could repeat whatever we say. We bought some souvenirs from there.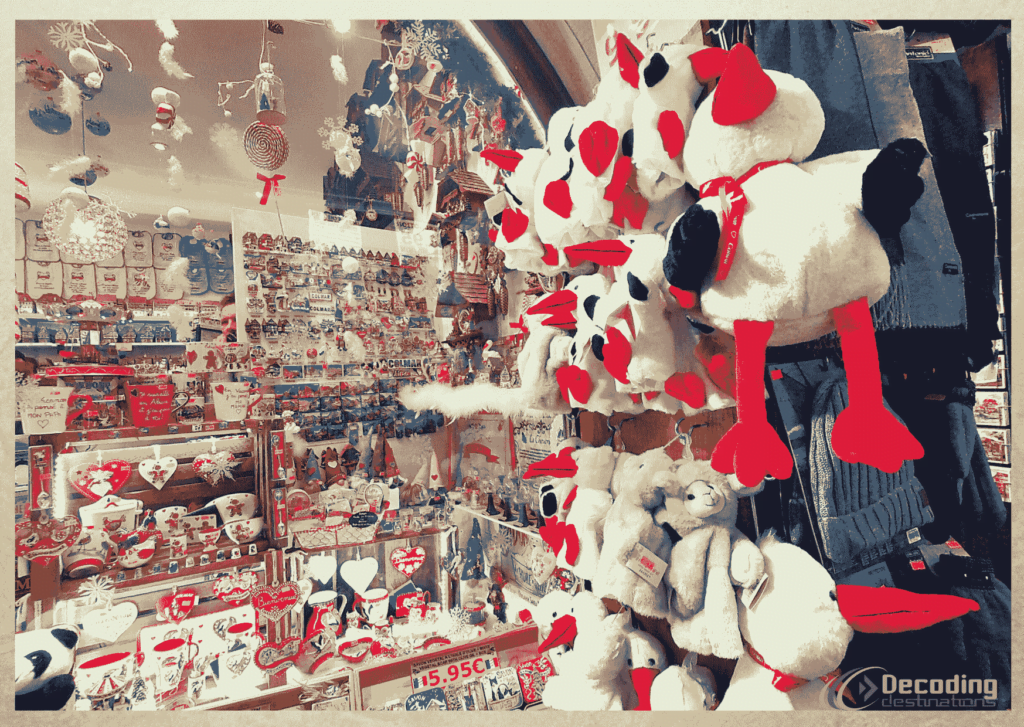 Later, we walked towards an old church 'St. Martins Collegiate'. It is one of the important landmarks in Colmar. It was built between the 12th and 13th centuries in the Gothic style of architecture. Inside the church, we could find European style stained glass windows depicting some Bible stories.
Next to the street of the church was the house of the world-famous sculptor – 'Auguste Bartholdi', the man behind the 'Statue of Liberty'. This statue was a gift from the French government to the USA. His house is now turned into a museum which hosts many sculptural works of him. As a tribute to the famous artist on his 100th death anniversary in 2004, the municipality of Colmar installed a replica of the 'Statue of Liberty' in the northern entrance to the town.
ALSO READ: A Visit To Ramoji Film City, Hyderabad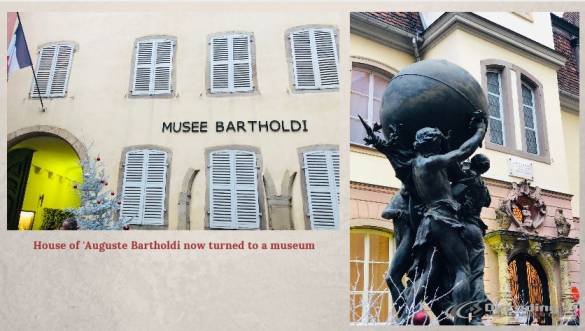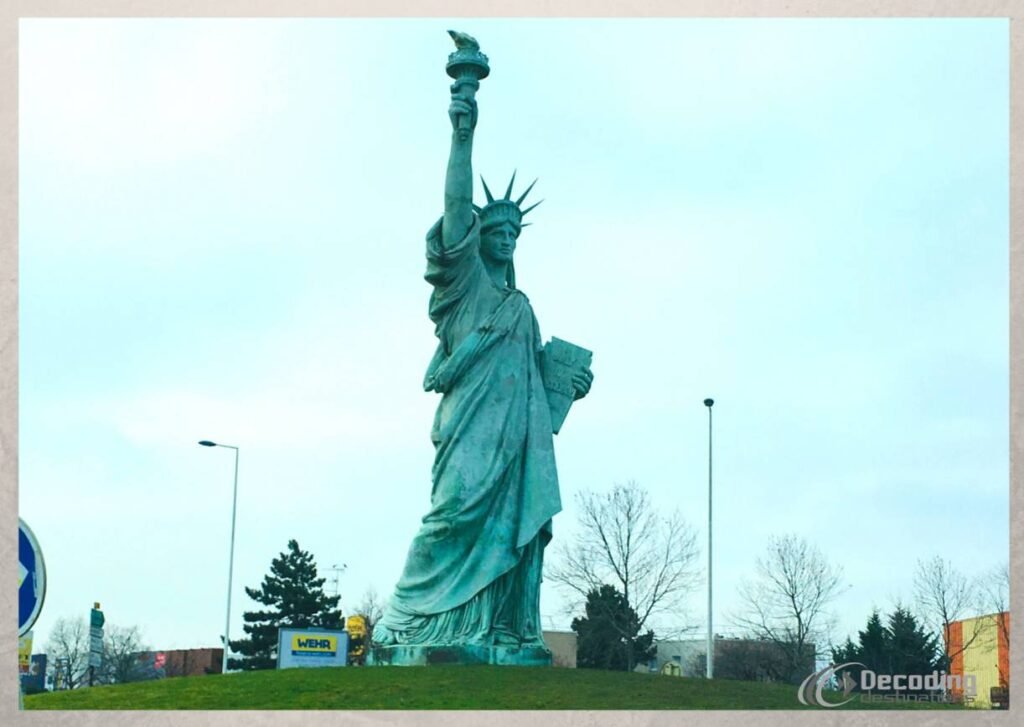 After spending some time in front of the museum, we headed over to the 'Little Venice' a.k.a. 'La Petite Venice' in Colmar. This is the most picturesque part of Colmar which is lined with well preserved medieval half-timbered houses on the banks of the Lauch river. As a cherry on the top of the cake, there was a display of light show over those houses. We also couldn't resist taking selfies in front of that view.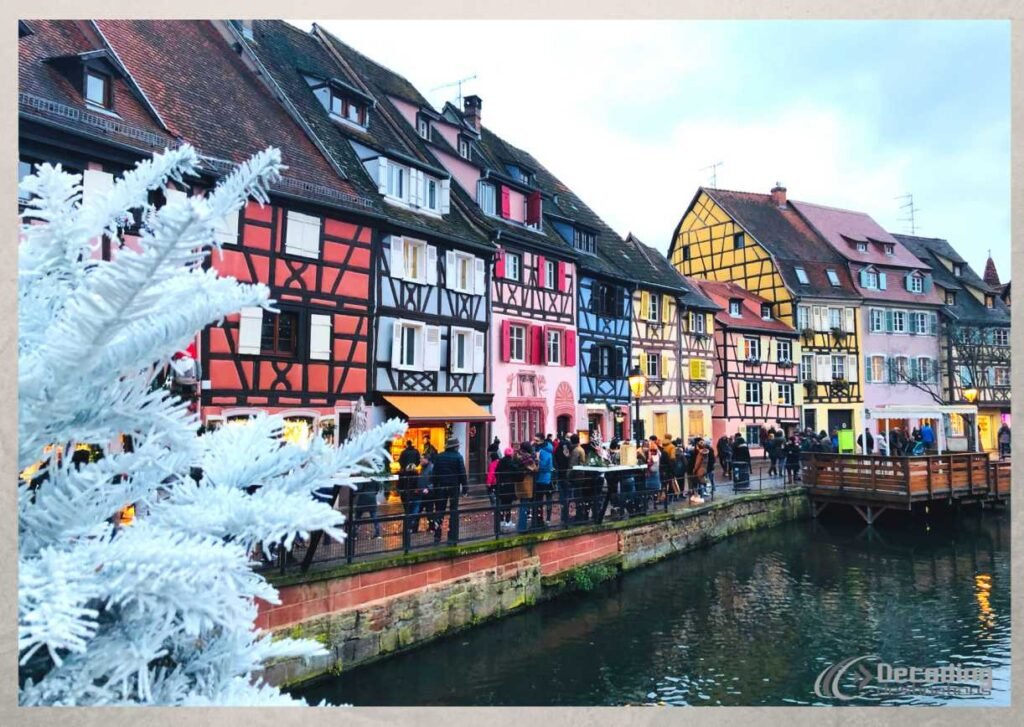 There was an indoor market near Little Venice which was packed with vegetable shops, Christmas decors, small café', etc. We were tired after roaming outside for a long time so we sat down on a vegan café in that indoor market. Nowadays it is not that difficult to find vegan café or restaurants even in small towns like this. More and more people are adapting to a vegan lifestyle. We had cappuccino made with oat milk. It tasted different but was good. By then it was so dark outside and we decided to return to the parking spot on the other end of the town. On the way back we enjoyed the last glimpse of Colmar with beauty at its peak. I was wondering how the magical town gracefully survived until this contemporary era without losing its charm.