Read Kedarnath travel experience shared by the traveller herself.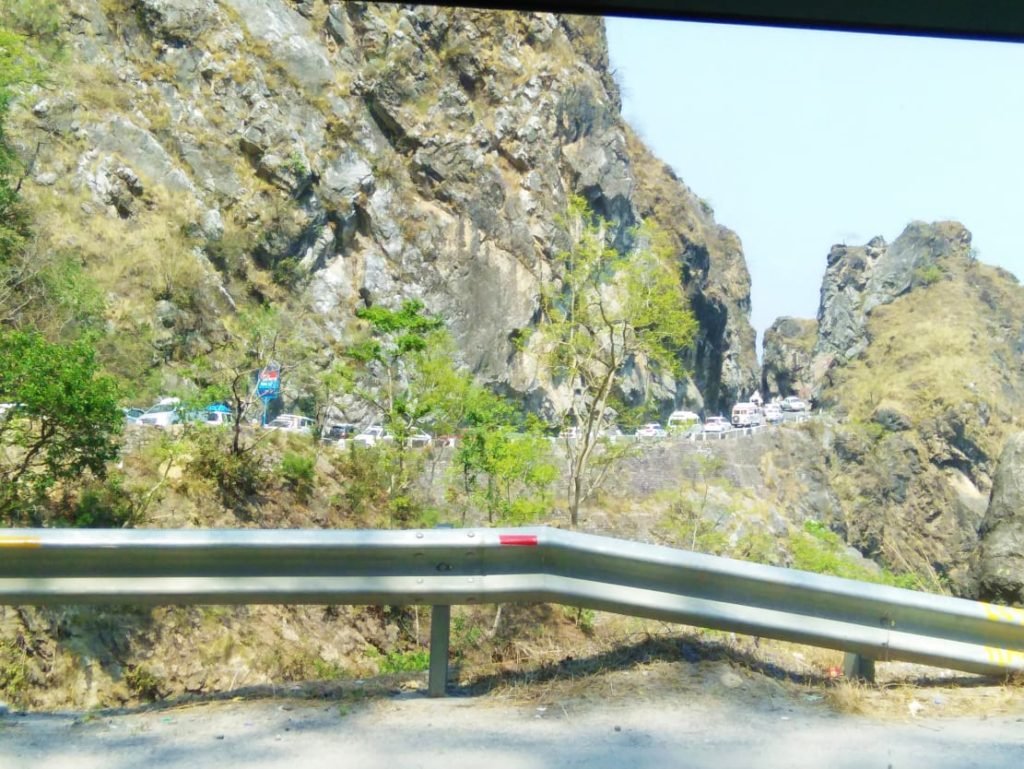 I marked the beginning of an odyssey, I had envisaged for a very long time, in the city of Rishikesh. Nestled in the Himalayan state of Uttarakhand and approved for its label as the 'Yoga Capital of the World', Rishikesh was the quintessential point for me to commence my journey, after a revitalizing yoga session, at the crack of dawn. While on the move, looking at the umpteen numbers of vehicles on the road, I was convinced that, I was not the only one with the gusto to take a drive on one of world's narrowest, scariest and dangerous sinuous roadways to land up at KEDARNATH – a Hindu shrine, distanced about two hundred kilometers afar, and a flabbergasting altitude of 11,755 feet above sea level, at a remote location, tucked deep within the mountain ranges.
Kedarnath, existent from time immemorial; has become a favourite and prized destination in recent years, among travellers, worshippers, adventurers, nature lovers and hikers, alike. It is hotly pursued in equal measure by those ardent followers who are extremely God-loving, as well as by those casual holidaymakers who crave for a mixed bag of experiences all in one place. Previously known for being frequented mostly by pious elderly folks, it is now visited more by zesty teenagers, adolescents and the middle-aged. Kedarnath has become the thirsting point of curiosity and exploration for avid wayfarers, both among Indians and foreigners.
Submerged below thick coats of snow, for nearly half a year, the temple at Kedarnath opens its mighty doors to the public only during the summer and monsoon seasons, when the 'snow blankets' meltdown. The much awaited annual 're-opening' in the month of April/May, witnesses high amounts of festive pomp and gaiety, alongside stringent ritualistic procedures, to prepare the residing deity (a conical shaped rock believed to be a manifestation of Lord Shiva), for the people in the coming months, until the Temple's closure again throughout winter.
1. The Pony Trek
After a journey that took unusually longer, due to bumpy and gravel routes dissecting the mountain slopes, I reached Sonprayag in the wee hours of the morning; Sonprayag is a scenic hamlet, whose location enroute to Kedarnath has become significant as the place to initiate the 'yatra'.
Standing where I was dropped off, I took a snapshot of the wide vista before me. It was beautiful! The early morning air that seemed fresh and pure, felt like a cool flurry over my face and hair. A pleasant tune attributing to the rustling leaves on trees echoed far into the sky. A thick, deciduous forested envelop, on the rocky and boulderous inclines of the towering green hilly topography, along with whispering white swirls of River Mandakini, gracefully cascading in-between, coming all the way down from its source at Kedarnath, was an ample eyeshot, enough to give every person a gist of what was to be expected in their expedition 'upwards', roughly for the next twenty kilometers.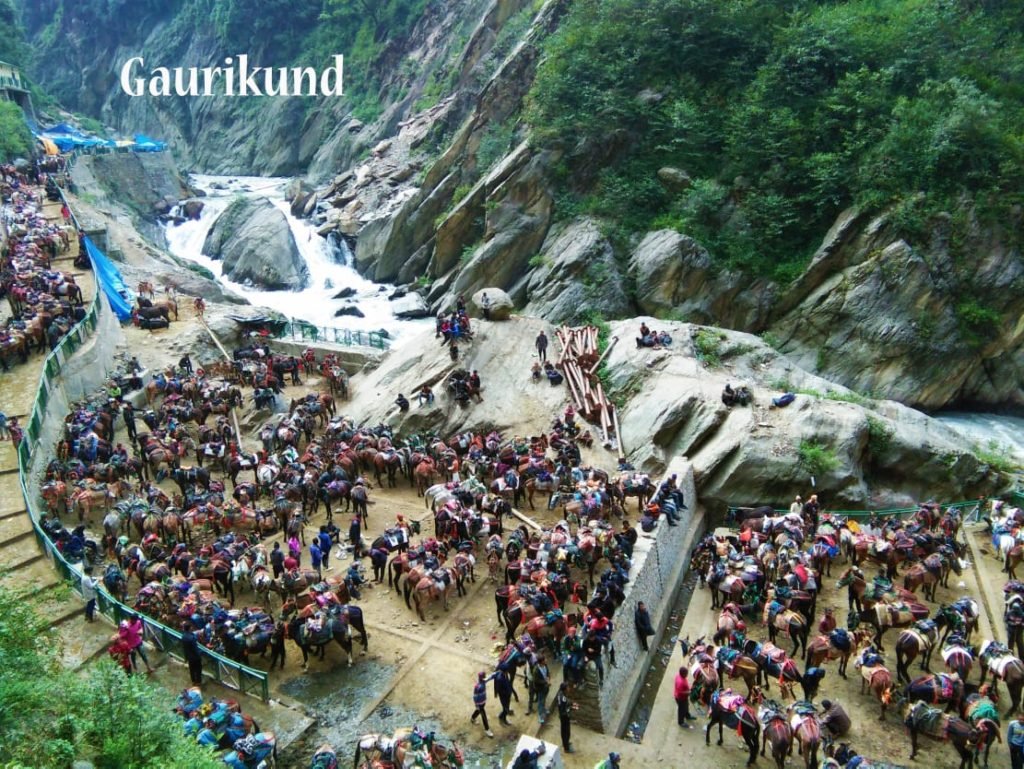 Numerous individuals who get collected here, are transported in batches, in authorized 'jeeps' to another site which is 4-5 km further, called Gaurikund, the nearest motorable town, and hence the actual launchpad to get underway peregrinating. This is one of the most stuffy and suffocating rides one can go through, as the dingy cars are overloaded, to meet with the demand of excessive crowds of people showing up in long serpentine queues and patiently waiting for their turn.
Anyway, once at Gaurikund, the vivid greenery and unperturbed environs refreshed my senses all over again. It is a spot, popular for its thermal springs, where those who do not mind, could quickly get in for a hot splash. It is also exactly where one decides the mode of trek they are going to undertake from here on – Either go footslogging all the way up, or hire a pony, or be carried in a 'palki' – a makeshift palanquin of sorts to suit the inundating surfaces, lifted by four men at a time, or even go with a 'pittoo' – a singular man who carries a person in a hand-woven basket on his back.
I chose to ride a pony! Trekking by foot looked very difficult considering, around 16 km of exhausting climb over terribly unstable pathways carved out of the mountain sides. Likewise, the other two modes appeared totally inhuman and torturous; unless children needed to be carried. I was taken to a stable by my pony owner with whom I had pre-booked. I was nonplussed to see a stud; hundreds of ponies were fed, catered to and prepared with comfortable seating to take their 'passengers' to the terminus – in this case, the Kedar base camp atop the 'Garhwal' range.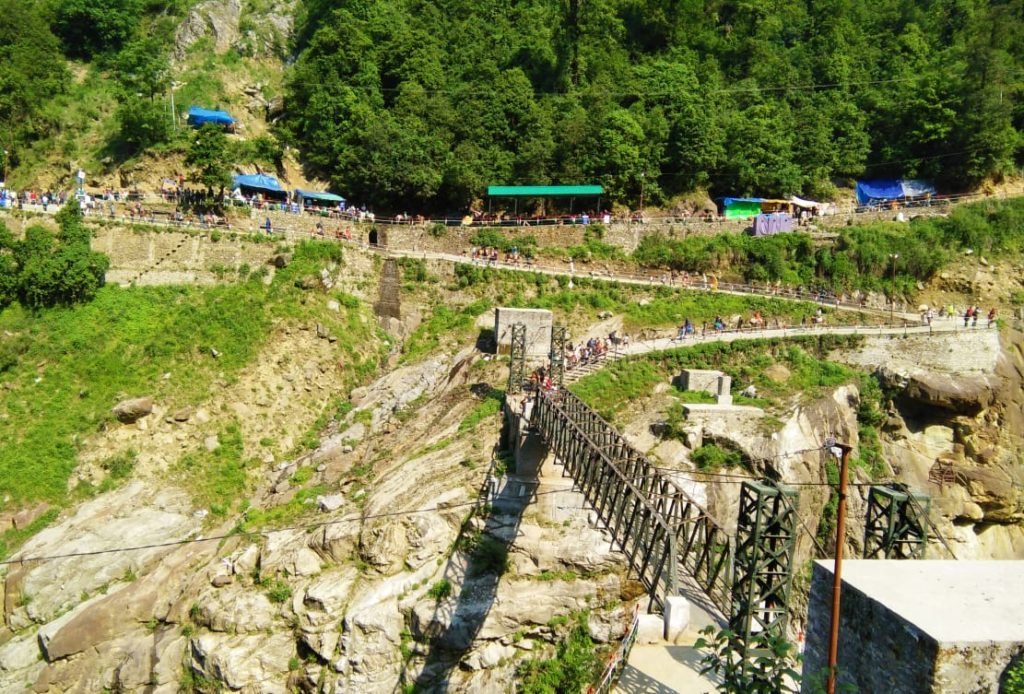 Soon, I was riding on a pony allotted to me along with a young trained boy who was supposed to walk with me, to ensure that the pony goes right on track and to pacify the animal when it loses its calm. As a rule, every pony was escorted by a 'pony wala' to ascertain the safety of its rider. Now, I was not sure if I did the right thing; on one hand, there was this handsome pony transformed into a beast of burden owing to my weight, and on the other, there was this pony guy simply walking up for my sake. But finally, I consoled myself that these people opted to work in this manner to earn their livelihood; however pitiful, they cheerfully fulfilled their duties as a selfless favour, rendered to countless groups of 'pilgrims', which indirectly is conceived as a service to God.
A few hours passed…I was clueless about how many sharp turns, blind corners, overhanging cliffs and steep slants I had gone through. As much as I wanted to revel in the astounding nature, I was constantly jolted into the actuality of the dangers looming large over my risky venture, by my prancing pony. The tapering trails snaking around the mountain faces, and zigzagging at several locations, were more strenuous than I had fantasized. Holding on tightly was the only yet not an adequate option while galloping on muddy surfaces and precariously built bridges connecting two mountains, which were extraordinarily slippery because of recurrent rainfall, haphazardly thawed snow, and of course pony dung strewn everywhere. There were a couple of times when my dear pony faltered on its legs, and skid, when I would have gone almost tumbling on the ground, if not for the highly alert 'ponywala' who tactfully caught my hand and the reigns of the pony simultaneously just in time. One mistaken step by this poor creature could literally mean hurling into the sheer drop and catapulting into the ravines, especially wherever the guardrails were missing. I saw several signboards cautioning of falling stones, the locale being used to landslides, and also warning signs of suffering breathlessness with the ascent.
But… glancing at other string of pony riders, pedestrians, palki and pittoo porters, helped me; the exuberance of the various kinds of trekking populations, invoked the zeal to brave all odds. Keeping all fears under wraps, everyone goes about chanting 'Har Har Mahadev', determined to catch sight of the Lord's abode, and greatly ignored the dashing and tearing of ponies against one another, provoked by the pony fellows, gaining speed and competing for space in the already crammed paths, in a bid to reach faster.
Even amidst these panicky situations, nobody forgets to admire the mesmerizing landscape which they are traversing…a nonstop presentation of hypnotizing sceneries one can ever imagine being in!
At last, after five long hours, my backbreaking 'pony safari' came to an end. I profusely thanked the bloke who dedicatedly accompanied me, gave me useful tips on the yanky pony riding, allowed me to relax for a bit when he halted at a particular point to give the pony a little rest, and often engaged in interesting conversations about the history and lifestyle of the local community at Kedarnath. I really wondered at his fast-paced energy levels whereas I was fatigued by this time. Left at his mercy for the past many hours, I was happy to have been lugged safely to the 'Kedar base camp'. I murmured many thanks to my sturdy animal, while gently patting its neck, for unlamentingly enduring the tough trip for me.
2. At Kedar Valley
I took some time to sink in the fact that I had made it until here. The vegetation around had changed to grassy pastures, in stark contrast to tree-laden terrains so far. The graminaceous surroundings were truly a feast for the eyes! Patches of unmelted snow seen on the verdant turf of the mountain horns added to the lovely ambience; and farther away, I could also see completely snow-covered peaks, conspicuously touching the skies.
The base camp had a shelter where ponies were stationed till they got their next commuter to be transferred downhill, passing through the same 'maze' as the uphill tour. From here, the Kedar Valley where the Temple stood in its full form was at one and a half kilometre's distance, which I wanted to cover by stretching my own limbs.
In the company of other co-travellers, I took my steps forward on the gradually ascending trackway. The gentle wind blowing at this height was chilly, despite the noon sun spreading its warm rays over the region. Owing to reduced gravity at higher elevations, walking this stretch seemed to be a drag requiring extra effort; moreover, the lowered atmospheric pressure made it harder to balance breathing and movement. Still, we plodded with un-squashed enthusiasm, feeling caged-in and dwarfed by the enormous mountain grid, from all sides as we advanced. Thankfully there were some 'tented' stalls selling refreshments on the way, where we could pause.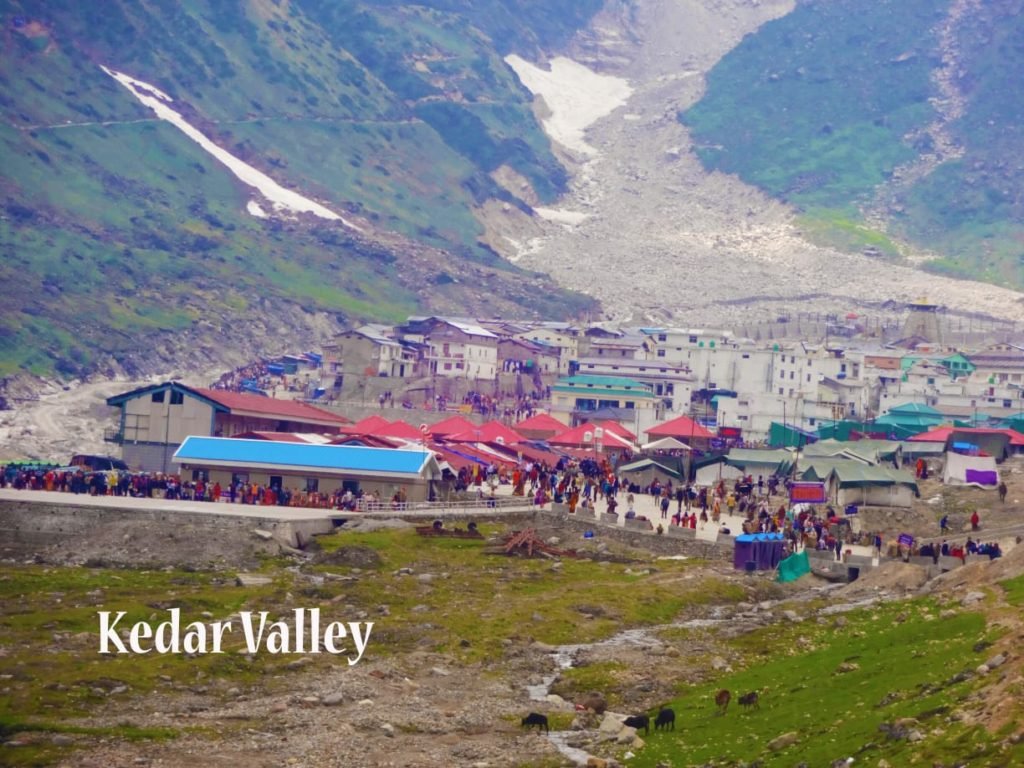 After treading half the length, I spotted the famous Kedar Valley! A low lying basin, clustered with plenty of small buildings, teeming with people in the alleys between them, and a handful of cattle grazing in the pastoral area nearby. The Temple tower got camouflaged in the assemblage and was visible faraway only through my zoomed-in camera lens.
Inching closer, first we get to see a helipad, behind which there are lots of government-sponsored camps adjoining a canteen, to accommodate 'yatris' who wish to stay for a night; then we came across a big platform after crossing a short bridge over a sprightly stream of water – presumed to be a confluence of rivers Saraswathi and Mandakini. From this platform, a long and broad corridor built with stairs at regular intervals, and bordered with many community guest houses and residential colonies on both sides, rose leading to the Temple verandah…. like a staircase to the 'Kingdom of God'.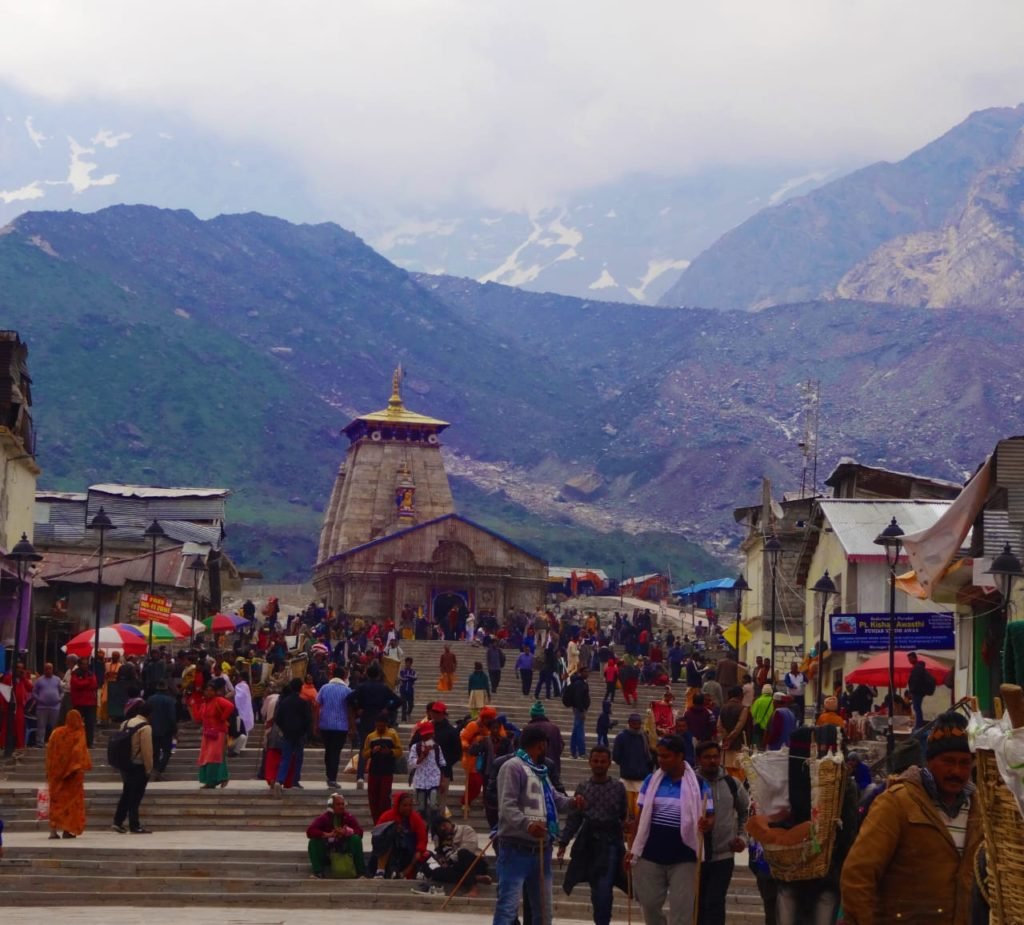 Moving ahead, amid joyfully scattered people who buzzed about nonchalantly, I 'successfully' arrived at 'the top' and stood face-to-face with the much talked about Kedarnath Temple!
I was staring at a pristine edifice… cradled in the lap of the Garhwal Himalayas… it was unquestionably stunning! Although quite simple in design, the Temple construction radiated an architectural brilliance, which is jaw-dropping even till today. I felt like as if I was being engulfed by its captivating aura!
My head was reeling with ecstasy for this was not a dream!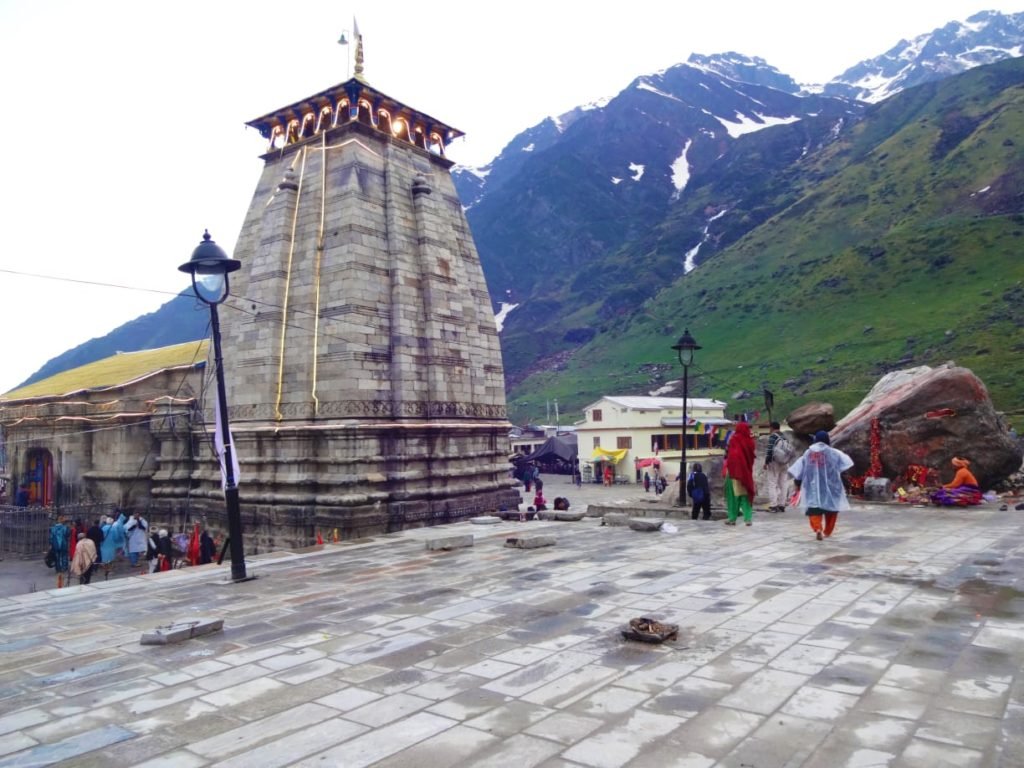 The ancient structure is made out of heavy and smoothened stone slabs, which are interlocked into each other probably with iron clamps but without any mortar or cement, on a very strong foundation. Therefore, it is considered to be an exemplar engineering marvel, which has withstood a good deal of climatic cataclysms for more than a millennium.
Suddenly realizing that I was so tired after a continuous leg of travel and trek, I decided to check into one of the home-stays next to the Temple area, and get back to survey more in the evening after a catnap.
I woke up to loud noises of thunder and lightning outside my window. It was raining heavily, simultaneously creating a halo of mist in the atmosphere. The weather had turned shivery by now, and so the sheets and blankets on my bed felt cold too. There was also no escape from the frigid water flowing out of the taps in the bathrooms. Accommodations in Kedarnath were bereft of any kind of heating appliances, compelling every person to dress in multiple layers of warm clothes, woollens, jackets and boots, even whilst sleeping. At this time, there was a knock on my door, opening which I was treated to a sizzling hot plate of 'Aloo Parathas' and a steaming cup of 'Masala Chai', by a kind attendant at the hotel. It was just what I needed to invigorate myself before stepping out, when the rains had fairly stopped.
Tiny 'waterfalls' trickled down on eroded portions of the mountain ramps after the downpour, giving a sublime appearance from the Temple courtyard. Those brave hearts who had a bigger appetite for quests, dared to go beyond, in search of cozy caves, natural lakes, venerating idols, glacial zones and more, at heights above the Temple realm. But I preferred to keep within the confines of the Temple complex, where I was engrossed in clicking as many 'selfie pictures' as I could.
Later, I went around the rear side, where I found 'BhimShila' – a boulder that acted as a saviour, by miraculously plonking itself precisely at an angle, to protect the Temple from a catastrophic deluge, by diverting the force of the flashfloods that came pounding from the slopey descents behind, after a massive cloudburst that happened in the year 2013. In spite of colossal damages that took place, the Temple remained intact and unscathed. Post this incident, tales of the superior powers of the 'spirit of Kedarnath' grew in leaps and bounds, drawing an ever-increasing count of devotees every year. There on, BhimShila is worshipped as a sacred rock whose chronicle is fondly narrated to lakhs of pilgrims.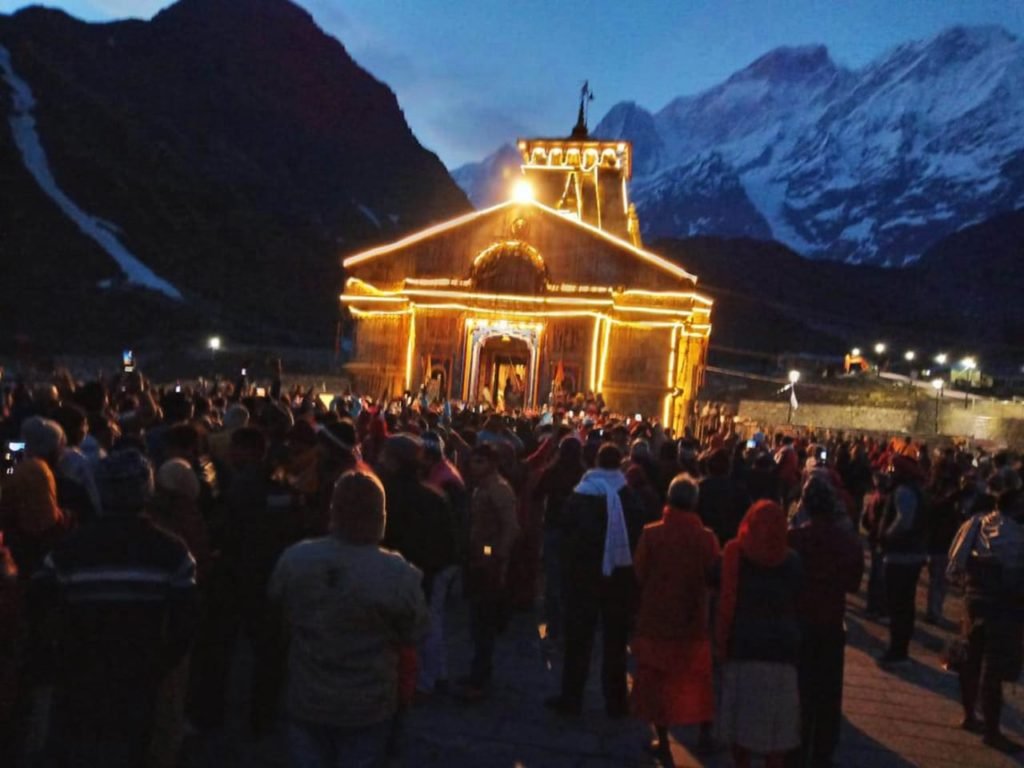 At sunset, the stupendous locale altered into a tranquil setting, under a darkening sky showering light drizzles. Everyone present during this hour gathered, to watch the Temple now outlined with serial bulb lightings, silhouetted against the snowy peaks in the backdrop. This tantalizing scene was virtually reflective of an omniscient Shiva inhabited in His vault of snow in the 'Greater Himalayas', in a meditative form, like a 'Yogi' – a concept that is learnt from popular mythical sagas. An intense euphoria broke out amongst the masses when they heard the sound of tinkering bells from the Temple indicating that the priests had started their ceremonial prayers. Unable to control their emotions, many people danced in excitement as they crooned 'Om Namah Shivay' and 'Jai Bholenath' in chorus.
I joined a queue to enter the holy Temple; the inner sanctum of which houses the Jyotirlinga, deeply revered by 'Shiv Bhakts' as the omnipotent representation of God.
It was nightfall when I came out of the Temple. Due to minimal usage of electricity in the Kedar township, an eeriness descended on the environment. The air felt icy, numbing my nerves. A few fellow devotees who had fainted notwithstanding the hypothermic conditions, were being helped to an emergency medical centre right there. The only ones who were able to beat the biting cold and fog were the 'sadhus' who had religiously surrendered themselves to an ascetic living.
Still hungover from the rhapsodic events of the entire day, I strolled back to my room, popped in a 'paracetamol' pill in order to have a snug sleep and to wake up 'healthy' the next day.
3. Return by Helicopter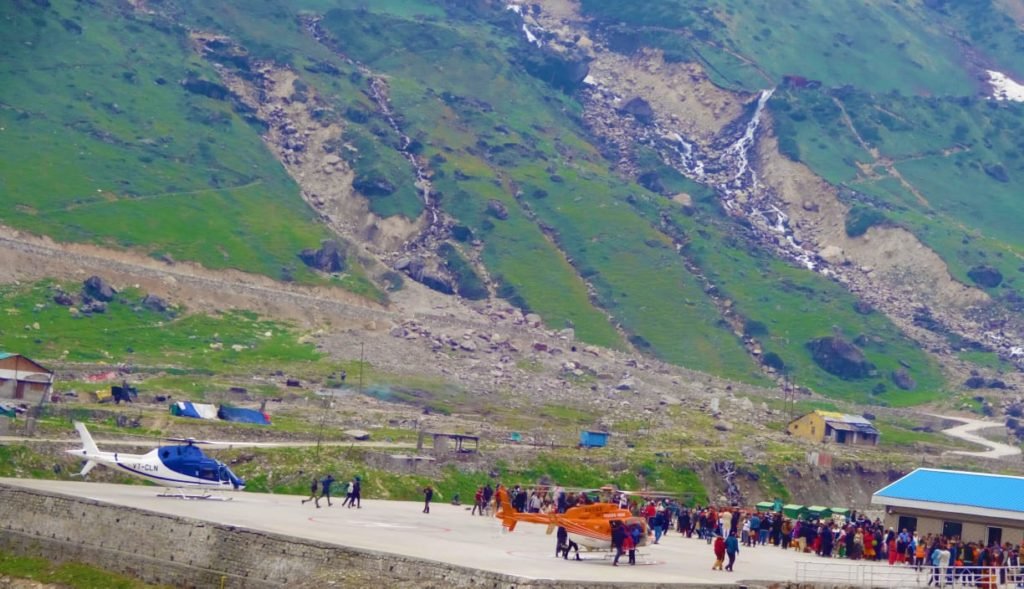 The morning that ensued was clear and balmy. The moods of the place were visibly merrier in the soft sunshine. Feeling abundantly contented, I ate a fine breakfast and proceeded towards the helipad.
The helicopter services were absolutely commendable. The super swift actions of the observant crew-in-charge were noteworthy. Quickly disembarking visitors from one side of the chopper, similarly assisting returners to get on the other side, and, loading and off-loading their respective bags from the backside – it all occurred by the snap of a finger.
I showed my ticket and fastened myself onto my seat; the pilot lifted the rotorcraft into the airspace and veered it away. This was a stirring moment for me…. I bent over to see the gorgeous mountains which we were flying past and the resplendent valley which we had left behind.
It was hard to fathom that this lively mini-town would shut down in the wintry period, turn into a snowfield, and become a 'lost world'.
KEDARNATH…
is nothing short of a perfect opportunity to experience a wonderful concoction of Divinity and Beauty, which will remain close to my heart forever…