Traveller Sandhyaa Venkatachalam shares India's most sensational rock climbing destinations that you must visit once in your lifetime. Read on!
"The harder you fall, the heavier your heart; the heavier your heart, the stronger you climb; the stronger you climb, the higher your pedestal."
– Criss Jami, Killosophy
"Every mountain top is within reach if you just keep climbing."
– Barry Finlay, Kilimanjaro and Beyond
An intense sport activity that immensely puts to test, not only a person's physical capabilities but also the mental capacities – 'rock climbing', is certainly not for those who are faint at heart.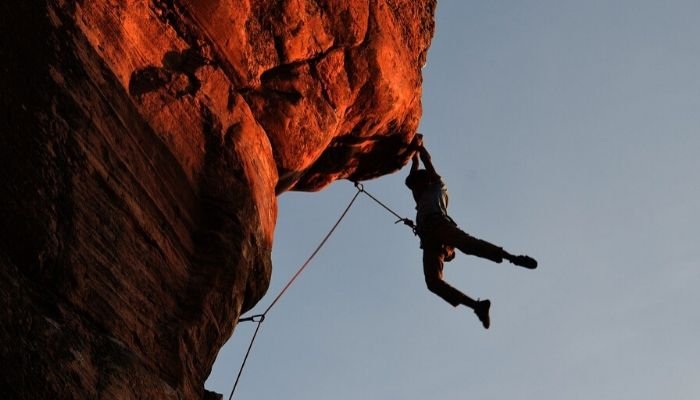 It is a pursuit which is completely fraught with dangers, and possibly one of the most risky of all undertakings, as scaling up steep, vertical heights in the form of natural rocks, hills or mountains, calls for a tremendous show of 'psychological' or 'emotional' control, balance, will-power and determination, along with bodily toughness, energy, endurance and stamina.
Rock climbing is best performed with a good amount of pre-requisite training where one can learn climbing knacks from bona-fide professionals and also on how to use climbing tools and equipments, in order to avoid accidents such as falling or slipping that can often result in severe injuries or other fatalities. It requires braving all odds while defying gravity and weather shifts, like breathlessness, head spins, shakiness, fatigue and famish.
It is an onerous exercise that gives a life changing experience to the individual. This exceedingly difficult task can invoke new kinds of qualities in the climbing persons; it can bring in a new form of discipline, a new found respect for the wonders of nature, a new love for life and a new belief in God!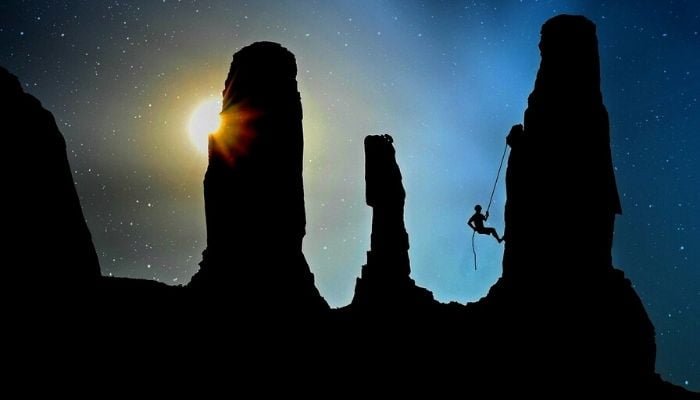 There have been very many passionate takers for this arduous sport in recent times, despite the fact that a climber's life is almost always on delicate tenterhooks, both while going up and again coming back all the way down. But the sensational feeling of amazeballs one feels at the end of the challenging feat is one of great surprise, satisfaction and success to one's own self.
This champion of sports initially began only for the purposes of mountaineering training in India, and soon developed into a lovable action-packed enterprise for amusement. Now, there are clearly chalked out places on the map which are popularly sought after by the zealous and adventurous lot!
ALSO READ: 15 Best Bike Road Trips in India For Every Passionate Rider
Rock Climbing Destinations in North India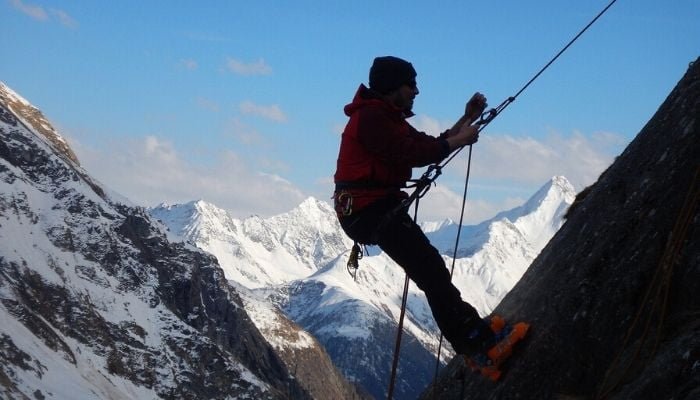 The North of India with its best of mountainous and rocky topography in the country because of the Great Himalayas, has abundant spots for satiating the quest for conquering lofty cliffs.
Shey Rock, the only surmountable peak in Leh (Ladakh) is always top rated by climbing enthusiasts; whereas the Miyar Valley in Himachal Pradesh, is an idyllic location even for amateurs and backpackers, as one can enjoy relatively easy climbs along with stupendous scenic beauty in any direction the head turns – snow covered mountaintops, sprightly and sparkly rivers, wild forests, charming little hamlets, and vivid flora – really much better than a picture postcard scenery!
Sar Pass also in Himachal, is utmost unique in offering beautiful and breathtaking snowy routes cashed in equally for trekking, climbing and rappelling. Effervescent climbers will not like to miss this place particularly during summers, for its stunning 'white' panorama can all the more enliven their spirits.
Some regions around old Delhi have been identified for rock climbing sessions such as the Lado Sarai rocks near the Qutub complex, and the Damadama lake rocks in Gurgaon. Dhauj, about 55 km from Delhi is a very good site for all those who seek a retreat on the rocks, away from the maddening metro buzz of our capital city.
Rock Climbing Destinations in West India
The Western Ghats of Maharashtra in the Deccan have surely proved to be another favorite destination for this eccentric sport. The Malshej Ghat, 3 hours away from Mumbai by drive, which is frequented during monsoons by tourists, for an unlimited expanse of profuse greenery bespeckled with bubbly waterfalls, also invites rock climbers onto its vertiginous hills for an invigorating ascent. Specific adventure camps have been set up in these areas for the same.
Rock Climbing Destinations in East India
The Eastern parts of India too have some great potential for delighting the rock conquerors. For example,
Susunia Hills, in West Bengal is well known as a place of archaeological interest owing to its fossilized remnants of wild animals. The hill which is entirely covered with shrubs has been famously attracting mountaineers especially the trainees, although the summit can be reached within a short stretch of time.
So also the East Khasi hills at the outskirts of Shillong in Meghalaya, have perfect hard rock formations apt for ascending amidst the majestic natural beauty of this north-eastern state.
Rock Climbing Destinations in South India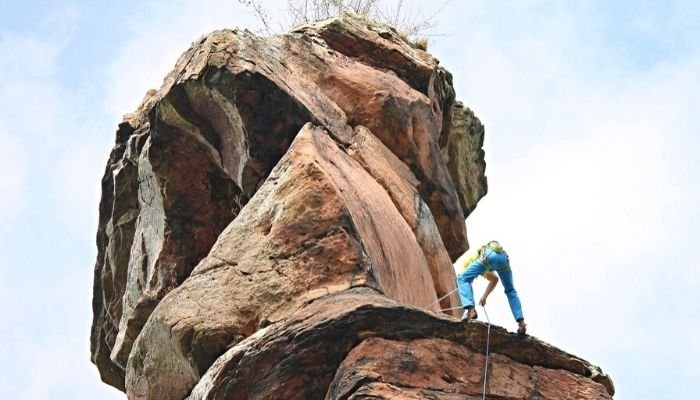 Southern India's geography and climate have been suitable for zealous rock climbers, in a good number of places.
Hampi, a World Heritage landmark in Karnataka which still holds onto the crown of the long lost Vijayanagar Empire, is loved by all types of visitors for its historical significance, and rather more so these days for rock clambering fun. Although not the very typical mountain/hill climb, Hampi treats everyone to a very different experience of 'bouldering'. The whole piece of land has a lovely appeal of large and high-rise boulders, across ancient ruins; hence appropriately nicknamed as the boulder paradise of India!
Badami, known for its awesome cave temples, has been unveiled as another focal point for climbing sports in Karnataka. The red sandstone cliffs present here are yet to be fully explored.
The Wayanad district, in the state of Kerala is noteworthy among others; it is a greenish landscape in the southernmost part of the western ghats, continuing down from Maharashtra. Edakkal caves situated here is quite special! These caves are nearly 3900 feet above sea level, and are believed to have been used as shelters by the Neolithic humans of 10,000 years ago! It is absolutely exciting to claw one's way up through rocky steps to finally reach a cave-museum where the petroglyphs have been carefully preserved till date.
ROCK CLIMBING TIPS & TRICKS
Warm up before climbing.
Wear comfortable shoes and carry a pouch of baking soda to sprinkle into it to absorb the moisture and sweat off the feet, when it gets wet while climbing.
Apply chalk on palms and hands for a better grip and to avoid slipping.
Wear comfortable clothing and a helmet.
Carry a bottle of water to stay hydrated, and little snacking foods if required.
Sunglasses and headlamps can be handy as well.
Try to grasp the techniques before hand on an 'indoor' rock climbing wall somewhere.
A nice camera to capture views for a lifelong memory!
ALSO READ: Best Jungle Safari Destinations in India For Safari Lovers