Here's all you need to know about the tallest statue in the world – Statue of Unity.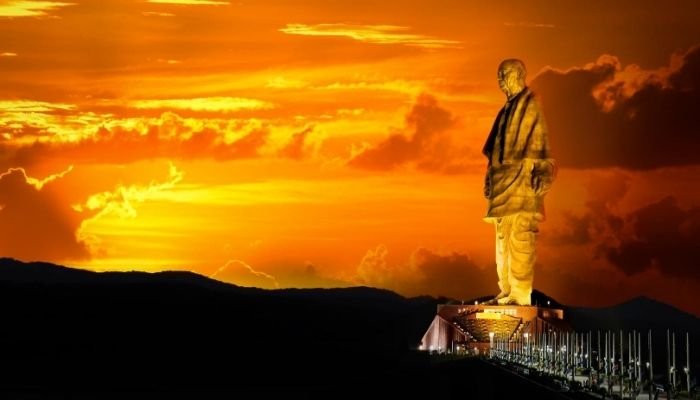 List of Top 7 World's Tallest Statues
| | | | |
| --- | --- | --- | --- |
| Statue Name | Country | Height (in meters) | Completion Year |
| Statue of Unity | India | 182 m | Completion year 2018 |
| Spring Temple Buddha | China | 153 m | Completion year 2008 |
| Ushiku Daibutsu | Japan | 120 m | Completion year 1993 |
| Laykyun Setkyar | Myanmar | 116 m | Completion year 2008 |
| Statue of Liberty | United States of America | 93 m | Completion year 1886 |
| The Motherland Calls | Russia | 85 m | Completion year 1967 |
| Christ the Redeemer | Brazil | 38 m | Completion year 1931 |
STATUE OF UNITY, INDIA
The grand unveiling of a mammoth bronze statue in the Indian state of Gujarat, on the 31st of October in 2018, successfully hauled the attention of the whole wide world upon the noble soul who stoically dedicated himself towards national integration and was felicitated with the title "Iron Man of India"; until then, for many a people, even within our country 'Sardar Vallabhbhai Patel' – the 'Unifier of India' after gaining independence from British rule, had unfortunately become an unrecalled name after nearly seven decades of his inimitable benefaction to our nation.
Sardar Vallabhbhai Patel was an outstanding barrister of criminal law, a steely politician, and a leading non-violence freedom fighter who supported self-reliance among Indians, during pre-independent India. Post independence, he rose to become the country's first Home Minister, alongside being the Deputy Prime Minister. He wielded these positions of power to achieve an unwavering goal of merging over 560 princely states into the Indian Union – the very foundation of a sovereign, democratic republic India.
Statue of Unity Location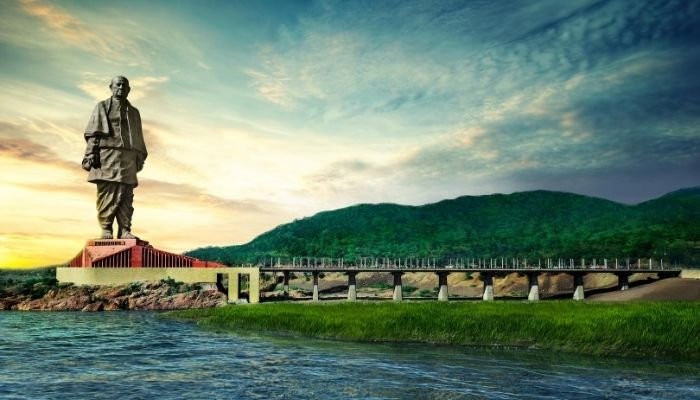 Facing the Sardar Sarovar Dam on River Narmada which is 200 km from Ahmedabad, the Statue of Unity (SOU) stands tall on Sadhu Bet, an isle-like location at Kevadia in Rajpipla district of Gujarat. The statue was designed by none other than India's most industrious sculptor and Padma Bhushan awardee Ram V. Sutar, even at his ripe old age of 90s. This relentlessly ambitious project is the brainchild of India's Prime Minister Shri. Narendra Modi; put-together and completed in five years by 'Larson & Toubro,' at a ginormous value of Rs. 3000 crores. The statue donning Sardar in a dhoti, kurta, waistcoat, shawl and sandals, stands in full dignity whose facial expression and slightly walking pose bespeaks Sardar's poise, iron-will and kindness, to perfection.
The Statue of Unity is the most befitting tribute to the true Statesman who always dreamt, endorsed, propagated, and made headway to bring to reality the concept of 'Unity in Diversity'!
31st October happens to be the birth anniversary of Sardar Vallabhai Patel, and so has been rightly declared as 'National Unity Day' or 'Rashtriya Ekta Divas', in order to honour his revolutionary and patriotic deeds.
RECOMMENDED: RANTHAMBORE NATIONAL PARK DETAILED TRAVEL GUIDE FOR TIGER SAFARI LOVERS
Statue of Unity Tickets, Timings and How to Reach & Travel
The Statue of Unity (SOU) is open to public between 8 am to 6 pm on all days of the week except Mondays. One can buy tickets either online or at the ticket counters upon reaching Kevadia, after which authorized buses ferry people to and fro between the 'Statue of Unity bus stop' and the actual site which is about 3.5 km away. A sprawling locality surrounded by the dramatic Vindhyachal and Satpuda mountain ranges, with the Narmada flowing gaily below, renders a picturesque quality to the otherwise parching location. The main entrance area has some souvenir shops, refreshment cafes and benches for resting; crossing which a 320m long bridge pathway built over an artificial lake, lined with sheltered travelators on both sides appears, to ease the time and effort taken to traverse the distance, so as to get to the foot of the statue, on Sadhu hill.
Although visible all the way from the entry gates, it is only at this point that every person is surely bound to feel transfixed by the statuesque enormity! Rising from a star shaped base, the towering statue nearly pierces into the sky. Tourists can easily explore the statue in three zonal levels, that is, Zone 1, a ground floor containing a museum display of the life of Sardar Patel and a memorial garden, which is up to the shins; Zone 2 up to the thighs; and Zone 3 at a height of 153m up to the chest containing the viewing gallery. Beyond the third zone, up till the head is the maintenance section and hence strictly off-limits for the tourists.
Zone 1 opens into an air-conditioned, high-ceilinged and commodious foyer; an artistically planned, posh hall that exhibits big canvases illustrating details of SOU's construction, as well as the contributions of the Bismarck. There are also self-operable LED screens loaded with many video options, depicting different historical events of modern India where Patel showed his immense grit and determination; and others pertaining to the local environment and culture of the local dwellers.
Very much on the same floor, a mini movie theatre with comfortable seating capacity, presents a non-stop audio-visual run of a 15-minute documentary highlighting Patel's growth into a national leader.
At the centre, there is a large metallic sculpture of just the head of this great protagonist of new India, which makes for the most favorite spot for all the photo lovers.
From Zone 1, there are two high-speed elevators (4 m/sec), two inside the concrete columns forming each leg of the statue, which lifts visitors as swiftly as in 30 seconds all the way up to the Viewing Gallery in Zone 3. This upper floor can allow in 200 people at a time for each time-slot (those who obtain 'Express passes' are given priority), to enjoy a stupendous aerial view of the Narmada countryside through brick-patterned grilled windows which are instilled both at the front and back of the viewing hall.
On the roof of Zone 1, a gradually sloping 'memorial garden' can be found; and above a mezzanine floor, visitors can conveniently step onto a terrace by means of an escalator from the ground, to come into close quarters with the feet of the standing statue. Not enough feeling like a midget next to the 'toes' or not enough being dwarfed by the size of the 'sandals'… risking a raised look up above in search of the almost invisible 'face' of the towering and giant-like statue can make anyone's head go spinning, lose balance and stagger!
There is also a significant 'Wall of Unity' near the Statue of Unity, which is nearly 36 ft in length and 12 ft in height, for which soil and iron supposedly collected from farmers, from 1,69,058 villages all over India was collected and used to build it; in a way symbolically representing Sardar's extensive crusading for farmers' rights during India's freedom struggle, being born in a farmer's family himself.
Supplemental Attractions Near Statue of Unity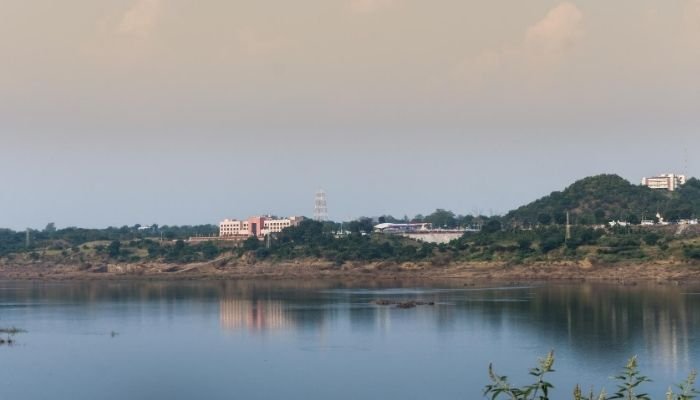 As an addendum, combo tickets to the SOU include visits to other attractions made nearby or can be toured individually also –
Valley of Flowers – Thematically pruned gardens with a sensuous variety of flower-beds.
Cactus Garden – An awesome collection of cacti varieties.
Laser Light and Sound Show – Colourful laser lighting projected on the statue every evening after 7 pm, along with a background tell-tale of Sardar's life.
Sardar Sarovar Dam Viewing Point – Offers an unhindered view of the second largest dam in the world surrounded by its richly forested and mountainous environs.
Statue of Unity – Where To Stay and Things To Do
For the sake of travelers coming in from far-off places, 'tent-cities' have been erected near Statue of Unity to lodge them in plush 'tented accommodations' that are equipped with all the essential amenities. Those who choose to stay in these 'nature-retreats' can incorporate exciting activities in their itinerary such as helicopter rides, boating, riverfront cycling, and further go on short trips to closest destinations like Zarwani waterfalls and Shoolpaneshwar Wildlife Sanctuary.
The Statue of Unity is India's best piece of engineering talent so far! It is a cut above the rest as it can withstand high wind speeds, trounce flood situations, and vanquish earthquakes up to 6.5 on Richter scale within a 12km radius. The government of Gujarat has gone over every possibility with a fine-tooth comb to turn the full vicinity into a world-class centre. It proved to be a massive crowd-puller within a few weeks of inauguration and has even been listed in TIME's '100 greatest places in the world'!
RECOMMENDED: WHAT ARE THE NEW 7 WONDERS OF THE WORLD? WHERE ARE THEY LOCATED?