Learn how to DIY tiger safari at Ranthambore National Park. Know Ranthambore Tiger Reserve safari timings, safari prices, attractions, zone details, ticket booking details and more.
Ranthambore National Park is one of the best wildlife safari destinations in India. Travellers from overseas and different parts of India come here to see its majestic flora and fauna, and to get the thrill of watching the Royal Bengal Tigers in their natural habitat.
Safari at Ranthambore Tiger Reserve is done either in open-roof Canter (truck) or Gypsy (SUV) so that you can explore and observe the beauty of this jungle and its wildlife very closely.
How to reach Ranthambore TIGER RESERVE

Ranthambore National Park is located in the Sawai Madhopur district of Rajasthan. Both foreign, as well as Indian tourists, can reach here quite easily. The Sanganer Airport is the nearest international airport located in Jaipur. And from Jaipur, shuttle services are easily available for Sawai Madhopur.
You can also hire a private taxi to reach Ranthambore Tiger Reserve (Sawai Madhopur). Travelling by road from Jaipur to Sawai Madhopur usually takes 3 hours to cover the distance of around 161 kilometres. If you are looking for a cheaper source of transportation, then travelling by train can also be a good option for you. Trains between Jaipur and Sawai Madhopur run daily. Some of the trains require a prior reservation but there are also local trains running between Jaipur-Sawai Madhopur for which tickets can be availed at the station ticket counter, the very same day.
You can check for the availability of trains between Jaipur-Sawai Madhopur by using this link: http://www.indianrail.gov.in/inet_Srcdest.html
Note: Search by typing the 'Source Station' as 'Jaipur' and 'Destination Station' as 'Sawai Madhopur', and then select the type of ticket class you would prefer.
ATTRACTIONS AT RANTHAMBORE NATIONAL PARK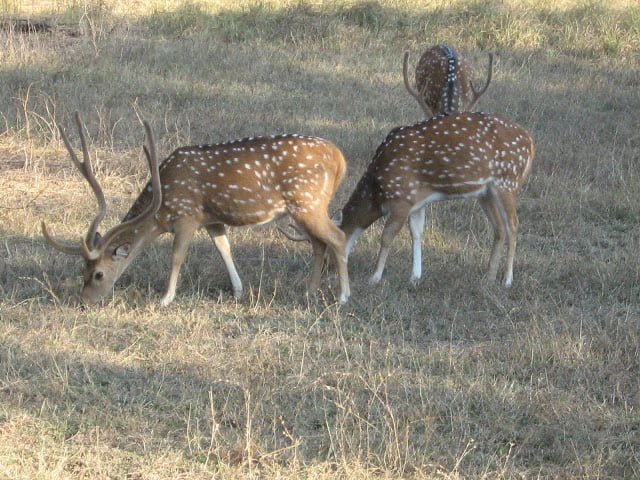 Ranthambore National Park is full of wildlife attractions and natural beauty. When you are here in this wildlife sanctuary, you may across numerous wild species such as Tiger, Leopard, Wild Boar, Sloth Bear, Crocodile, Indian Langur, Spotted Deer, Sambhar, Nilgai, Striped Hyena, Chital, Rhesus Macaque and many others.
Apart from the above-mentioned wild animals, this forest reserve also has a lot of attractions for bird lovers too. Many popular Indian birds that reside in Ranthambore Tiger Reserve includes Indian Gray Hornbills, Woodpeckers, Graylag Goose, Cuckoos, Common Kingfishers, Parakeets, Bee Eaters, Nightjars, Asian Palm Swift, Pigeon, Flamingos, Bulbul, Mynas, Falcons etc.
BEST TIME TO VISIT RANTHAMBORE NATIONAL PARK
The best time to visit Ranthambore Tiger Reserve is between October to June. During the monsoon season, i.e. between July to September, this tiger reserve is closed for the visitors.
How to book RANTHAMBORE TIGER SAFARI
To experience the Ranthambore National Park tiger safari, you should book your tickets 90 days before the date of your visit as this will allow you to choose your preferred safari zone. During immediate reservations, safari zone allotment is subject to availability.
You can also book your safari tickets either a day before you want to set off for the tiger safari or even on the same day. But as mentioned, immediate reservations will not allow you to choose the safari zone or vehicle seat by your choice.
You can inquire more about Ranthambore Tiger Safari at this toll-free number —1800-180-6127
For online reservations, visit — http://fmdss.forest.rajasthan.gov.in/
PriceS Of RANTHAMBORE TIGER SAFARI
Ranthambore Tiger Safari is carried out either through an open-roof 20-seater Canter (mini-truck) or an open-roof 6-seater Jeep, arranged by the forest authorities. A canter per passenger for an Indian national and a foreign national would cost around INR 1,200 and INR 2,000 respectively. Moreover, the per passenger cost of Jeep safari for an Indian national and a foreign national are around INR 1,500 and INR 2,500 respectively. Remember, private vehicles are not allowed inside the forest, therefore, it is mandatory to book the certified safari vehicles to go for the Ranthambore jungle safari.
| | | |
| --- | --- | --- |
| Vehicle | Indian Nationals | Foreign Nationals |
| Canter 20-seater (open-roof mini-truck) | INR 1,200 approx. | INR 2,000 approx. |
| Jeep 6-seater (open-roof SUV) | INR 1,500 approx. | INR 2,500 approx. |
RANTHAMBORE Safari Timings
Every year, between 1st October to 30th June, wildlife safaris are done at Ranthambore National Park. These safaris are done twice a day — early morning and in the afternoon. The morning safari timings are from 06:00 am to 09:30 am, and the afternoon safari timings are from 02:00 pm to 05:30 pm.
Zone Distribution OF Ranthambore National Park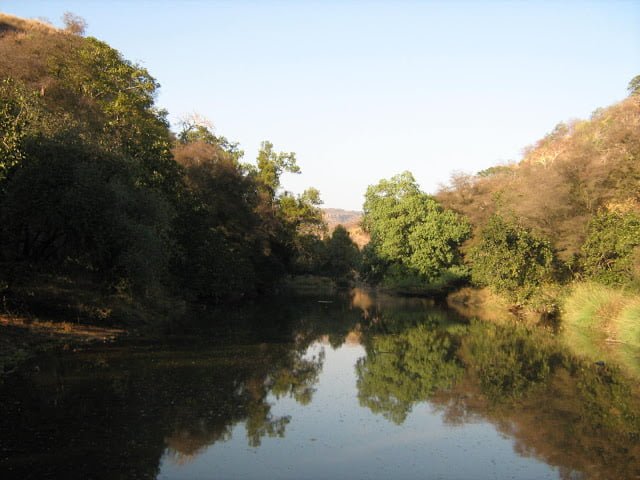 Ranthambore National Park has 10 zones in total and the Dept. of Forest will allot you either of these zones. The safari vehicle leaves for the jungle safari from the Ranthambore Tiger Reserve ticket counter. Earlier, this national park had 8 zones but later on, 2 more zones were added. There are equal chances of tiger sightings in all the zones, but it is good to take the updates of tiger movements from the forest officers, as this would help you to pick the zone where the chances of tiger sightings are high.