Know India's most adventurous and extreme river rafting places, best for those who dare and love thrill.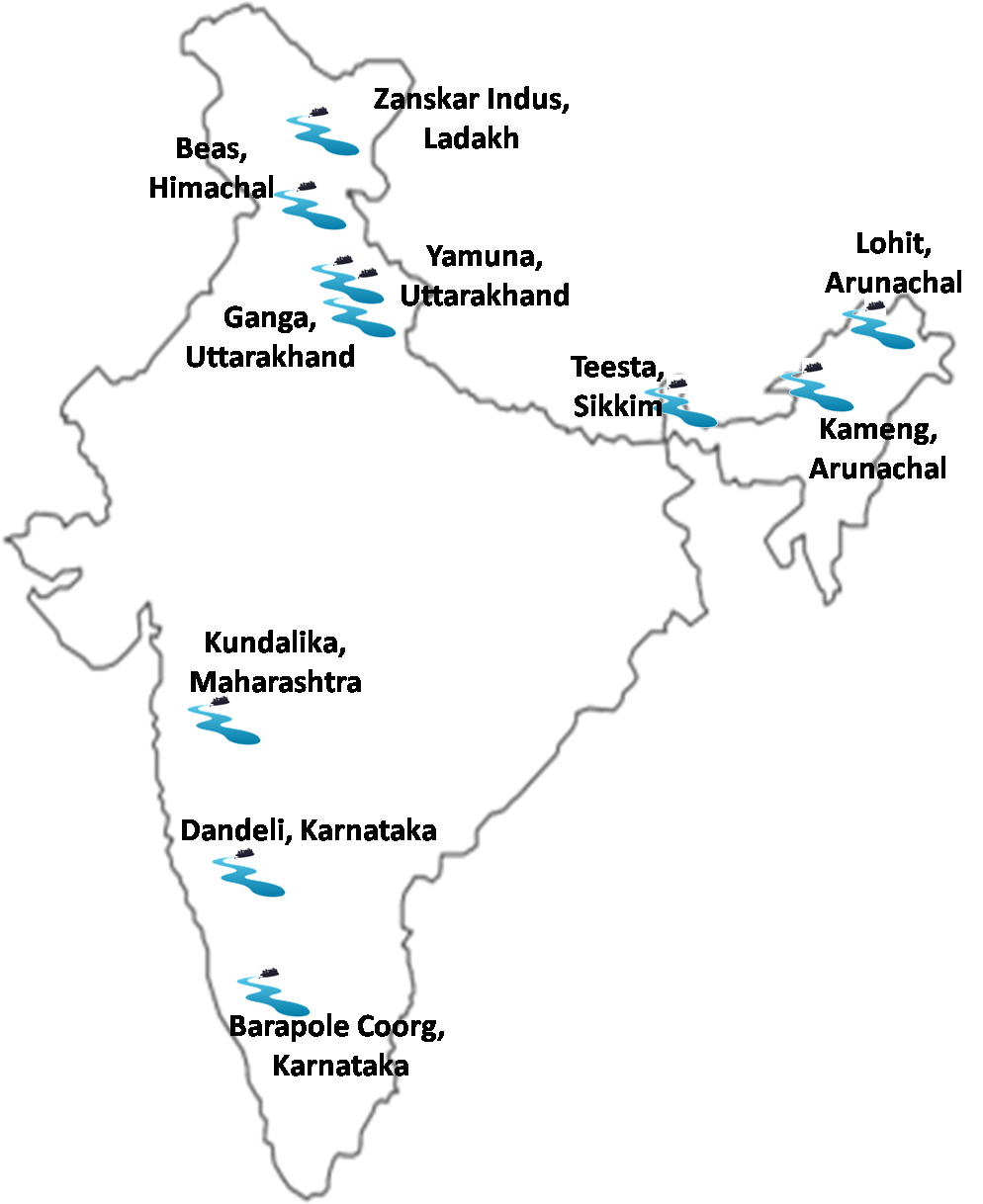 Plunging into soaring rapids, maneuvering through violent river currents with oars, bouncing over stubby rocks, clinging on to the raft tightly during clandestine curves and razor-sharp edges, drenching in icy-cold waters, screaming the lungs out in long perilous stretches, and quashing fears while facing nature's risky gamble – a White Water Rafting expedition is doubly worth every penny spent for it!
It's a sport which requires no previous learning or training; just the appetite and attitude to participate in a heart racing outdoor stunt, works wonders for hordes of people who flock to get their fair share of adrenaline rush. Although quite unpredictable with hazards lurking around every corner, it has not deterred sportive buffs from attempting an epic feat of their life.
River Rafting Destinations in North India
The Northern Himalayan states of India are bestowed with idyllic environs that majorly amplify the fun-n-frolic and thrill-n-shrill of river rafting activities.
Zanskar River, Ladakh
Zanskar River flowing at a height of 12,000 feet into the Indus in Ladakh, possesses an amazing landscape locked by gorgeous high-rise mountain topography on both sides. Swishing in-between these mountains can imprint the best of reminiscences in the rafters' adventure diaries.
Rafting stretch: Padum to Zimo (30 KM);
Level: Grade 3-4
Beas River, Kullu-Manali, Himachal Pradesh
Beas River in Kullu-Manali, Himachal Pradesh has become the most treasured rafting destination in recent years, for its scenic abundance.
Rafting stretch: Pirdi to Jhiri (14 KM)
Level: Grade 1-2
Yamuna River, Uttarakhand
Yamuna River in Uttarakhand is often sidelined by the Ganges, and yet has emerged to be as much exciting and exhilarating with its own whirlpool of rapids.
Rafting stretches: Nainbagh to Juddo, and Yamuna bridge to Juddo (9KM)
Level: Grade 1-3
River Ganga, Rishikesh, Uttarakhand
River Ganga in Rishikesh, Uttarakhand has four heady stretches, navigating below the Kumaon mountain ranges and around white sand beaches. The peculiarly attractive thing about rafting here is the christening of rapids with atypical names like Golf Course, The Wall, Return to Sender, Tee Off, Three Blind Mice, Roller Coaster, Double Trouble of which 'The Wall' is treated as the most challenging among all.
Rafting stretches: Brahmapuri to Rishikesh, Shivpuri to Rishikesh, Marine Drive to Rishikesh, Kaudilya to Rishikesh (9-36 KM)
Level: Grade 1-4
ALSO READ: 15 Best Motorcycle Road Trips in India For Every Passionate Biker
River Rafting Destinations in North-East India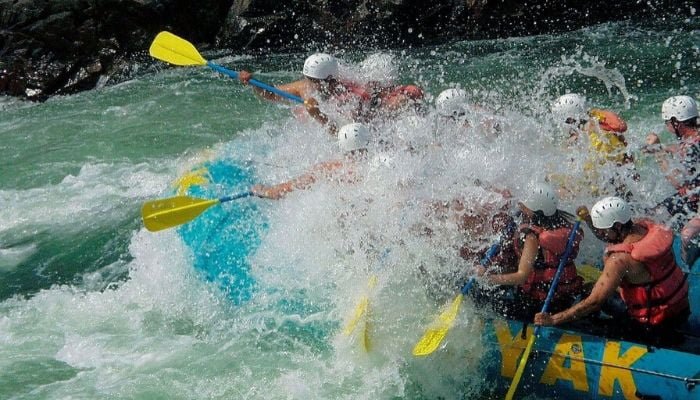 The tributaries of the Brahmaputra in the North-Eastern Himalayan states, also splash in a surprise; whose gushing water streams ideally invite rafting sports.
River Teesta, Sikkim
River Teesta in Sikkim, which flows into West Bengal, offers rapids of fluctuating intensities and all the more multi-dimensional rapids at the point where it meets River Rangit. This is rated as one of the most rip-roaring, taking into consideration the abounding natural beauty of the surroundings, filled with a rocky terrain.
Rafting stretches: Sikkim to Darjeeling to Kalimpong Hill Station (11-37 KM)
Level: Grade 1-4
Kameng River, Tawang, Arunachal Pradesh
Kameng River in Tawang, Arunachal Pradesh also competes as a great rafting destination owing to its awesome picture perfect scenery that seems like as if it has come into existence straight out of a postcard, or a movie.
Rafting stretch: 25 km
Level: Grade 3-4
Lohit River, Arunachal Pradesh
Lohit River in Arunachal Pradesh, although not yet widely popular, is gradually gaining momentum as an equally fierce and exhilarating rafting escapade. Here too the rapids are known by some comical names like Tooth Fairy and Pulsating Pulsi. The river provides a heartening experience as it cascades through tropical jungles and gorges with views of humble tribal settlements on the banks.
Rafting stretch: Total distance of 100 km
Level: Grade 2-6
River Rafting Destinations in West & South India
The Deccan Peninsular Plateau in the South is not far behind with its own share of riverscapes that have become famous for conducting water sports.
Kundalika River, Kolad, Western Ghats, Maharashtra
Kundalika River in Kolad, Western Ghats of Maharashtra, despite being a small river that runs down from the Sahyadri hills to the Arabian sea, it is among the fastest flowing rivers, whose rapid gradients come fully alive during the monsoons.
Rafting stretch: 16 KM
Level: Grade 3-4
River Kali, Dandeli, North Karnataka
Dandeli in North Karnataka is a remarkable place for holidaying and has gained additional attention for white water rafting in River Kali situated there. It turns out to be the most pleasurable rafting points in South India.
Rafting stretch: 12 KM
Level: Grade 2-3
River Barapole, Coorg, Karnataka
River Barapole in Coorg, Dakshin Kannada of Karnataka is yet another hotspot for rafting and quite easily reachable to people who live in the southernmost states of India. The river has been divided into two sections – an upper one and the lower one. The foamy rapids here have been given very interesting names such as Milky Churn, Morning Coffee, Grasshopper, The Wicked Witch, The Ramba Samba and Big Bang.
Rafting stretch: 8 KM
Level: Grade 1-2
Precautions for Safety During Rafting
Tightly fasten the life jacket and helmet.
Select a professional and licensed rafting company for your venture.
Follow your guide's commands at all times.
Remain seated on the raft; if you fall out, try to swim back or find the nearest rescue without panicking as per the instructions outlined by the guide prior to boarding.
Make sure the raft is completely inflated with no signs of damage.
Use paddles/oars whenever necessary; be in sync and contribute to the team effort.
LEGEND
Grade 1: Basic level, no obstacles; easy for beginners
Grade 2: Rough water with rocks, paddling level, moderately difficult
Grade 3: Small irregular waves, quite difficult; previous experience with maneuvering required
Grade 4: Rocky with medium powerful waves, significant drops, very tough; expertise required
Grade 5: Large violent waves, large rocks, large drops, hazardous; exceptional proficiency required
Grade 6: Extremely dangerous and un-navigable
ALSO READ: Sensational Rock Climbing Destinations in India – A Treat For Rock Climbers!