Planning for a vacation trip at Rishikesh? Do check out these top 10 places to visit in Rishikesh.
Rishikesh – a name that literally translates into "hair of a saint" is one of the most noted spiritual destinations in India, and now often synonymous with the International Yoga Fest that is conducted once a year. In recent years, it has become a hotspot among young backpackers & wanderers, especially foreign tourists who ardently seek to relax, refresh, rewind and re-energize. This major hub in Uttarakhand, has earned its reputation of being extremely friendly towards all its 'seekers' alike; whether they seek adventure, meditation, music, peace, photography, temples, organic food, or simply a retreat in the cradle of nature.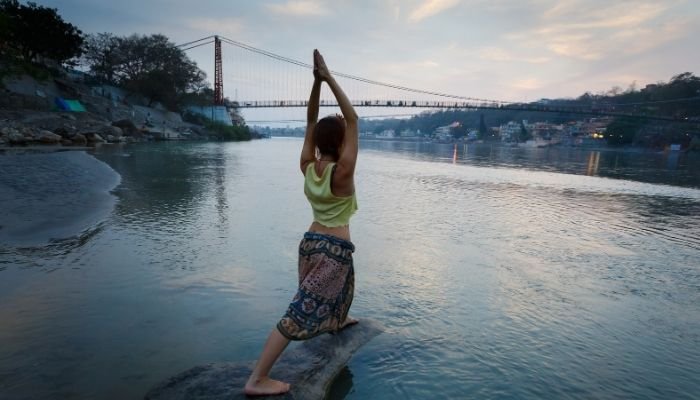 A small Himalayan city that was initially known only as the dwelling place of sages and religious services, has undergone a commercial transformation with a boom in hotels, home-stays, outdoor cottages, restaurants, cafes and shacks to cater to all its visitors. Hence brimming with umpteen numbers of touristy choices, Rishikesh is undoubtedly the best to spend a perfect holiday with friends, family or even to go on a solo.
The following are the ten best unmissable places in the charming cultural town of Rishikesh.
1. Triveni Ghat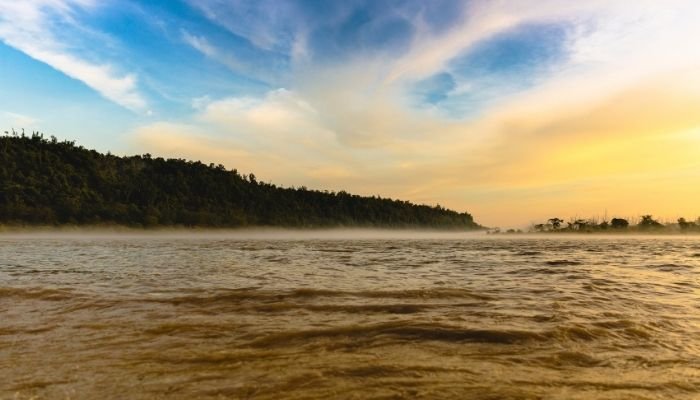 It is a holy confluence of the three rivers Ganga, Yamuna and Saraswathi; it is the biggest ghat in Rishikesh, where numerous people come to take a dip and bathe as there is a strong belief passed down since ages that these waters have the power to wipe out their past sins.
It is even more popular for the evening aarti (Maha aarti) and hymns recital that takes place on the banks everyday without fail. A band of priests stand in line on the waterfront and conduct flawless puja rituals, simultaneously with resonating chants and clanging bells that transcend the twilight aura. These prayers are offered as a tribute to Goddess Ganga who bestows Her grace and blessings on humanity by supporting millions of lives eternally.
Hundreds and thousands of people congregate to watch the spectacular programme at dusk and at the end of it, release small oil lamps on leaf boats in the river. The scene of flickering flames running down along with the flowing current is worth watching… enough to cleanse our state of minds.
Within a kilometer's distance from the ghat are three temples – Geeta mandir, Laxminarayan mandir and Bharat mandir, often visited and liked by people.
2. Lakshman Jhula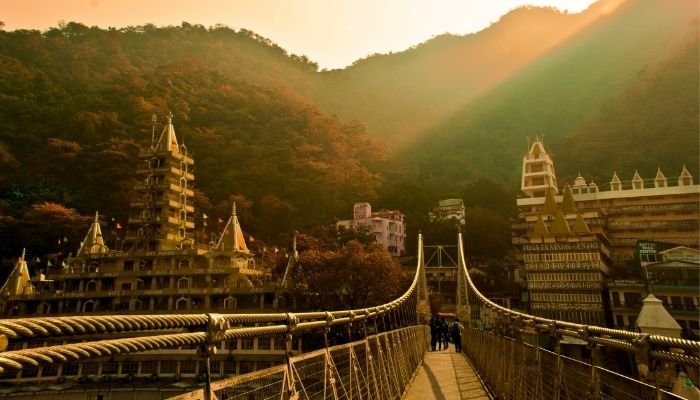 An iconic feature of Rishikesh; is an iron suspension bridge built across the Ganges, that conveniently connects temples, ashrams and markets on both the river banks. Lakshman Jhula hangs at 70 feet above the river, is 450 feet long, and connects the Tehri and Pauri districts located on either side. It derives its name from the legendary belief that Lord Lakshman himself crossed the river at this point.
It is certainly a pleasure to walk on the bridge end to end, while watching a number of revellers living it up by boating and rafting on the ebullient Ganga bouncing underneath; a herd of pilgrims fervently crossing to and fro in a bid to drop in at as many temples as they can; a group of chirpy shoppers eagerly taking faster steps to explore the small alleys in the market zones selling a variety of handicrafts, semi-precious gems, traditional artefacts and so on.
Although the bridge has withstood the test of time for several decades since 1929, in the year 2019, it was permanently closed due to severe dilapidation and plans are on to construct another one parallel to it.
3. Ram Jhula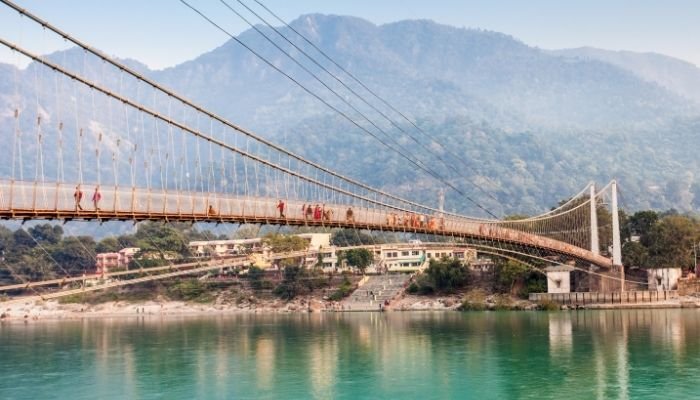 A few miles away is the Ram Jhula which is very similar in construction built much later in the 1980s, but is longer at 750 feet connecting Swarg Ashram (west bank) to Sivananda Ashram (east bank).
Both these 'Jhulas' offer a wonderful eyeshot of the majestic Himalayan mountains rising up from the valley all around.
4. Parmarth Niketan Ashram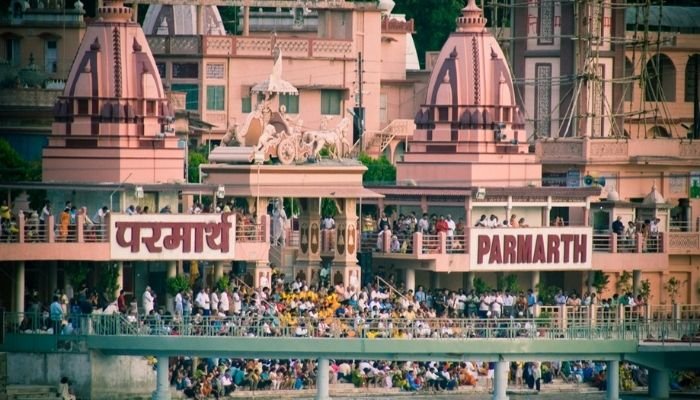 The largest ashram in the city of Rishikesh, is fondly frequented by countless devotees and followers irrespective of religion, gender and nationality from across the globe. Founded by Pujya Swami Shukdevanandji Maharaj in 1942, its beautiful gardened establishment stands on the banks of Ganga inviting everyone into its pure and sublime atmosphere.
Those in attendance in this sacred ashram learn, understand and practice yogic disciplines and sattvic form of life as propagated by the rishis. Daily routines of yoga, satsang, kirtan and lectures on the divine communion help to rejuvenate the mind and body holistically.
Besides, other mandatory day-to-day happenings include a Ganga aarti beyond sunset, and also ayurvedic and natural health care for those in need. Every person who exercises the taught principles in this ashram, based on ancient Indian knowledge of the sciences, with intense devotion leaves with feelings of enhanced inspiration and confidence to lead their lives.
5. Neelkanth Mahadev Temple
A temple dedicated to Lord Shiva and of utmost importance to pilgrims, is situated at a distance of 32 km from Rishikesh, at an altitude of 1300m. Due to its inherent location in the Himalayan region, it is no doubt scenic in the midst of valleys and surrounded by mighty mountains with thick forest covers.
Of special mention regarding the temple architecture are the sculptures and depictions of Gods & Demons from the Hindu mythology – Samudra Manthan, in which it is said that Lord Shiva took in poison from the sea, and kept it at his throat after which it turned blue, and so derived the name Neelkanth (blue throat).
The temple is also known for natural spring water within its premises.
ALSO READ: Hymns of Haridwar: Travelogue
6. Tera Manzil Temple
An important landmark in Rishikesh, also called as the Trimbakeshwar temple or Kailash Niketan temple, is uniquely designed with thirteen symmetric storeys, where each floor houses multiple idols of gods and goddesses that are worshipped. It is present at a photographic site at the far end of the Lakshman Jhula, on the banks of river Ganga.
7. Kunjapuri Temple
This is a significant Shakti Peetha temple in the Garhwal Himalayan ranges, located 25km away and at a height of 1600m. This temple provides a panoramic perception of Rishikesh and the adjoining dales from above on one hand and also jaw-dropping snow-clad peaks on the other.
8. Neer Garh Waterfall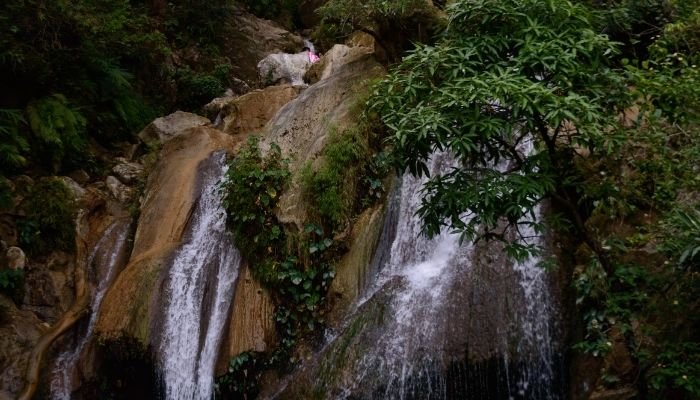 Deeply hidden inside the woods, an accessible trek of nearly 3-4 km from Lakshman Jhula on the Badrinath highway, can bring us to an unexpected clearing where water naturally cascades down a hill in two tiers to form two clear, blue pools of shallow water. A wide variety of wild flowers and butterflies add a magic touch of beauty to this wonderful spot frequented by those who love to swim and splash in the chill waters. The waterfalls are alive throughout the year; and particularly in full volume after the monsoon season during the months of October and November.
9. Beatles Ashram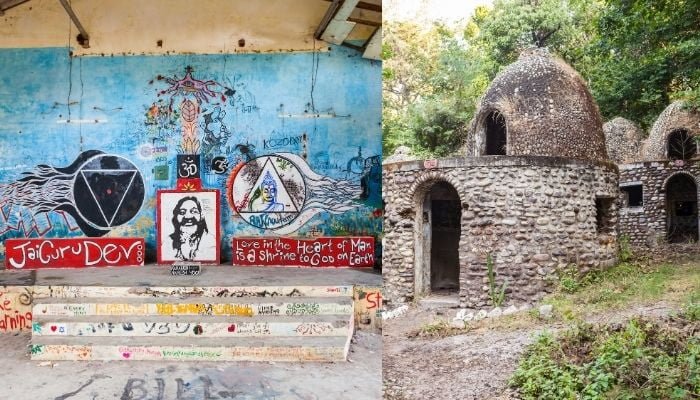 Once a place that was quite unsung and quietly carried on yoga-cum-meditation lessons under the auspices of Maharishi Mahesh Yogi, came under global limelight in 1968 when the very famous team of a British rock band named The Beatles visited the ashram to benefit from the teachings of the revered Maharishi, on Transcendental Medicine.
The Ashram is a mystical campus in itself, which is about 3 km by walk from the Lakshman Jhula. After hiking through a path abound with natural beauty, we reach an abandoned spot in a forested area with the Ganges flowing close-by, which has some olden structures but composed of stunning architecture. The buildings here consist of a maze of halls and rooms, some of which were used for meditating exercises, while the others must have been for residential purposes. There are a few hut-like shelters which may have been used for similar reasons in the soothing ambience. The place has some pretty wall graffiti and a gallery of old paintings.
It is now an eco-friendly destination within Rajaji National Park.
10. Rishikesh Camping Sites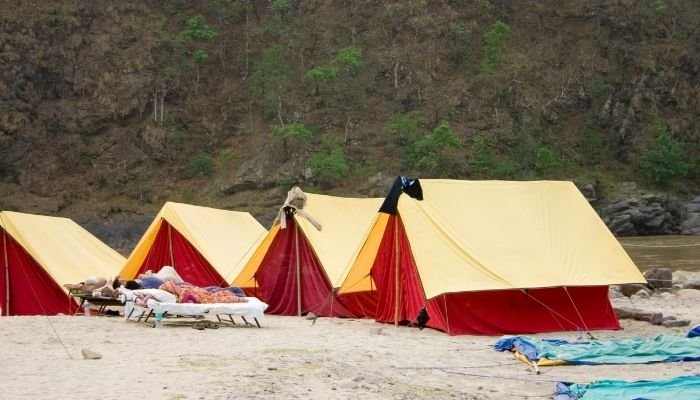 The daredevil hearts go hard pressed for time, when they are given out too many options to pump up their adrenaline. A number of breathtaking locales around the main city of Rishikesh, have been converted into camping sites that offer loads of excitement through bold recreational games like river rafting, bungee jumping, cliff jumping, rock climbing, rappelling and flying fox. The camps have excellent tents and restaurants for a comfortable stay with a stunning backdrop of the lush mountainscapes, and the bubbly and sparkling Ganges flowing by.
Although risk laden, these sports ensure that we enjoy to the hilt, and at the same time are able to appreciate the magnificence of Mother Nature and value our precious lives filled with Her bountiful nurturing.
Some well known picturesque camping areas can be found at Shivpuri, Byasi and Kaudiyala.
For a place that's extensively dotted with innumerous shrines, steeped in orthodox philosophy and devout ceremonies… it is quite unusual yet mind blowing that Rishikesh attracts sporty enthusiasts with a surfeit of fun-filled outdoor activities like no other in India.
Here's something more for travellers on Rishikesh tourism:
Rishikesh best time to visit
It's good to visit Rishikesh between October to May.
What is Rishikesh famous for?
Rishikesh is famous for its yoga ashrams, adventure sports, ancient temples and popular cafes.
Rishikesh bungee jumping spots
Jumpin Heights located in Mohanchatti (Rishikesh) offers India's highest bungee jumping adventure in Rishikesh.
What are the timings of Rishikesh Ganga Aarti?
Ganga Aarti in Rishikesh is done everyday at 06:00 pm – 07:00 pm.
Check the weather in Rishikesh using this official website of Uttarakhand Tourism
ALSO READ: 15 Must Essential Travel Gadgets & Items For Backpackers