Read Hyderabad to Shingnapur travel experience shared by the traveller himself.
Travelogram – Hyderabad to Shingnapur and back
This is the story of my trip from Hyderabad to Shingnapur and back. At first, you may ask, why and what is Shingnapur. So, then I need to tell you a bit about Shingnapur. It's a small village in central Maharashtra and its very famous for a unique temple dedicated to Lord Shanidev. You can check out Wikipedia for more details. The deity here is in "Swayambu" (which is Sanskrit for self-evolved deity). The deity self-emerged from the earth in the form of a black, imposing stone. Though no-one knows the exact period, it is believed that the Swayambu Shaniswara statue was found by shepherds of the then local hamlet, from a nearby river. It is believed to be in existence at least since the start of the Kaliyuga.
Now, I am going to divide my story into three parts – the going part, the staying part and the returning part.
The going part – Hyderabad to Shingnapur
My journey to Shingnapur was fraught with excitement. Since my trip was planned at a relatively short notice, and the train connectivity is not great, I booked myself a ticket on my favorite bus operator, Orange Travels. I was able to get a princely sleeper berth in an A/c Volvo bus for a mere 1200/= each for going and coming back. My boarding point was Madinaguda on the road going towards Mumbai, opposite Bajaj Electronics and Fortune Heights. My boarding time was 8 pm, and I was as usual too much ahead of time. I had booked an Olacab from my home to the boarding point, and was left with about an hour to kill, at the pick-up point. I then did a very healthy thing. I took a walk around the neighborhood. It was a nice housing society, and had a good, large Vishnu temple, and a park as well, nearby. I walked 4 km and took Darshan as well. What was even better is that the temple priest was very nice, and he used the "blessings cap" and helped me to get the prasad and message to God across. All of this kept me entertained and feeling blessed, till 8 pm, when the bus finally arrived. I was delighted as it was on time. But it did not leave on-time, unfortunately. There were some connecting buses from as far away as Habsiguda, which were delayed due to traffic. I must mention here that the folks at Orange Tours and Travels were very helpful. They actually have a call-center and that was a revelation to me. I was originally slotted to board in Habsiguda, but since Madinaguda is much closer, I called them and asked for a change. They did so and even sent a confirmation SMS. I thought to myself – this is real customer care and delight in it's true sense – and a great job by the Orange Travels company. If at all any family members are travelling, I will always recommend them.
Well soon then the bus started. It went in the direction of BHEL. Then it turned towards RC Puram and proceeded. That road was good, and in fact I was seeing this part of Hyderabad for the first time. I was delighted to see a large ground on which a fair or Circus was stationed, and that reminded me of my own visit to a circus in my childhood days, a long-long time ago, in the city where I grew up, Prayag (or Allahabad).
Soon after the lights on the road started getting dimmer and reduced in number. Then the hunger pangs started attacking me. I had my dinner of some delicious chapati and potato capsicum curry which was packed by my dear wife. She is such a good cook and I was hungrier due to all the walking I had done. The bus was chugging along and stopped at Zaheerabad for dinner break. I used that time to get some more exercise and check out the hotel where we stopped. An Akshay Kumar movie was playing on huge set there. The monitor was one of the largest, I had ever seen. It was playing the Rowdy Rathore movie. Inside the bus the facilities were quite good.
We were provided with snacks, a water bottle, a small pillow and blanket. I was on the lower berth and tried to get some sleep but at around 2 a.m., the roads became very bad and the ride very bumpy I could not get much sleep after that, till we finally reached Ahmednagar at 8:30 a.m. and by that time, the bus was also 2 hours late.
I then realized that there is an issue of last mile connectivity. When I asked the conductor about how to get a bus to Shingnapur, he said that I must get off at Ahmednagar, as my ticket was till that only.
I had to get off, and get another bus, which dropped me off the high-way. From there it was another 23 kms to Shingnapur, (as per a big arch that I saw) for which I had to take a share-tempo. The tempo ride was great with lush green farms on both sides and an abundance of sugar cane. I counted nearly 30 of those Ox driven sugar cane machines, which were idling, probably as it was too early for customers. Soon, this ride came to an end and then the tempo guy asked me to get off and take another transport. This one was a white colored three-wheeler auto-rickshaw. This took me into Shingnapur village.
As soon as I entered the village I felt awash with the purified feeling. The houses also felt different and pure. The auto driver then asked me a question which absolutely surprised me. He asked me if I wanted any accommodation and I replied in the negative as I already had a booking at the Dharamshala, and asked him to drop me there, but it seemed that he suddenly became deaf and he still turned into a lonely lane away from the main road. I got angry and shouted at him, and at this he also got scared and relented. He then took me to the right place – the Dharamshala – which was right opposite the main temple.
The staying part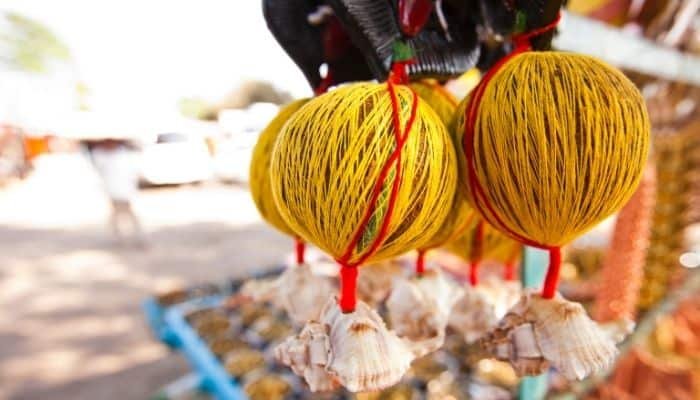 Seeing this I could not wait to visit the Shrine, so I quickly checked in. The room rent was very nominal at 100/= per day. I went to the room and was surprised, to see here that the door had no locks but just a stopper kind of device at the bottom of the door held together with a nut bolt arrangement. I entered a bare bones room with a bed and a table. I really did not have any time and just rushed through my bath and all and went to the Shrine by 11 a.m. The entrance to the Shrine was like any other with the place to remove shoes but there was no money to be paid and no tickets to be bought. There was a place to wash the feet and I entered to see – Lo and behold – the never before seen sight of the Lord himself – Lord Shani Dev in the Swayambhu form and open to the sky – he is in the form of a large oblong really black coloured stone put on a raised platform and open to sky. There was a steady stream of mustard oil falling on the Lord which came from a conveyor below where the devotees offer the mustard oil. This oil is a great favorite of Lord Shani Dev. Also playing in the background continuously was the Mantra of Lord Shani and it goes like this – Neelanjana samabhasam ravi putram yamagrajam, chaya marthand sambhutam tum namami shanaischaram. What this translates into is "Lord Shani Dev looks resplendent and majestic as that of a blue hill. He is the son of Lord Surya (sun god) and the brother of Lord Yama (god of death). He is born to Mother Chaya Devi and Martanda (one another name of sun god). I bow down to the slow moving one".
The first sight of the Lord through my eyes filled my heart with happiness, and to some extent there was a novel element as well, because for the first time I was seeing an idol of a God being worshipped, which is open to sky, as against being inside a gopuram or enclosure. There was a raised platform in front of the swayambhu where the devotees sit and say their prayers. I sat there for almost 2 hours and chanted the Shani Beej Mantra which goes like this – "Om pram preem proum sah sanischaraya Namaha".
Towards the end, as I was engrossed in the prayers, I got a feeling of something furry inside me. For a moment, I wondered is it only in my mind, or is something furry rubbing against me. Looked down to see one of the biggest rodents ever, rubbing against my leg. Got a real scare and shook myself off, and the rodent also went scurrying for cover. Now when something so exciting happens, one gets a more heightened level of awareness, and that's when I realized that they were little hunger pangs (similar to rodents) biting inside my tummy as well. Time for something to eat, as I had not had anything since the dinner last night. So off I went to a nearby hut kind of place, which seemed to be about the best restaurant nearby and had a nice Maharashtrian thali, finished off with some Amul Shrikand. I also had the barfi prasad, which is one of the famous things in this temple. It's made with the many coconuts which devotees give as offerings and is cooked on the premises itself.
Now I had actually started on a Thursday night, and reached on Friday morning. Even for a normal Friday morning, the rush at the temple seemed quite high. Probably a lot of people around India and the world are becoming more aware of the importance of Lord Shanidev. For some strange reason, this Lord has been misunderstood as an unkind God, while he is only trying to ensure that everybody goes through the necessary difficulties to atone for their sins, either from their current birth of their previous births.
So, post my lunch on the first day, I went back to the room and caught up on some sleep, as I had slept very little last night. I came back again in the evening, to spend a lot more time just meditating in front of the Lord's statue and reciting the mantras (which I had taken a pledge to complete 19000 utterances of the mantra in a 40-day period). I also took a walk around the premises and found a guest house kind of place at the rear side of the temple. I later found similar guest houses as well, which were slightly more expensive than the one I was staying at. There was a large place, for serving food for the devotees at a very nominal price of Rs. 20/= per person, which I decided to explore for dinner. I then came out the premises to check out how people live in the nearby village, as I had heard that people do not lock their doors here. I found that it was true, but to some extent only. It was applicable to the smaller houses, but the big ones had large gates with locks, so I guess the concept has got diluted to some extent.
While wandering further around the temple, I found a liquor shop as well, about a kilometer away from the main shrine. This made me realize that the conflict between a liberal view of how to lead your life (which means one is allowed to use intoxicants like alcohol) exists even in the abode of one of the sterner dieties of the Hindu Sanathan Dharma). Hmm. So, humans will be humans only.
After making these observations, I came back to the main shrine in time for the evening aarti of the Lord. This is a normal event which happens every day. Apart from this there are also some special poojas which involve a larger number of offerings and distribution of free prasad to the devotees. These are in the range of around Rs. 11k and happen on Saturday morning and evening. Post this I had a quick dinner of smoked bhutta and dosa and retired early to my room, so that I can get up early and come to witness the special early morning puja. Though of course need to keep in mind that the shrine is open through-out the night, and so are the shops around the shrine.
I got up by nearly 3.30 am on Saturday morning and came to the main shrine. It was surprising to see the large crown that had assembled so early in the morning, and I am convinced that quite a large number of these folks must be from outside Shingnapur, as the town itself is quite small. The special puja was awe-inspiring regarding both the diligence with which it was conducted by the head-priest and the variety and quantity of the offerings. I also saw the beauty and abundance of the abhisheka offerings as well as a great flower decoration, which is done every Saturday, based on the donations from a wealthy business man of Pune.
Post the completion of the morning puja I had time to kill and continued to make countless rounds of the Lord's statue and picked up some places to sit down and meditate. There was also a distribution of free prasada of a rose milk drink and sabudana vada which left me with a really satvik (means blessed and pure) feeling. Post this I also did a bit of shopping and requested for an aarti to be performed to get the Lord's blessings for my family members. Post the Saturday morning activities, I was planning to go to Shirdi and then go back straight to Ahmednagar to catch my bus back to Hyderabad on Saturday evening. So proceeded to eat my lunch at the prasadalya and was chased by beggars. I gave them some money and escaped. Also had to drop my plan for Shirdi due to unexpected rains.
ALSO READ: HYMNS OF HARIDWAR – TRAVEL EXPERIENCE SHARED!
The returning part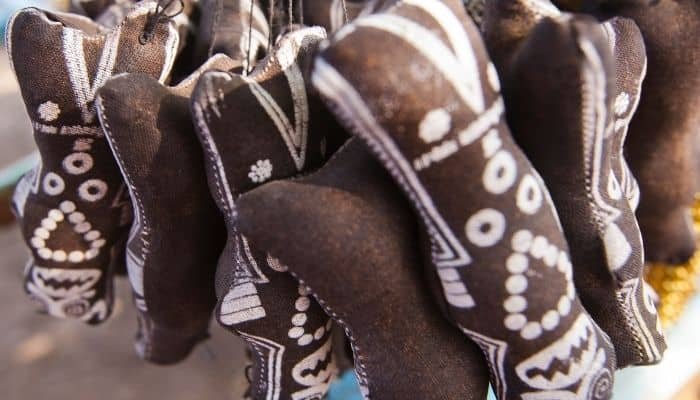 While returning to Ahmednagar, to catch the bus to Hyderabad, I started at 4 pm. It turned out to be quite a challenge due to the rain which was quite heavy by then. First a rickety auto-rickshaw where I had barely any place to sit for reaching the Ahmednagar high-way, nearly broke my back with the bad condition of the road, then getting a jeep to the Tarakpur (Ahmednagar) bus stand, having to change place as they had changed pick-up point to Jyoti medicals, waiting for rain to stop for walking to the Jyoti medical, lack of any decent food options at Tarakpur bus stand, were some of the low-lights of my trip back. But was amazed again with the efficiency of Orange Bus travels as it came on time, and I just crashed to sleep in the comfort of the top berth. It was a peaceful ride back and reached home on Sunday morning.
All in all, it was a great experience. Some of the travails I faced were manageable as I was just travelling alone, and I hope to be back soon, for renewing the lease of blessings from the awesome Lord Shaniswara.
Write Your Own Travelogue and Share Your Travel Experience With the World.