Read Varanasi travel experience shared by traveller Ayushi Saraswat.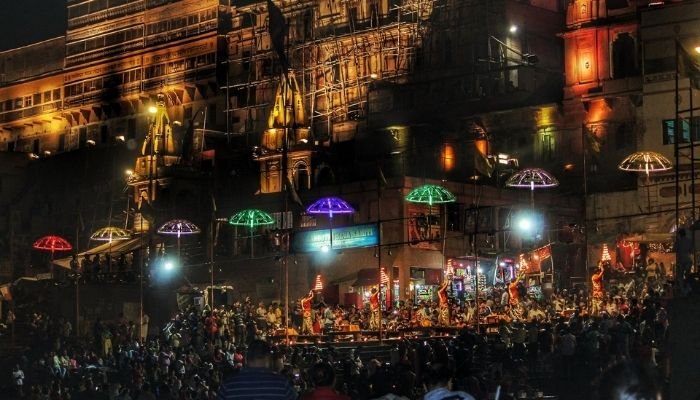 A city of eighty ghats and situated near river bank of Ganga. Usually people call Varanasi as 'Kashi' or 'Banaras'. Kashi is the 'mokasha' or you can say 'mukti dham', as 'mokasha' or 'mukti' means getting free from the cycle of rebirth impelled by the law of karma. It is believed that the mighty Ganga river washes away the sins of one on taking a dip in the river. Basically, Kashi is the city of Lord Shiva. Lord Shiva is also known as 'Mahakaal' or 'Mahadev'.
Varanasi exists because of the ghats, the people and its old narrow lanes along with houses older than one can imagine.
I started my journey from Kempegowda International Airport. We reached Varanasi in noon. We called a prepaid taxi and checked-in in The Okay International Hotel. Next morning, we went to old Vishavnath Temple and also visited near by temples. In evening, we went for Ganga aarti. The experience was divine.
We lived there for a week. We went to many temples, Sarnath , Ramnagar Fort, Chunar Fort, Alamgir Mosque, Banaras Hindu University and various other places. We tried all the delicacies and lip smacking street food. But in narrow lanes of old Banaras, you get one of the most exclusive and exquisite sweet, which is being served by few vendors since ages, that's Malaiyo or Mallaiyo. It is one of the hidden gem that is prepared only in Banaras during winter season (from mid November to first week of March). It is basically flavored milk foam/froth or cloud served in a small earthen bowl, garnished with Pistachios and Almonds. I love it so much that I used to eat it after my meals.
ALSO READ: Hymns of Haridwar – Travel Experience Shared!
Talking about boat rides, they are again an experience to live in Banaras. The story starts with usual bargain with the mallah (boatman) trying to bring his price down to a point where he agrees you to take for a ride on the Ganges covering different ghats. These boatmen have a lot of interesting stories to tell. About Banaras, their life and fables, each boatman has his own set of stories.
The evening aarti is something you cannot miss to experience. I attended this aarti at Dashashwamedh Ghat a number of times and it always felt the most divine and serene thing I ever felt in my life. Everytime, I was here, I felt like slowly engulfing myself in the smoke and chants. This aarti is performed by young boys wearing silk dhotis with rich gold borders, orange kurtas and stoles across their shoulders of same color. The way their hands move in sync is simply beautiful and in the most elaborate way possible. There is a similar aarti on Assi Ghat as well but not as grand as the one at Dashashmedh ghat.
The city's life revolves around its seven km long sweep of about 100 bathing ghats that skirt the west bank of the Ganges. Some of the most important ones are Manikarnika Ghat, Assi Ghat and Dashashmedh Ghat.
ALSO READ: Kedarnath – An Unfathomable Euphoria
Vishwanath Temple
This is a popular holy place in Varanasi that is located at Vishvanath Gali and is dedicated to Lord Shiva.
Sarnath
It is located 10 kilometers north-east of Varanasi. Buddha visited here to preach his message "Maha-Dharma-Chakra Pravartan", later, the Emperor Ashoka built the Dharmarajika Stupa here and erected a pillar surmounted by the magnificent capital of four adored lions.
There are many other tourists spots in Varanasi. You must also consider visiting Ramnagar Fort , Chunar Fort, Alamgir Mosque and Banaras Hindu University.
How to reach Varanasi / Banaras?
By train: Banaras is easily accesible from majority of Indian cities like New Delhi, Mumbai, Bangalore and Kolkata as most of the trains' route reach the Eastern railway zone.
By air: Lal Bahadur Shastri Airport of Varanasi is linked to some prime Indian cities. Domestic airlines like Air India and Indigo operate regular flights from Delhi, Khajuraho, Bangalore, Mumbai and Goa.
Once you reach the airport, you can hire prepaid taxis to reach the city centre.
When to visit Varanasi?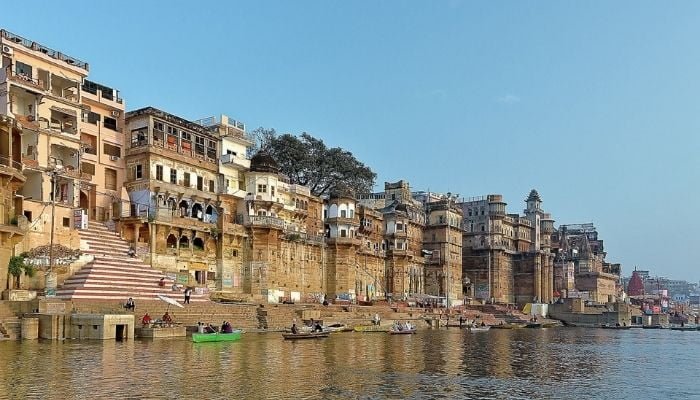 Varanasi a.ka. Banaras can be visited during the winter seasons. If you wish to dip yourself in the river Ganges, you can consider it visiting during the summer season too. It is open for tourists throughout the year, but mind yourself bathing river Ganges during winter could be freezing!
BrijRama Palace in Varanasi
BrijRama Palace is a heritage hotel which was built in the 18th Century and is considered as one of the oldest structures in Varanasi. Overlooking the Ganges, the property is a stone's throw away from the popular Dasashwamedh Ghat. It offers 2 dining options and a rooftop terrace. Complimentary boat check in/check out is provided (except monsoons). Every room at this hotel is air conditioned and is equipped with a flat-screen TV. Every room comes with a private bathroom fitted with a shower.
For your comfort, you will find slippers, free toiletries and a hair dryer. Hi-tea, yoga sessions and bottled water are complimentary. You will find a 24-hour front desk at the property. The dry cleaning, ironing service and laundry facilities are available at a surcharge. Room service is available. Live classical music can be enjoyed at the Bada Aangan. Dining options include Darbhanga that serves a selection of International vegetarian delights and Kamalya, the indoor café that offers a variety of hot beverages and snacks.
People usually go near by the Dashaswamedh Ghat's market area, Nayi Sadak , Ardali Bazaar. Banaras is famous for it's silk. There are stores where you get amazing Banarasi fabrics. Popular store name is 'Benarasi'. You can buy little glass statues of deities on Vishawanath Gali along with Banaras Brassware and sandalwood pieces. There are a lot of shops on the ghat area where you can go on a shopping spree if you are good at bargaining.
ALSO READ: "Mysooru Dasara, Yeshtondu Sundara!" – Mysuru Dussehra, How Beautiful It Is!
The food here is as cheap as it can get. Street foods including tomato chat, jalebi and kachori are few of the must try items.
And, I guess after a long day roaming around, anyone will be hungry! So let us talk about the food in Varanasi now. Street food depicts the culture and the taste of this place. Some of the delicious delicacies of Varanasi include:
1. Kachori sabzi
Where will you get it: Ram Bhandar , Thatheri Bazaar and Kachori Gali
2. Choora matar
Where will you get it: Gopal Mandir Gali
3. Dahi chutney golgappe
Where will you get it: Dena Nath Chat Bandar.
4. Baati chokha
Where will you get it: Puran Das Road
5. Tamatar chaat
Where will you get it: Dena Nath Chaat Bhandar Dashaswamedh Road.
6.Maliyo and lassi
Where will you get it: Blue Lassi Shop and Kachori Gali
7.Banarasi paan
Where will you get it: Chowk Thana.
8. Pizzeria vaatika cafe
Where will you get it: Assi Ghat
9. North Indian Food
Where will you get it: Keshari, in a lane near temple entrance.
10. Thandai
Where will you get it: Baba Thandai, Godolia (Do specify 'Without Bhang')
11. Sweets / delightful desert
Where will you get it: Ksheer Sagar
12. Rabdi
Where will you get it: On the way to temple, next to a Saree Shop. It's a tiny shop and I don't remember the name (probably there isn't any).
A little more about Banaras / Varanasi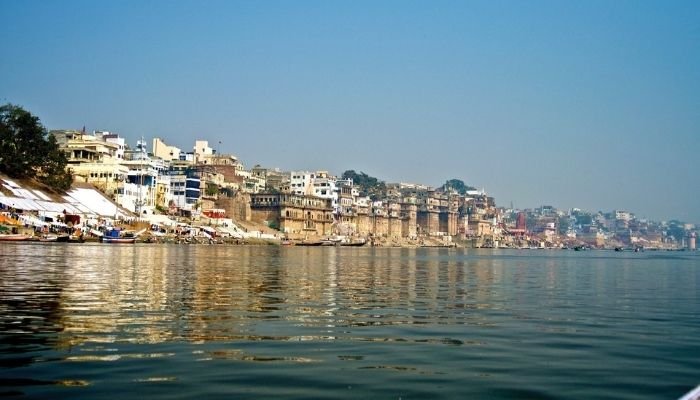 Banaras is like a maze, it keeps on unfolding itself and every time you set to explore this maze it unfolds and presents something new in front of you. Banaras is as old as you know it and as new as you want to know it. Slowly, I became fascinated with different aspects of this city – culture, food, music, diversity and divinity, each of these qualities give a unique nature and character to the city. People visit here from across the globe to understand the mystery of life and death. Banaras is an experience to be lived rather than writing or reading about it!
ALSO READ: Journey to Shingnapur – Travel Experience Shared!