Explore Goa like a local with this 2023 Goa Travel Guide, which uncovers the best beaches in North and South Goa, less crowded beaches, best party places, hidden party places, churches, forts, water sports, flea markets, and a lot more!
Welcome to the vibrant land of sun, sand, and spices – Goa! Nestled along the western coast of India, this tropical paradise is a harmonious blend of rich history, serene spirituality, and the pulsating energy of modern-day revelry. As your ultimate travel companion, this Goa Travel Guide aims to unravel the diverse tapestry of experiences that await you. From the golden shores that beckon with promises of relaxation to the historic churches and forts that echo with tales of a bygone era, Goa is a destination that captivates every traveler's heart. Whether you seek the lively beats of beach parties, the tranquil ambiance of ancient churches, the panoramic views from centuries-old forts, or the hidden gems off the beaten path, Goa invites you to explore its multifaceted charm. So, fasten your seatbelt, embark on this journey, and let the intoxicating spirit of Goa enchant you.
Best Beaches in North Goa
Discover the enchanting coastline of North Goa, boasting some of the most popular and picturesque beaches. From the serene Mandrem Beach to the vibrant energy of Anjuna Beach, each offers a unique experience, whether you're seeking relaxation or lively beach parties.
Mandrem Beach
Nestled in tranquility, Mandrem Beach is a pristine haven known for its soft white sands and calm waters. Perfect for those seeking a peaceful retreat, it also hosts vibrant beach shacks and yoga retreats, creating a harmonious atmosphere.
Arambol Beach
Arambol Beach is a bohemian paradise, drawing artists, musicians, and free spirits. Famous for its lively flea market and vibrant nightlife, it offers a perfect blend of creativity, relaxation, and entertainment.
Vagator Beach
Vagator Beach is renowned for its iconic cliffs and laid-back ambiance. Ideal for both sunbathing and beach parties, it provides a diverse experience, from the tranquil Chapora Fort to the energetic beach clubs.
Anjuna Beach
Anjuna Beach, a perpetual favorite among backpackers, offers a unique blend of the bohemian and the buzzing. Known for its Wednesday flea market and vibrant beach parties, it's a haven for those seeking a lively beach experience.
Sinquerim Beach
Sinquerim Beach is where serenity meets adventure. Its pristine shores and proximity to Aguada Fort offer a perfect balance for those looking to unwind and explore historical landmarks.
Best Beaches in South Goa
Explore the serene and less explored beaches of South Goa, where the golden sands meet the azure waters. From the vibrant Palolem Beach to the secluded Cabo De Rama Beach, South Goa offers a diverse range of coastal treasures.
Palolem Beach
Palolem Beach, with its crescent-shaped coastline, is a postcard-perfect destination. Known for its vibrant shacks, water sports, and silent discos, it caters to both those seeking excitement and those in pursuit of tranquility.
Mobor Beach
Mobor Beach, situated near the luxury resorts, is a haven for water sports enthusiasts. With its pristine sands and clear waters, it offers a perfect blend of relaxation and adventure.
Butterfly Beach
Secluded and untouched, Butterfly Beach is a hidden gem accessible by boat. Known for its tranquil atmosphere and the occasional sighting of dolphins, it's an ideal spot for a romantic getaway.
Agonda Beach
Agonda Beach, with its laid-back vibe and pristine shores, is a favorite among those seeking solitude. It's a nesting ground for sea turtles and offers a peaceful escape from the hustle and bustle.
Cabo De Rama Beach
Cabo De Rama Beach, near the Cabo De Rama Fort, provides a tranquil setting with panoramic views. Ideal for those seeking solitude and stunning landscapes, it's a hidden gem in South Goa.
ALSO READ: Here's Your Goa Packing Checklist – Goa Essentials Guide in 2023!
Less Crowded Beaches in North Goa
Escape the crowds and discover the serene beauty of North Goa's less-explored beaches. From the tranquil Mandrem Beach to the hidden gems of Ozran and Querim, these beaches offer a peaceful retreat away from the bustling crowds.
Mandrem Beach
Mandrem Beach, with its serene ambiance and white sands, is a tranquil escape from the busier beaches. Its laid-back atmosphere and beachfront cafes make it an ideal spot for relaxation.
Ashvem Beach
Ashvem Beach is a hidden paradise with a peaceful vibe. Away from the hustle, it offers pristine sands, clear waters, and a perfect setting for a quiet day by the sea.
Morjim Beach
Morjim Beach, known for its Olive Ridley Turtles, offers a serene retreat. It boasts a calm atmosphere, beachside shacks, and the opportunity to witness nature's wonders.
Ozran Beach
Ozran Beach, also known as Little Vagator, is a secluded gem with stunning cliffs and a laid-back atmosphere. It's perfect for those seeking solitude and breathtaking views.
Querim Beach
Querim Beach, often less crowded, is a pristine stretch with golden sands. It offers a tranquil environment and stunning sunset views for those looking to escape the crowds.
Less Crowded Beaches in South Goa
Uncover the hidden gems of South Goa, where tranquility meets untouched beauty. From the serene Galgibaga Beach to the secluded Kakolem Beach, these less-crowded beaches provide an intimate escape.
Galgibaga Beach
Galgibaga Beach, known for its pristine shores and serene ambiance, is a haven for those seeking solitude. It's an ideal spot for long walks and quiet moments by the sea.
Canaguinim Beach
Canaguinim Beach, away from the touristy spots, offers a peaceful retreat. With its clear waters and tranquil surroundings, it's perfect for a relaxing day at the beach.
Pebble Beach
Pebble Beach, with its unique pebble-strewn shoreline, provides a secluded and picturesque setting. It's a quiet escape for those wanting to unwind in a serene environment.
Betul Beach
Betul Beach, situated near a charming fishing village, offers a serene escape. With its golden sands and the Sal River meeting the Arabian Sea, it's a peaceful retreat for nature lovers.
Cavelossim Beach
Cavelossim Beach, known for its clean shores and less crowded ambiance, is perfect for a quiet day by the sea. It's an ideal spot for a leisurely stroll and unwinding.
Kakolem Beach
Kakolem Beach, also known as Tiger Beach, is a secluded paradise surrounded by cliffs. Accessible by boat, it offers a private retreat with breathtaking views.
Best Party Places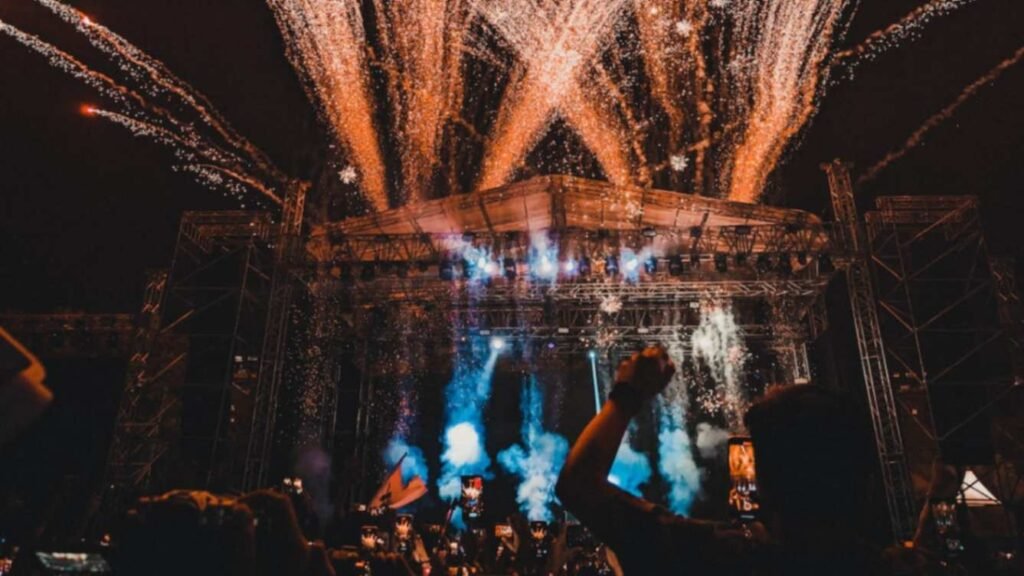 Experience the vibrant nightlife of Goa at these energetic and lively party destinations. From the renowned Club Cubana to the exotic Thalassa, each venue promises an unforgettable night filled with music, dancing, and celebration.
Hammerzz Nightclub
Hammerzz Nightclub, situated in Calangute, is a hotspot for party enthusiasts. With its pulsating music, energetic ambiance, and lively crowd, it's a must-visit for a night of dancing and celebration.
Leopard Valley Goa
Nestled in the jungle, Leopard Valley Goa is a unique open-air venue renowned for its vibrant parties. Surrounded by nature, it offers a surreal setting for an unforgettable night.
Club Cubana
Club Cubana, known as the "Nightclub in the Sky," is perched on the Arpora Hills. With its electrifying music, poolside ambiance, and enthusiastic crowd, it's a top choice for partygoers.
Oh Lala
Oh Lala, located in Candolim, is a chic and trendy club offering a vibrant nightlife experience. With its stylish decor, lively atmosphere, and pulsating beats, it's a favorite among locals and tourists alike.
Thalassa
Thalassa, perched on the cliffs of Vagator, is not just a restaurant but also a lively party destination. Known for its Greek ambiance, live music, and dance floor, it provides a unique party experience.
Hidden Party Places
Discover the lesser-known but equally exciting hidden party spots in Goa. From the underground vibe of MIR in Arambol to the beachfront beats at Orion Cafe & Beach Club, these venues offer a more intimate and exclusive party experience.
Rock Waves, Morjim
Rock Waves in Morjim is a hidden gem for those seeking an underground party experience. With its alternative vibe, live music, and diverse crowd, it's perfect for a unique night out.
Ukiyo Beach Resort, Ashvem
Ukiyo Beach Resort in Ashvem offers a blend of luxury and nightlife. With beachfront parties, a stylish ambiance, and curated music, it provides an exclusive experience for party enthusiasts.
MIR, Arambol
MIR in Arambol is an underground club known for its alternative music scene. With its unique atmosphere, diverse crowd, and live performances, it's a must-visit for those looking for something off the beaten path.
Orion Cafe & Beach Club, Morjim
Orion Cafe & Beach Club in Morjim is a beachfront venue offering a relaxed yet vibrant party scene. With live music, beach views, and a chilled-out atmosphere, it's perfect for a laid-back night of fun.
Marbella Beach Resort, Morjim
Marbella Beach Resort in Morjim is a hidden party spot offering beachfront festivities. With its unique events, live DJ sets, and picturesque setting, it provides an exclusive party experience.
Places to Enjoy Nightlife at Casino in Goa
Experience the glamour and excitement of Goa's nightlife at these top-notch casinos. From the opulent Deltin Royale to the luxurious Big Daddy Casino, each venue promises a thrilling night of entertainment.
Deltin Royale
Deltin Royale, India's largest offshore casino, offers a luxurious gaming experience on the Mandovi River. With a wide range of games, live entertainment, and fine dining, it's the epitome of casino indulgence.
Big Daddy Casino
Big Daddy Casino, situated in Panjim, is a floating casino offering a world-class gaming experience. With its vibrant atmosphere, live performances, and a variety of gaming options, it's a must-visit for casino enthusiasts.
Majestic Pride
Majestic Pride, located on the Mandovi River, is known for its lively gaming floor and entertainment. With an array of games, live music, and a vibrant ambiance, it offers a thrilling night on the water.
Churches to Visit in Goa
Explore the sacred allure of Goa through its historic churches. From the revered Basilica of Bom Jesus to the ornate Church of St. Francis of Assisi, each architectural marvel narrates tales of devotion and cultural richness, inviting you to delve into the spiritual heart of the region.
Basilica of Bom Jesus
A UNESCO World Heritage Site, the Basilica of Bom Jesus is a masterpiece of Baroque architecture. Housing the mortal remains of St. Francis Xavier, the church is not only a religious symbol but also a historical and architectural marvel.
Church of St. Francis of Assisi
This splendid church is a testament to Goa's rich history. Adorned with ornate carvings and murals, the Church of St. Francis of Assisi offers a glimpse into the artistic and religious heritage of the region.
Old Goa Church
The Old Goa Church, officially known as the Church of St. Cajetan, is a visual delight with its Corinthian architecture. Amidst the archaeological remains of Old Goa, this church stands as a serene reflection of the region's spiritual legacy.
St. Augustine Tower
Once part of the Church of St. Augustine, the tower is now a hauntingly beautiful ruin. Climbing to the top offers panoramic views of Old Goa, providing a unique perspective on the passage of time.
Immaculate Conception Church
Known for its striking white facade and prominent bell, the Immaculate Conception Church in Panjim is a historic marvel. It's not just a place of worship; it's a cultural gem that showcases Goa's religious diversity.
Forts to Visit in Goa
Perched atop cliffs and steeped in maritime history, Goa's forts stand as silent witnesses to a bygone era. Whether it's the iconic Chapora Fort with its Bollywood allure or the panoramic views from Aguada Fort, each fortress unfolds stories of strategic battles, colonial rule, and enduring grandeur.
Chapora Fort
Perched on a hill with views of the Arabian Sea, Chapora Fort is an iconic landmark. Famous for its appearance in Bollywood films, it offers a perfect blend of history and scenic beauty.
Aguada Fort
Aguada Fort, overlooking the Arabian Sea, is a Portuguese marvel. Its lighthouse and the panoramic view from the ramparts make it a must-visit, providing a glimpse into Goa's maritime history.
Sinquerim Fort
Sinquerim Fort, adjacent to Aguada, is a less-explored gem. With its strategic location and views of the coastline, it offers a peaceful retreat away from the bustling crowds.
Cabo De Rama Fort
Cabo De Rama Fort, perched on a cliff, offers a tranquil ambiance. Steeped in history, it provides a serene escape with panoramic views of the sea and surrounding landscapes.
Offbeat Places to Visit in Goa
Beyond the tourist trail lie Goa's hidden gems – offbeat destinations waiting to be discovered. Traverse the scenic Parra Road, cross the rustic charm of Zuem Bridge, explore the architectural wonders at the Houses of Goa Museum, and ponder over the intriguing history of Aguada Central Jail. Each offbeat spot promises a unique and immersive experience in the less-explored corners of Goa.
Parra Road
Parra Road, lined with picturesque bougainvillea, takes you through quaint villages and scenic landscapes. It's an offbeat drive offering a tranquil escape from the bustling tourist spots.
Zuem Bridge
The Zuem Bridge, hidden amidst lush greenery, provides a serene setting. Its rustic charm and the gentle flow of the river make it a peaceful spot for contemplation.
Houses of Goa Museum
A unique architectural marvel, the Houses of Goa Museum in Porvorim showcases the evolution of Goan architecture. It's an offbeat gem that transports you through the history of Goa's homes.
Museum of Goa
The Museum of Goa in Pilerne is an artistic haven. Founded by renowned artist Subodh Kerkar, it houses contemporary art and installations, offering a unique perspective on Goa's cultural scene.
Aguada Central Jail
The Aguada Central Jail, now a tourist attraction, provides insight into Goa's colonial history. With its intriguing architecture and panoramic views, it's an offbeat destination with a storied past.
Best Beaches For Water Sports in Goa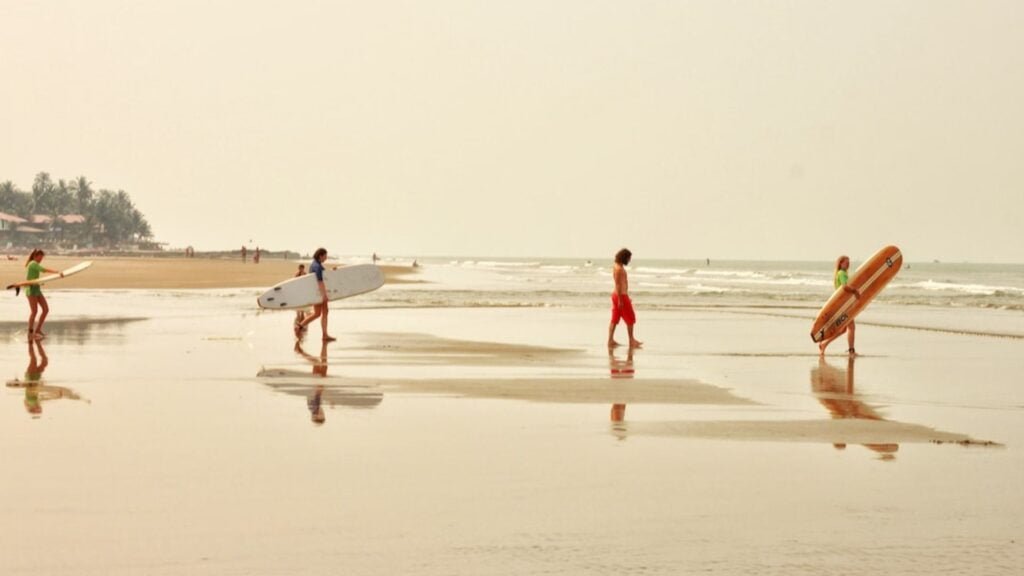 Dive into the thrill of aquatic adventure on Goa's vibrant beaches. Baga Beach offers a lively atmosphere coupled with adrenaline-pumping water sports, Sinquerim Beach boasts a water sports paradise, and Arambol Beach provides a bohemian charm for both relaxation and exhilaration. Experience the perfect blend of sun, sand, and adventure along the golden coastline.
Baga Beach
Baga Beach, known for its vibrant atmosphere, is also a water sports hub. From parasailing to jet-skiing, it offers an adrenaline-packed experience along its lively shores.
Sinquerim Beach
Sinquerim Beach, adjacent to Aguada, is not only serene but also a water sports paradise. Enjoy activities like windsurfing and banana boat rides against the backdrop of scenic beauty.
Arambol Beach
Arambol Beach, beyond its bohemian charm, offers water sports like paragliding. It's an ideal spot for both relaxation and adventure.
Flea Markets in Goa
Step into the lively tapestry of Goa's flea markets, where every stall is a treasure trove waiting to be explored. Roam through the eclectic aisles of the Anjuna Flea Market, dance under the stars at the Saturday Night Market in Arpora, ascend the hills to Vagator HillTop Market, and immerse yourself in the dynamic chaos of the Arambol Street Market. Each marketplace is a vibrant cultural experience, offering a kaleidoscope of unique finds and lively energy.
Anjuna Flea Market
Anjuna Flea Market is a vibrant shopping haven. Known for its bohemian atmosphere, it offers a variety of goods, from clothing and accessories to handmade crafts.
Saturday Night Market Arpora
The Saturday Night Market in Arpora is a bustling extravaganza. With live music, eclectic stalls, and a lively atmosphere, it's the perfect place to shop and soak in the vibrant Goan nightlife.
Vagator HillTop Market
Vagator HillTop Market is not just a shopping destination but also a cultural experience. With a mix of stalls, music, and entertainment, it provides a unique and lively market experience.
Arambol Street Market
Arambol Street Market, set against the bohemian backdrop of Arambol Beach, is a treasure trove for unique finds. From handmade jewelry to vibrant clothing, it's a must-visit for those seeking eclectic items.
Goa, a multifaceted jewel on India's west coast, invites travelers to delve into a tapestry of experiences. From the sun-kissed shores of its best beaches and the historic echoes in its churches and forts to the offbeat charm of hidden locales and the thrill of water sports, Goa captivates with its diversity. Whether you're exploring the spiritual legacy within the ancient churches, unraveling the tales woven into the fortresses, discovering the uncharted beauty of offbeat spots, or immersing yourself in the lively markets, Goa unfolds as a destination that goes beyond the expected. So, embark on this journey, let Goa's rhythm guide you, and savor the essence of this coastal paradise where every corner tells a story, and every experience leaves an indelible mark on your heart.