Get yourself ready for Jaipur city tour! Discover the most amazing places to visit in Jaipur in this Jaipur tour guide.
Jaipur, the capital of Rajasthan is also known as the Pink City and it is an ideal destination for travellers. This city is amongst the rare UNESCO World Heritage Cities and in India, it is the second city to be entitled as the World Heritage City, after Ahmedabad. You would also be amazed to know that Jaipur is also a part of the Golden Triangle tourist circuit along with the other two cities, Delhi and Agra. For any traveller, Jaipur turns out to be a gem of a city to experience a different cultural living and see the breathtaking historic as well as modern monuments.
So, let's explore the most amazing places in Jaipur that you definitely must visit whenever you head over to the Pink City.
Amer Fort
First in our pink city touring list is the Amer Fort and it is indeed the biggest tourist attraction in Jaipur. The grand structure of Amer Fort was built under the rule of Maharaja Man Singh the 1st and was later beautified under the rule of Maharaja Jai Singh, the 1st. With sunrise, the beauty of Amer Fort gets amplified as direct sun rays lighten it into a golden architecture. To visit with family and friends, Amer fort is the best tourist spot in Jaipur. The premises of Amer Fort will remind you of Rajasthan's Royal Rajwada era.
You must definitely explore some exceptionally amazing sightings of Amer Fort such as the Sheesh Mahal, the 2-kilometers long tunnel that opens at a hill of Aravali range, called "Cheel ka Teela"; the surrounding areas of Maota lake, Kesar Kyari, Diwan-e-Aam, Diwane-e-Khas and Shila Devi Temple. Many travellers also enjoy elephant rides to reach to the top premises of Amer Fort. So, next time when you visit Jaipur, don't forget to see this Royal architecture of Rajasthan.
Nahargarh Fort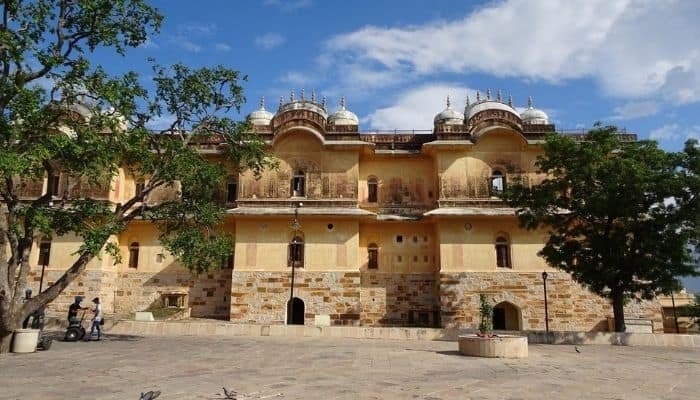 The next must visit place in Jaipur is the Nahargarh Fort. While travelling from Amer Fort to the walled city of Jaipur, the road to Nahargarh Fort falls in between. This roadway to Nahargarh Fort is very exciting and adventurous. While riding up on the Aravalli Hills, you enjoy a scenic view of Jaipur's periphery. The best thing about Nahargarh Fort is that from its elevation you can see an amazing view of the Jaipur city. While watching the 360-degree view of the city from Nahargarh's height, you cannot resist yourself from clicking selfies and photos.
The breathtaking construction of Nahargarh Fort introduces you to royal heritage of Rajasthan. There's Jaipur Wax Museum at the entrance of Nahargarh Fort where you can see the wax statues of various popular celebrities, freedom fighters, Maharajas and Maharanis.
Jal Mahal
While moving towards Jaipur city from Nahargarh Fort, you come across the next must visit place of Jaipur, i.e. the Jal Mahal. Constructed in the middle of Man Sagar Lake, Jal Mahal, also known as the Water Palace, is a beautiful monument that represents the artistic blend of Rajputana and Mughal architectural style. Once upon a time, this palace was a picnic spot of the Maharajas and today, it is a very popular tourist spot in Jaipur. While the one end of Man Sagar Lake has a well-constructed walking passage for the tourists, the other end has the Man Sagar Dam.
The nearby area of Jal Mahal is a part of Nahargarh Biological Reserve. The Jal Mahal is a 5-storey palace but when the Man Sagar lake is full, only the top storey of this palace is visible. It creates an illusion as if a single storey palace is floating on water.
Hawa Mahal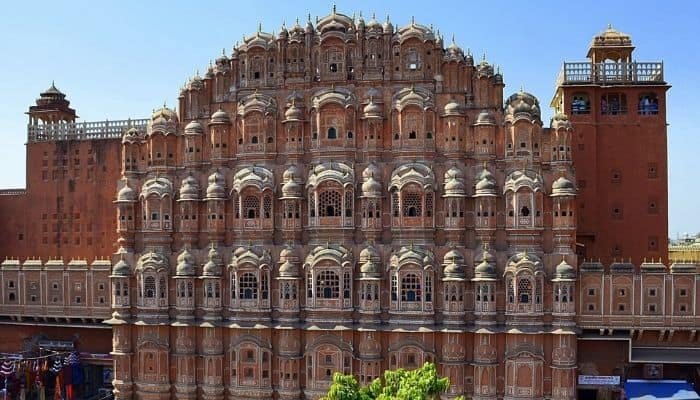 Next must visit place in Jaipur is the Hawa Mahal. It one of the most popular monuments in India. The markets nearby this palace are worth visiting and from these markets, you can buy attractive Rajasthani clothes, handicrafts and homedecor items. The food joints opposite to Hawa Mahal are among the best places to eat in Jaipur and attract tourists from all across the globe.
Hawa Mahal, which is located in the walled premises of the old Jaipur city was commissioned by Maharaja Sawai Pratap Singh. Maharaja Sawai Pratap Singh was a devotee of Lord Krishna and due to his devotion, he got the Hawa Mahal designed in the shape of Lord Krishna's crown.
Hawa Mahal is also known as the Palace of the Winds or the Wind Palace because of its 953 jharokhas, which are beautifully built small windows that keep this palace well-ventilated and airy. This palace was specially built for the queens of Jaipur so that they can enjoy watching the daily life of the pink city. Interestingly, there is no entrance at the front of this palace and you've to enter through the side entrance. And yes, Hawa Mahal got its name from its 5th storey, which is called the Hawa Mandir.
World Trade Park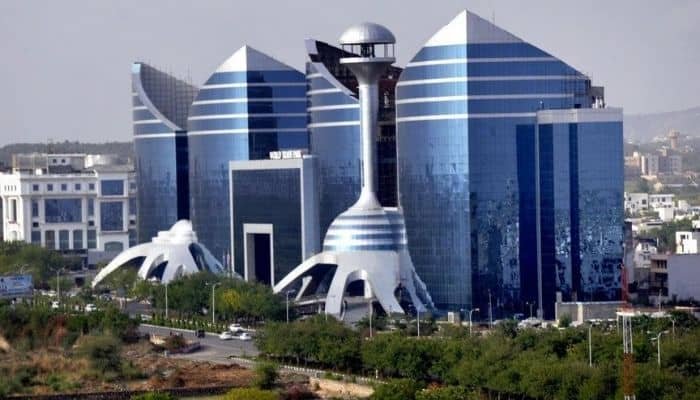 Now let's talk about another fabulous Jaipur tourist place and hangout hub, the World Trade Park, which gives this city an elite and metropolitan character. Perhaps hearing its name you may think that it's only good for businessmen and people from corporates, but it's unlike that. In the recent years, World Trade Park has become a popular hangout spot for youth in Jaipur. At a walking distance from this palace is Gaurav Tower, another hangout spot in Jaipur.
World Trade Park is a giant shopping mall and it looks very attractive. In this mall, you will find various Indian as well as International showrooms that will induce you to shop more. It is one of the best places to visit in Jaipur for shopping, alongside the traditional markets of Jaipur such as the Indira Bazaar, the Bapu Bazaar, the Johri Bazaar, the Chandpole Bazaar and the Kishanpole Bazaar. The food court of the World Trade Park is also designed nicely and it certainly impresses the visitors. And yes, if you visit the World Trade Park, you can also enjoy watching movies at its multiplex.
Jawahar Circle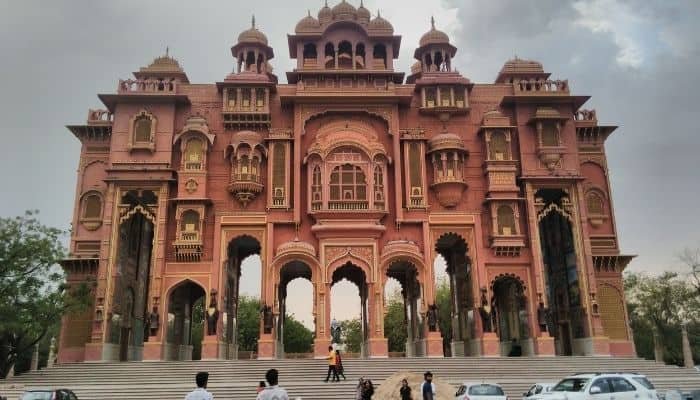 Located at a walking distance from World Trade Park is Jawahar Circle, which is another attraction point in Jaipur. Your Jaipur sightseeing tour must include this place as it is believed that Jawahar Circle is Asia biggest circular park. The most likable spot at the Jawahar circle is the Patrika Gate, which looks very appealing and matches well with Jaipur's royal character. Developed by Jaipur Development Authority, Jawahar Circle is among the best places to visit in Jaipur for couples, kids and elders.
This tourist place in Jaipur is also popular for pre-wedding shoots. Inside Jawahar Circle, there are circular tracks where you will find fitness freaks jogging and working out hard. In the morning time, right behind the Patrika gate, people work out and take skating training too. Besides this, the fast food of Jawahar Circle is very delicious and here, you can enjoy eating the best Pav Bhaaji of Jaipur. Evenings in Jawahar Circle are enjoyable too due to the amazing musical fountain shows.
Besides all these Jaipur tourist places, you must also explore some other beautiful Jaipur tourism places, which include:
City Palace
Jantar Mantar
Jaigarh Fort
Albert Hall Museum
Birla Mandir
Govind Devji Mandir
Moti Doongri Ganesh Mandir
Galtaji
Statue Circle
Amar Jawan Jyoti
Jawahar Kala Kendra aur
Jhalana Safari Park
So, these were some amazing tourist spots in Jaipur that you must visit whenever you travel to this beautiful heritage city.
Now, you can also share your own travel experience with the travel community on TourismBharat using this travelogue submission link.
Stay tuned to TourismBharat to watch more interesting travel and tourism blogs!